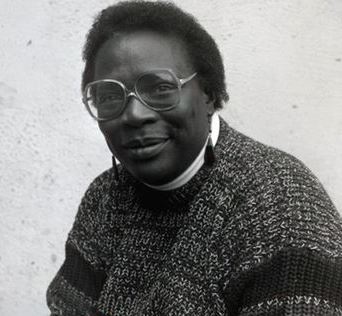 Pat Parker
Pat Parker was born on January 20, 1944 (to June 19, 1989). She was an influential lesbian and feminist poet and activist.
Given the name Patricia Cooks at birth, Pat Parker was born in Houston, Texas, the youngest of four daughters in a Black working class family. Her mother, Marie Louise Cooks, was a domestic worker, and her father, Ernest Nathaniel Cooks, supported the family by re-treading tires.
Urged by her father to take "the freedom train of education," Parker left home at seventeen and moved to Los Angeles, California, earning her undergraduate degree at Los Angeles City College, and followed that with a graduate degree at San Francisco State College. She married playwright Ed Bullins in 1962, but they separated after four years. Pat Parker settled in Oakland, California, in the early 1970s to pursue work, writing, and opportunities for activism. She married a second time, to Berkeley, California writer Robert F. Parker, but decided that the "idea of marriage… wasn't working" for her.
Pat Parker began her service as the medical coordinator at the Oakland Feminist Women's Health Center, which grew from one clinic to six sites during her tenure from 1978 to 1987. Parker also participated in political activism ranging from early involvement with the Black Panther Party and Black Women's Revolutionary Council to formation of the Women's Press Collective. She was involved in wide-ranging activism in gay and lesbian organizations, and held positions of national leadership regarding women's health issues, especially concerning domestic and sexual violence. In 1979, Parker toured with the Varied Voices of Black Women, a group of poets and musicians which included Linda Tillery, Mary Watkins, and Gwen Avery.
Parker gave her first public reading of her poetry in 1963 while married to playwright Ed Bullins. The challenge of "competing in a male poetry scene" as the wife of a writer, Parker noted, helped develop not only her voice but also her willingness to write about contemporary issues: about civil rights and Vietnam as well as an emerging African-American lesbian feminist perspective on love and lust. Reading before women's groups beginning in 1968 brought Parker notice and satisfaction, especially as she joined Judy Grahn, a white working class Bay Area poet, to read lesbian poetry in public, arranging readings not only at women's bookstores, but also intermixing poetry with musical performances at local women's bars, coffeehouses, and festivals.
Pat Parker and Audre Lorde first met in 1969 and became close friends. They continued to exchange letters and visits for twenty years, until Parker's death twenty years later.
Parker's published works include "Child of Myself" (1972), "Pit Stop" (1973), "Womanslaughter" (1978), "Movement in Black" (1978), and "Jonestown & Other Madness (1989). In 1978, selections from "Child of Myself" and "Pit Stop" were included in "Movement in Black: The Collected Poetry of Pat Parker, 1961–1978." She has also appeared in numerous anthologies, magazines, and newspapers.
Pat Parker died in 1989 of breast cancer at the age of 45. The national lesbian-feminist communities mourned her loss, and several spaces were named in her honor, including Pat Parker Place, a community center in Chicago, and the Pat Parker/Vito Russo Center at the Lesbian, Gay, Bisexual & Transgender Community Center in New York City. She is survived by her longtime partner and two daughters, along with countless admirers and fans of her activism and poetry.
We remember Pat Parker in deep appreciation for her thoughtful poetry, her feminist advocacy, and her many contributions to our community.