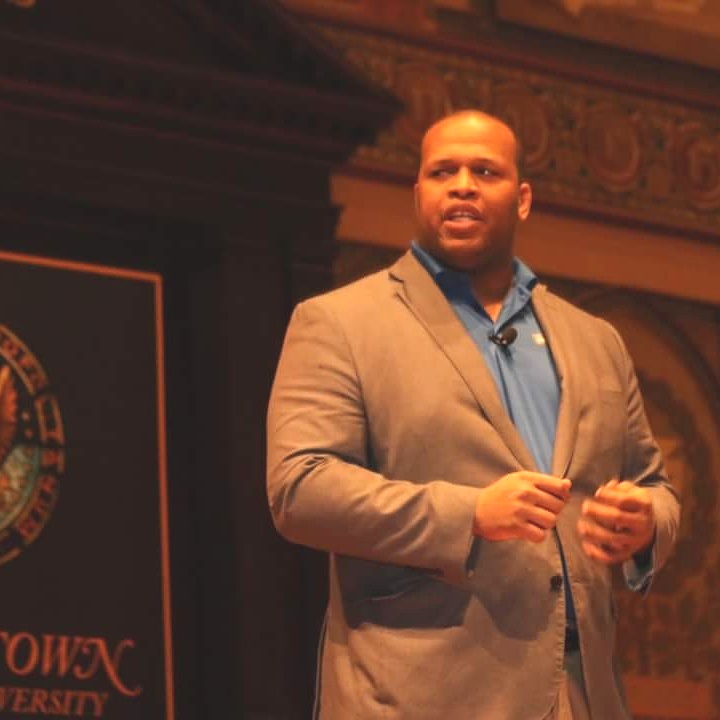 Akil Patterson
Akil Patterson was born on January 23, 1984. He is a government relations professional, consultant to Athlete Ally, five-time Greco-Roman, All-American wrestler, football player, coach, motivational speaker, and youth and social justice advocate.
Akil Sadiki Patterson grew up in Buffalo, New York, one of four children born to Keith Patterson, a real estate broker and property manager, and Rhonda Patterson, a professor of health. Patterson says his parents are all the role models he ever needed, and that they raised their family with little money while his mother attended college. She earned her second degree while Patterson was in high school, and attended college the hard way by taking classes at night while caring for her family by day.
Patterson grew up bullied due to several learning disabilities. He learned that sports did not discriminate, and felt safe from mistreatment because he viewed athletics as a place of understanding and a way to overcome adversity. At Frederick High School, he was a four-sport athlete, and an undefeated wrestling champion named to All-State teams in both wrestling and football. After only two years of high school football, Patterson was named a Four Star Recruit, and following multiple offers from prospective colleges, he selected the University of Maryland, College Park.
Patterson was a successful scholar athlete, but his personal life began to unravel while at college. He started to drink more and became secretive—defenses employed to hide his sexual orientation. At twenty years old, Patterson left the University of Maryland after feeling that his orientation could not withstand the pressures of the campus and team environment. Several times during a transition period, Patterson contemplated suicide and fell into a deep depression, feeling he was unable to truly express himself. He recalled being "lost, confused, and very sad" at this time in his life.
Although several schools wanted him to play football, Patterson chose California University in California, Pennsylvania, on the recommendation of a coaching friend at the University of Central Florida. He changed locations and found a new home, but carried the same emotional issues that had plagued him at Maryland, as well as his ongoing fight with depression due to the inability to share his truth. Patterson helped lead the small Division II football team in rural southwest Pennsylvania to two conference championships, and in the process, found the courage in his senior year to come out to his teammates and friends. Although he was still not entirely comfortable, he answered open and honestly when NFL scouts asked about his sexuality.
Patterson would receive a bachelor's degree in sports management with a focus in marketing from California University, and later play Arena football. Despite personal struggles during his college years, Patterson excelled as an athlete, and was twice named to the Division II Football All-American Team, and Pennsylvania State Athletic Conference All-Conference team. In wrestling, Patterson became a Greco-Roman All-American, and a Northeast Regional Champion. Patterson takes pride in being on the last ever football and wrestling teams at the University of Maryland to win an ACC championship.
Since 2008, Patterson has served in many roles in USA Wrestling on the state and national levels. He was the head coach of Maryland's National Youth Team from 2008 to 2009, and was appointed to the Rally 4 Wrestling field team as its director of social media. Patterson serves USA Wrestling as one of the key members of its Diversity Council; he was given the crucial task of creating anti-bullying language to help support young athletes.
In 2011, he was named to "Advocate" magazine's annual 40 Under 40 list for his work with youth in sports as a coach, athlete, and administrator. That same year, Patterson started an initiative called the Patterson Project, and has incorporated it into the programs of Athlete Ally, a nonprofit organization working to use the collective power of sports to change policy around LGBTQ issues and racial equity. He feels blessed to have been one of the first people in sports to talk about bullying, and was invited to speak at the National Anti-Bullying Summit hosted by the Department of Education. Patterson also played a role in the 2012 campaign to restore wrestling to the Olympic Games.
Patterson currently serves as a consultant to Athlete Ally, using his experience to mentor young people, and to help NFL athletes and front office staff create internal policy measures designed to address race and sexual orientation issues. Through his formation of the Justice for Michael Johnson organization, Patterson works to ensure that the science of HIV matches outdated laws that impact marginalized communities across the country. He also spends time addressing social justice issues with Out for Justice, a returning citizens action organization, where he helped lead an effort to restore voting rights to more than 40,000 ex-offenders in the state of Maryland.
In his spare time, Patterson works full-time as the deputy director for government and community relations for the Maryland State Medical Society's Sugar-Free Kids Maryland Program, where the mission is to roll back Type 2 diabetes and other chronic diseases impacting children in the state.
Patterson enjoys coaching, and has served as a high school offensive coordinator and a head wrestling coach in Colorado. His other community accomplishments include being a past member of the Community Church of Washington DC, a former board member of Equality Maryland, and the Western Region representative for the Maryland State Wrestling Association. A survivor of domestic violence, he talks to young men and women about the issue.
In 2014, Patterson was named a Legend in Black LGBT Sports by the National Black Justice Coalition and Athlete Ally.
Proud of his role as an advocate, Akil Patterson uses the lessons he learned the hard way to benefit others. He says that he loves to help young people every day to be who they are in the world of sports. "Many of them can't speak for themselves, don't know how to advocate for themselves, so I get the chance to help them learn to stand up and speak. Sometimes I give them the opportunity to participate in things that so many of us take for granted," Patterson told the Ubuntu Biography Project.
Patterson lives in Baltimore, Maryland, and is largely a self-described loner who enjoys singing country music—traits outside the perceived norm for a man who is both proudly Black and gay. "What is important is that queer people of color understand that we have a voice and that we can change the way the world thinks of us," Patterson said. "We are more than drama or shows, we are creators and innovators. We are a community of people that have overcome hurt and pain sometimes from the ones we love most. We are a community that has been left out of many conversations, and it's time that we start to talk about the issues that affect us. It's time that we grow our grass roots programs with people of strong character and we find ways to impact the lives of other people."
We thank Akil Patterson for his numerous contributions to athletics, advocacy, and mentorship, and for his longstanding support of our community.