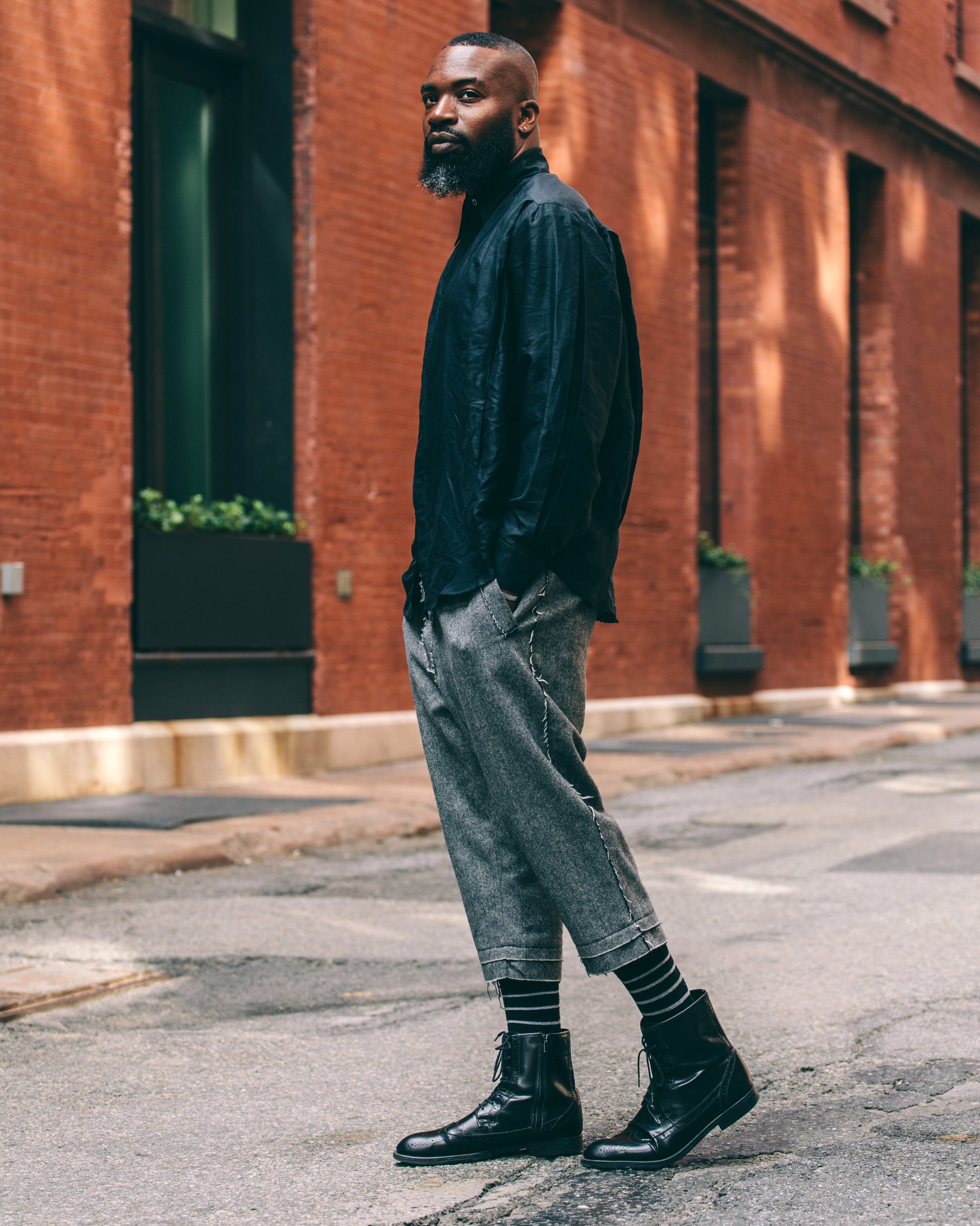 Darnell L. Moore
Photo: Erik Carter
Darnell L. Moore was born on January 24, 1976. He is a writer, activist, editor-at-large at CASSIUS, and formerly a senior correspondent at Mic, where he hosted "The Movement," a digital series focused on issues of social, cultural, and political importance. Moore is the author of the forthcoming memoir, "No Ashes in the Fire: Coming of Age Black and Free in America" (Nation Books, 2018).
Darnell L. Moore grew up in a single-parent home in Camden, New Jersey, with his hardworking and loving mother, Diane. He was a bright and creative child, and often writes today about the adversity and bullying he endured, simply because he was perceived by many of his peers as different. Moore received his Bachelor of Arts degree in social and behavioral science from Seton Hall University, a master's degree in clinical counseling from Eastern University, and his Master of Arts degree in theological studies from Princeton Theological Seminary.
Moore says that as a young man, he didn't always think kindly of Black queer/LGBT/SGL communities. He lived a substantial portion of his young adult life hating himself and the people who were his reflections. But he speaks boldly of his transformation, stating, "I have found strength and the will to live by being in community with Black queer and trans folk. I am forever indebted for the words written, poems uttered, bodies placed on the frontline, so that my life might be less encumbered by structural violence."
Moore cites the work of many who have empowered him to live in his truth, and inspired him in his journey: Cheryl Clarke, James Credle, Jacqui Alexander, Aishah Shahidah Simmons, Alexis Pauline Gumbs, James Credle, James Earl Hardy, Colin Robinson, Horace Griffin, Shane Weaver, Bryan Epps, Joseph Tolton, and Rev. Dr. Daniel Meeter are some of the people who have pushed Moore to better love himself, and to embrace his calling and career path.
In 1999, Moore began his education career as an Urban Education teaching intern with KidsCorp in Newark, New Jersey. He became an afterschool and homeschool instructor at Urban Promise, Inc., and would later be hired as an eighth grade teacher at The San Miguel School in Camden, where he worked for several years. Moore eventually served in the education and non-profit fields in administrative capacities, and as a therapist and a program director of a youth transitional living program at the Center for Family Services in Camden; a principal of Integrative Concepts Consulting Group; a project evaluator at the Institute for Community Living in New York City; director of strategic initiatives at the United Way of Essex and West Hudson; and associate director of the Newark Schools Research Collaborative, a partnership between Rutgers, The State University of New Jersey and Newark Public Schools. During his time in Newark, Moore helped found the Hetrick-Martin Institute's first satellite location outside of New York City.
Moore is interested in the practice of theory. As a result, he has managed to situate himself in spaces that have allowed him to do so. In addition to his work as a research assistant at The Center for Public Justice, in Annapolis, Maryland (2006), he was a visiting Fellow at Yale Divinity School (2007-2008), where he gave his first-ever public lecture. Moore was a part-time lecturer in the Women and Gender Studies Department at Rutgers, The State University of New Jersey (2008-2011), and a visiting scholar at the Center for the Study of Gender and Sexuality at New York University (2011-2012). He has also served as an adjunct faculty member of the Public Service Management Program of The Colin L. Powell School for Civic and Global Leadership at The City College of New York; as a writer-in-residence and Community Advisory Board member at the Center on African American Religion, Sexual Politics and Social Justice at Columbia University; and as an adjunct instructor in sociology and anthropology at Fordham University. In 2014-15, Moore taught courses in the Africana Studies Department at Vassar College.
Moore is also a nationally-recognized advocate. He has served on the boards of the Governing Institute of New Jersey, the New Jersey Women AIDS Network, Stop Shootin' Inc., the Newark Essex County Pride Coalition, the Center for Lesbian and Gay Studies at the City University of New York, and The Tobago Center for Study and Practice of Indigenous Spirituality, which was founded by M. Jacqui Alexander. Moore was appointed as the chair of Newark's LGBTQ Advisory Concerns Commission by Mayor Cory A. Booker; along with other community members, he worked with the Essex County administrative offices to help create a county-level commission.
The Queer Newark Oral History Project was co-founded by Moore along with Dr. Beryl Satter and Christina Strasburger. The archival project housed at Rutgers University seeks to chronicle the dynamic lives of LGBTQ Newarkers and their allies. Moore has given countless speeches or provided trainings at universities and community-based organizations around the world. In January of 2012, he visited Israel and Palestine as a member of a United States LGBTQ delegation to Palestine. Moore counts the organizing work he did in Newark as pivotal to his political growth. He co-organized the Black Lives Matter Ride to Ferguson, along with Patrisse Cullors, and worked with a team of BLM national organizers.
In July 2013, Moore joined with openly gay former NFL player Wade Davis to co-found YOU Belong, which sponsored an innovative four-day series of comprehensive sports instruction and leadership development clinics for LGBTQ youth and straight allies in various locations throughout the United States. They have also extended the work of YOU Belong by starting a speakers collective of LGBTQ professionals.
Moore's essays, social commentary, poetry, and interviews have appeared in various national and international publications and journals, including "The Feminist Wire," where he is a co-managing editor/partner, "Ebony," MSNBC, "The Advocate," "The Guardian," OUT.com, "Vice," "Gawker," "Mondoweiss," and "The Huffington Post," among others. He has published scholarly articles in the "Harvard Journal of African American Policy," "QED: A Journal in GLBTQ World Making," "Biography," "Ada: A Journal of Gender," "New Media and Technology," "WSQ," and others. Moore's poetry has been published in the anthology "Joseph Beam: Black Gay Genius" (eds. Stephen Fullwood and Charles Stephens), and in NYU's journal "Black Renaissance/Renaissance Noire." He was the editor of photographer Nicolaus Schmidt's art book, "Astor Place, Broadway, New York" (Kerber 2013).
Moore's intellectual interests also center on Black Theology and Black Christian thought. He has published numerous peer-reviewed essays that attempt to look at queer Black Christian thought, and was a member of the "Beyond Apologetics" colloquium, which brought together scholars and pastors centered on the themes of sexual identity, pastoral theology, and pastoral practice. Moore was also a selected participant in the Seminar on Debates on Religion and Sexuality convened at Harvard Divinity School in 2012.
Moore was a recipient of the Tony Campolo Fellowship at Eastern University (2001-2004), the 2009 JanHerman Venker Award from the Circle of Friends, the 2012 American Conference on Diversity's Humanitarian Award, Rutgers University's LGBTQ and Diversity Resource Center's 2012 Outstanding Academic Leadership Award, and the 2013 New Jersey Performing Arts Center's Visionary of the Future Award. He has also been honored by the First Annual Episcopal Diocese of Newark with its Dr. Louie Crew Award for individuals and groups working at the intersection of sexuality and faith. Moore has received the 2013 Angel Award from Gay Men of African Descent, and the 2014 Gentleman of the Year Award from the Gentlemen's Foundation. In 2015, he was named one of Planned Parenthood's Top 99 Dream Keepers, was bestowed the Audre Lorde Founders Award from the Hispanic Black Gay Coalition, was included in the "USA Today" #InTheirOwnWords multimedia feature on contemporary civil rights activists, and was an honoree in "EBONY" magazine's Power 100.
Moore is a dynamic community leader and writer who has gained the attention of academics and policymakers all over the world. His insightful essays are helping to enlighten the wider community, and they continue to stir a strong sense of pride within the Black queer/LGBT/SGL community.
We thank Darnell L. Moore for his outstanding leadership, his brilliant advocacy, for his inspiring defense of our spirituality and faith, and for his consistent support of freedom and love for our community.