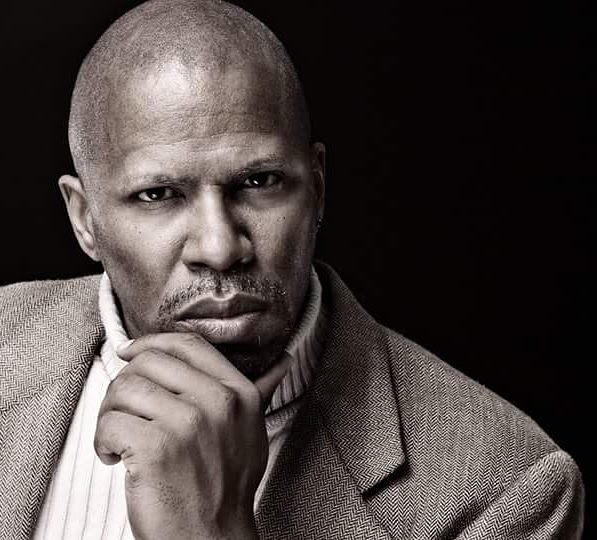 Ijumo Hayward
Ijumo Hayward was born on January 29, 1969.  He is an internationally celebrated and collected photographer and painter. He is also a digital media specialist, filmmaker, graphic artist, entrepreneur, community builder, and advocate for LGBTQ rights.
Ijumo Hayward was born in New York's Mount Sinai Hospital to Lionel Baisden and Sylvia Hayward. Not long after his birth, Ijumo Hayward's mother moved him to her native country of Bermuda, where he attended West Pembroke Primary School and then Warwick Academy, graduating in 1986. While at Warwick, Hayward began his ongoing love affair with basketball, and became a three-time high school all-star. At the age of 17, he moved out on his own, and traveled more than 3,000 miles to Los Angeles to enroll at El Camino Junior College for two semesters. After becoming frustrated with not being able to play for the college's basketball team, Hayward dropped out of school to work with the YMCA and became a youth counselor and basketball coach.
Ijumo Hayward later attended Wilberforce University in Ohio, where he earned a bachelor's degree in fine arts. While attending Wilberforce on a basketball scholarship, Hayward became a two-time Academic All-American, carrying a 4.0 GPA while serving as team captain, star player, and, in his senior year, a student assistant coach. In addition to his athletics, Hayward also served as one of the team's academic tutors. After graduation, he continued to study and perfect his craft in sketching, painting, digital image manipulation, and photography.
Hayward knew at an early age that he was bisexual, and came out to his mother and select friends at the age of 21. Due to his mother's initial acceptance and continued support of his sexuality and relationship, Hayward has been very comfortable with being an outspoken champion for LGBTQ rights and politics. As an adult, he chose to get married, and is the proud father of a daughter, Isjamai, sons I'Unde and Nicademus, and stepdaughter LeKanna.
In 1999, Hayward moved to Atlanta, Georgia to explore his life's options, and started a career in photography that captured tasteful erotic images of the male and female form, and highlighted same-gender relationships. Soon after relocating, he partnered with Senwot Nella Productions as the artistic director for the groundbreaking drama series, "The CLOSET." Hayward and Senwot Nella Productions later teamed up with New York Times best-selling author J. L. King on a major film production.
Hayward's current career focus is on his photography and filmmaking. In 2012, he released a book of male erotic photographs, "Black/White and Shades of Grey." He is working on releasing three more books of stunning photography in the near future. Hayward has been a featured artist in numerous art shows and national magazines, including "EBONY," and is a much sought-after photographer for an international array of clients. What Hayward loves most about his work is having the ability to present images to people in ways they never saw themselves. His photography has been a self-esteem builder and a healing tool in the lives of many people, from homeless women needing a fresh start to young people that didn't have confidence in themselves. Hayward enjoys allowing people to inspire themselves through new perspectives.
Since 2000, Hayward has been an active member and the head of a media ministry in the Vision Church of Atlanta. His photography of Bishop Oliver C. Allen III and his family was featured in "EBONY" magazine when Bishop Allen's family was named one of the "Coolest Families in America."
Advocacy has been a very important part of Hayward's life. He served on the board of My Brothaz Keeper, an organization that helped support young, Black, gay youth, and later became the organization's chairman. He took part in the Deeper Love and Second Sunday discussion groups that focused on educating the SGL community as a whole. Hayward also takes part in many discussions concerning LGBTQ people and HIV/AIDS.
Though there are numerous leaders, writers, and musicians that have influenced Hayward's life, the top of that list would include his grandparents (his grandfather was acclaimed blind jazz pianist Lance Hayward), his mother, and Bishop O.C. Allen III. There are also numerous writers and musicians who have inspired Hayward to be a voice for social change and the advancement of those who are socially marginalized.
Hayward is married to Clarence Williams III, a singer and songwriter based in Atlanta, Georgia. Williams also assists Hayward on his shoots, and is co-writing a television pilot with him. They have a very precocious miniature Schnauzer named Alexis that keeps them both busy in their down time. Together, they also fight for marriage equality in Hayward's adopted home country of Bermuda. They are part of an ongoing lawsuit against Bermuda's government, and current laws that outlaw same-sex marriage.
Hayward still enjoys basketball and joins any pick-up games he can find around the city; he was a key player for the championship win in an amateur league. He loves cooking, enjoys a good steak every once and a while, and likes to fish and play pool; his pool teams have regularly won division championships. As an avid reader, Hayward breezes through 20-30 books a year, including a recurring annual reading of Frank Herbert's "Dune" trilogy, Tolkien's "The Hobbit" and "Lord of The Rings," and Anne McCaffrey's "Dragonriders of Pern." With Williams, Hayward spends time watching movies, usually sci-fi, fantasy, action, romantic comedies, and dramas.
Visit Hayward's website to learn more about this gifted photographer.
We thank Ijumo Hayward for his numerous contributions to the arts, and his support of our community.