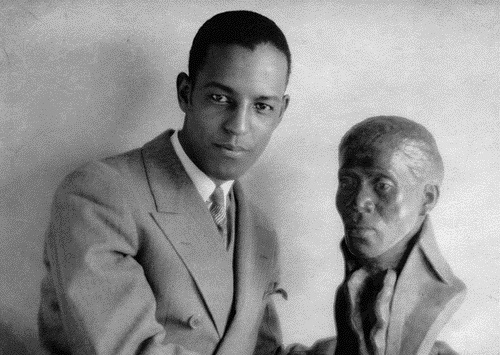 Richmond Barthé
Richmond Barthé was born on January 28, 1901 (to March 5, 1989). He was an important sculptor who rose to prominence during the Harlem Renaissance, later becoming well-known through his many public works, including the "Toussaint L'Ouverture Monument" in Port-au-Prince, Haiti, the "Walls of Jericho" for the Harlem River Housing Project, and a sculpture of Rose McClendon for Frank Lloyd Wright's iconic Pennsylvania home, Fallingwater.
James Richmond Barthé was born in Bay Saint Louis, Mississippi, into a family of devout Roman Catholic Creoles. His father, Richmond Barthé, died at age 22 of pneumonia when Richmond was only a month old, leaving his mother to raise him alone. As an adult, Barthé would honor his father by assuming his given name, Richmond.
Little "Jimmie" was a frail and introverted child, but he had a remarkable gift for drawing. His fourth grade teacher and his parish priest influenced young Richmond's aesthetic development, and he demonstrated great promise as an artist at a young age. Barthé spent hours at a time copying newspaper and magazine illustrations, but his poor health resulted in extended absences from school, and, at age twelve, his formal education ended. Because a "Colored" American in the South was barred from enrolling in any of the art schools near his home in New Orleans, Louisiana, Barthé became largely self-taught. His work was shown at a county fair in Mississippi when Barthé was twelve, and he continued to develop remarkably as an artist.
Barthé left home at sixteen to work as a houseboy and handyman for a wealthy and socially prominent New Orleans family. While living and working in the midst of fine art and books, and with some encouragement from his employers, Barthé taught himself to paint in oils with impressive results. At eighteen, his parish priest and a writer for the "New Orleans Times Picayune" recognized his ability. Richmond donated a portrait he made for a church fundraiser. The priest and the writer, along with his employer, were determined to find an art school where Barthé could study and expand his talent.
In 1924, Father Harry F. Kane helped fund Barthé's first year of evening classes at the School of the Art Institute of Chicago. Enrolled as Richmond Barthé, he boarded in Chicago's Bronzeville, bussed café tables on Michigan Avenue by day, and acquired the skills of a professional painter by night. During the next four years, Barthé followed a curriculum structured for majors in painting. His work caught the attention of Dr. Charles Maceo Thompson, a patron of the arts, and supporter of many talented young Black artists. Barthé was a flattering portrait painter, and Dr. Thompson helped him to secure many lucrative commissions from the city's affluent Black citizens.
During his senior year, Barthé was introduced to sculpture by his anatomy teacher. He began modeling in clay to gain a better understanding of the third dimension in his painting. This transition proved to be a turning point in Barthé's career. He exhibited two busts in the 1927 Negro in Art Week exhibition, and attended a lecture by philosopher Alain Locke, who soon became an important advocate and friend. Barthé also participated in the April 1928 annual exhibition of the Chicago Art League, receiving much critical praise and numerous commissions.
Just months before the stock market collapsed in 1929, Barthé arrived in Harlem for an extended stay funded by a Rosenwald Fellowship. He intended to participate in, and gain inspiration from the New Negro arts renaissance already nearing its peak. Harlemites raved about Barthé (they called him "handsome as all get out"), and, within a short time, he began introducing himself only by his first name. He established a studio in Harlem, and eventually moved to New York City permanently in 1930. During the next two decades, Barthé built his reputation as a sculptor. He became an important contributor to the Harlem Renaissance, and secured a Guggenheim fellowship twice, in addition to other awards. By 1934, Barthé's reputation was so well established that he was given his first solo show at the Caz Delbo Galleries. Barthé experienced success after success, and was considered by writers and critics as one of the leading "moderns" of his time.
In 1937, Richmond Barthé exhibited six dance figures at the Dance International 1900-1937 exhibition held at Rockefeller Center. The exhibition was a critical triumph for the artist, and all of his works were immensely popular with the public, especially his statues of "Feral Benga" and "African Dancer," which was notable for its androgynous features. By using modern dance as a theme for his sculptures, Barthé hoped to engage contemporary ideas of expression, primitivism, and modernity. For Barthé, dance was an inexhaustible theme; he even took dance lessons with Mary Radin of the Martha Graham group soon after arriving in New York as a way to authenticate movement in his figures. In his images of males and females engaged in dance, Barthé explores perceptions of race, spirituality, and homoerotic desire.
Although Barthé remained closeted all his life, he entered an established network of gay men and women soon after his arrival in Harlem in 1929. His penchant for homoerotic themes was encouraged by his friends in New York's gay and artistic communities. Barthé's unique portrayal of the male figures made him popular among prominent white, gay patrons. They included notables such as photographer Carl Van Vechten, and department store magnate Edgar Kaufmann, Jr., for whom architect Frank Lloyd Wright created his masterpiece, "Fallingwater." Barthé's most important African American supporters and patrons included his friend and one-time lover, Richard Bruce Nugent, as well as Alain Locke.
Eventually, Richmond Barthé decided to abandon his life of fame and move to Jamaica in 1947. His career flourished, and he remained there until the mid-1960s. Barthé created major works in Haiti after his 1947 move to Ocho Rios, Jamaica, and they were among his largest and most important projects. The huge equestrian bronze of "Dessalines" was one of four heroic sculptures commissioned in 1948 by Haitian political leaders to mark independence celebrations. Barthé's 40-foot-high "L'Ouverture" statue and stone monument was positioned near the National Palace, and was unveiled in 1950. At the time, one African American newspaper called the collection "the Greatest Negro Monuments on earth." L'Ouverture was, in fact, a subject Barthé returned to several times, having previously created a bust in 1926, and a painted portrait in 1929.
Barthé spent the next five years living in Europe before eventually settling in Pasadena, California. When he moved to a rental apartment, above a garage in Pasadena, the city named the street after him. In that apartment, Barthé worked on his memoirs, and most importantly, editioned many of his works with the financial assistance of actor James Garner, who remained his patron until Barthé's death on March 6, 1989.
Today, Barthé's pieces are in collections at the Whitney Museum of American Art, the Metropolitan Museum of Art, the Pennsylvania Museum of Art, and the Virginia Museum of Fine Arts, among others.
Richmond Barthé received many honors during his career, including the Rosenwald Fellowship and Guggenheim Fellowship, and was honored by the National Academy of Arts and Letters. Barthé also received awards for interracial justice and honorary degrees from Xavier and St. Francis universities. He was the recipient of the Audubon Artists Gold Medal in 1950.
We remember James Richmond Barthé in deep appreciation for his brilliant artistry, his persistent determination to learn and succeed, and his many contributions to our community.