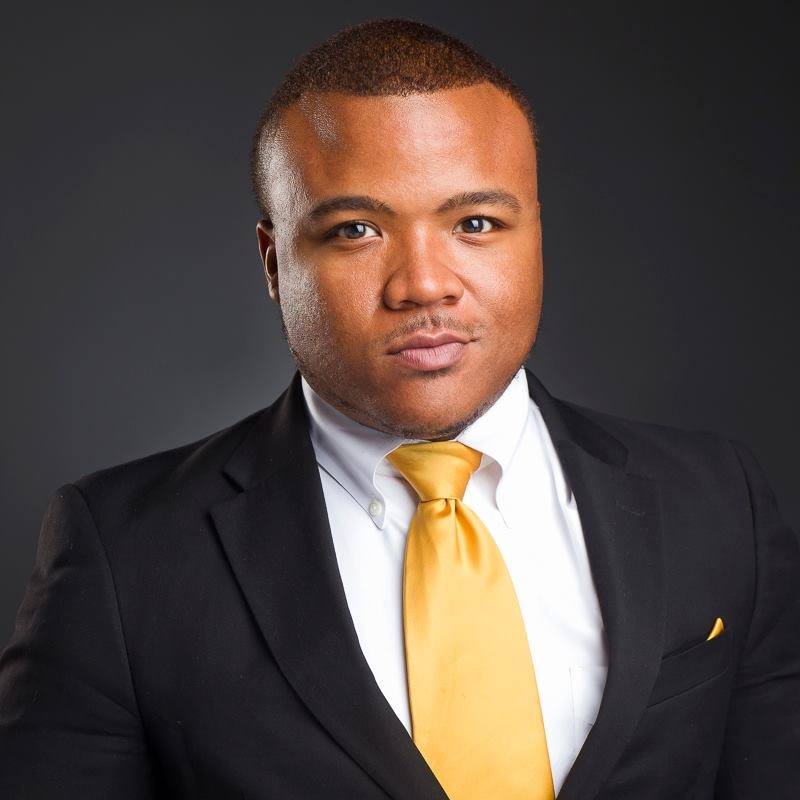 Venton C. Hill-Jones
Venton C. Hill-Jones was born on January 31, 1984. He is a community organizer, non-profit administrator, and a respected specialist in public health communications committed to advancing civil rights, equality, and social justice for the African American and LGBTQ communities.
Venton Carlos Hill-Jones was born in Dallas, Texas, the son of Venton Carlos Jones and Stephanie Miller. He has three siblings, LaTrice Jones, Ladonna Jones, and Erica Jones. Hill-Jones attended Lancaster High School, where he graduated in 2002. While in school, he was actively involved in the Junior Reserved Officers Training Corps (JROTC), student council, track, and the marching band. Hill-Jones founded the Key Club (a Kiwanis International high school program) at Lancaster High School, and later served as lieutenant governor and then governor of the Texas and Oklahoma District of Key Club International. During his high school years, Venton performed over 1200 hours of community service earning him recognition as most involved by his peers.
Following high school, Hill-Jones enrolled at Texas Agricultural and Mechanical (A&M) University, and earned his bachelor's degree in community health. He completed his master's degree in health care administration at the University of Texas at Arlington. Deeply committed to community service, Hill-Jones was very active in college student government, and served as a student senator. He was also director of the Advance Leadership Institute of the Southwestern Black Student Leadership Conference; director of the ExCEL Student Success Program's freshmen orientation conference; president of the Texas A&M African American Student Coalition; and a member of the national professional health education honorary organization, Eta Sigma Gamma. In addition, Hill-Jones became a member of the oldest and most distinguished Black fraternal organization, Alpha Phi Alpha Fraternity, Incorporated.
Venton C. Hill-Jones knew from a very early age that he was gay. Even though he did not discuss it or even fully acknowledge it, he knew it—and others did, too (or at least speculated about it). After college, Hill-Jones told his parents and fully came out. In the beginning, some immediate family members did not take to well to the news, but in the end, Hill-Jones was supported, affirmed, and loved by his family, especially by his sisters.
Hill-Jones is currently a resident of Washington, DC, and serves as the senior program manager for AIDS United, a national non-profit with a specific mission of ending the AIDS epidemic through strategic grantmaking, capacity building, policy/advocacy, technical assistance, and formative research. During his time in DC, Hill-Jones has also worked at the National Black Justice Coalition (NBJC) as the program officer for LGBTQ health and wellness initiatives, and served as communications and education manager for the National Black Gay Men's Advocacy Coalition (NBGMAC). As the first full-time staff person of NBGMAC, Hill-Jones managed day-to-day operations of the coalition, and overhauled the organization's communications infrastructure. He also serves as the project manager for the Young Black Gay Men's Leadership Initiative.
Hill-Jones represents a new generation of national leaders, and has an extensive history in the areas of non-profit administration and community organizing. Prior to moving to the District of Columbia in 2010, he worked with the University of California, the San Francisco Center for AIDS Prevention Studies, and as the team leader and social networking coordinator for United Black Ellument (an HIV prevention intervention adaptation for young Black gay and bisexual men) in his hometown of Dallas, Texas.
In 2008, Hill-Jones founded and served as president of the Dallas-based non-profit DFW Pride Movement. The organizations serves as the official host of Dallas Black Pride, with the mission of promoting social awareness, unity, self-empowerment, mentorship, and positive visibility throughout the Dallas and Fort Worth lesbian, gay, bisexual, transgender, and affirming community of color through education, health promotion, advocacy, and coalition building.
Hill-Jones's extensive background has led him to serve as an expert consultant for a number of agencies and government entities throughout the United States, including the White House. He has been featured in several publications and media outlets including "JET," and BET. In 2013, Hill-Jones was recognized as one of the LOUD 100 LGBT People of Color, and a recipient of the National Association of People with AIDS (NAPWA) Positive Leadership Award, and National AIDS Education and Services for Minorities (NAESM) Harold Dean Philpot Leadership Award for Excellence in Support for HIV/AIDS and Community Service. During the XIX International AIDS conference in 2011, Hill-Jones was recognized by the White House by President Barack Obama for his work on the frontlines of addressing the HIV/AIDS epidemic.
Hill-Jones has been living with HIV since 2007, after finding out his status during his enlistment in the United States Army. The diagnosis fueled his passion to help raise awareness of the HIV/AIDS epidemic, and advocate for the lives of people in his community. He continues his work to advocate for the rights of those at the intersection of being Black and LGBTQ. Since the beginning, Hill-Jones has been a tireless advocate on the front lines of addressing the devastating impact of the HIV/AIDS epidemic in the United States.
Venton C. Hill-Jones is currently married to his loving husband, Todd Hill-Jones, and enjoys cooking, politics, traveling, gadgets, and museums. He loves anything connected to music, and can often be found somewhere in nature or in DC singing karaoke with friends.
We thank Venton C. Hill-Jones for his commitment to civil rights, equality, and social justice, and for his unwavering support of our community.