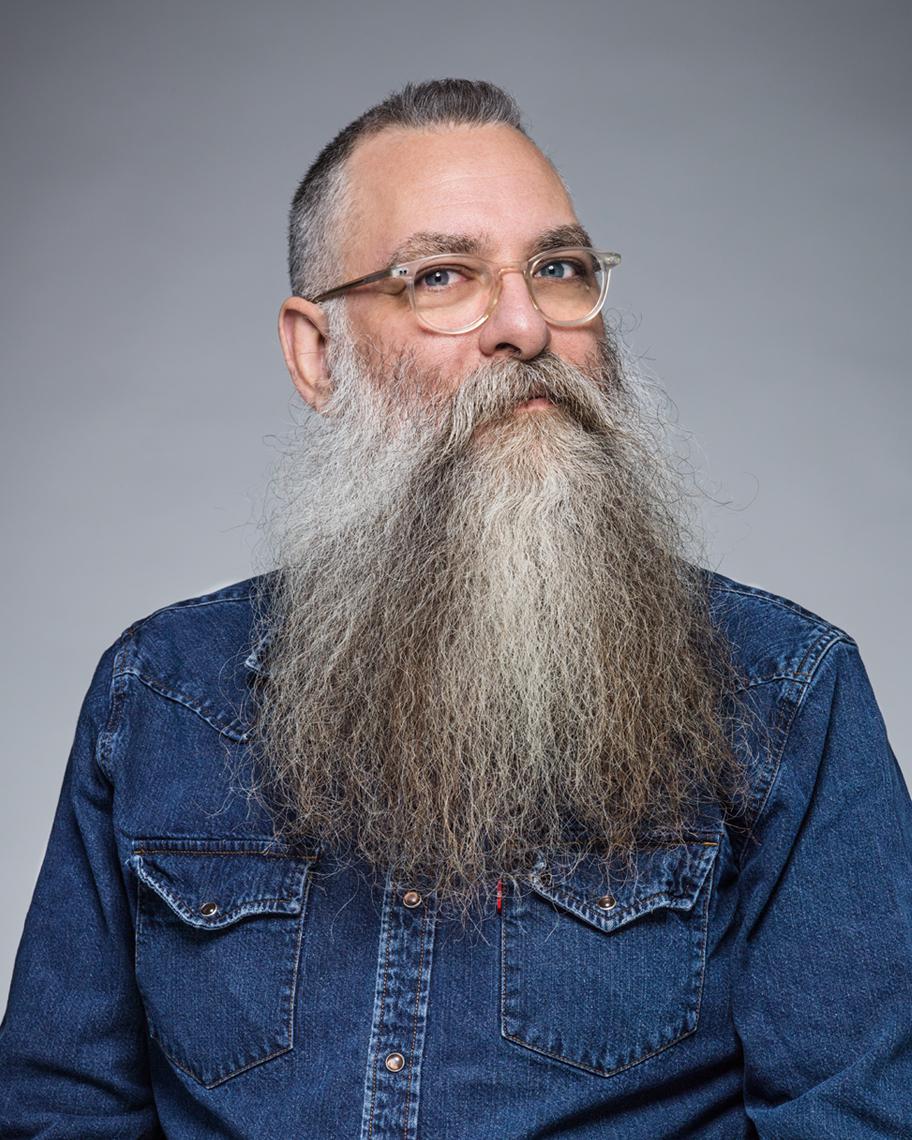 Nayland Blake
Nayland Blake was born on February 5, 1960. He is a celebrated artist whose mixed-media work often reflects themes of masochism, his biracial heritage, and his pansexuality.
Nayland Blake was born in New York City, the son of an African American father and an Irish-American mother at a time when such unions were outlawed in many parts of the United States. Both of his parents were artistically inclined, and his own early explorations in creating art were encouraged. Blake grew up on Manhattan's Upper West Side as a self-described "art nerd," and spent his high school years with like-minded friends, hanging out in Soho and East Village galleries and lofts, watching experimental film and performances.
Blake graduated from Bard College in 1982, and received his Master of Fine Art degree from the California Institute of the Arts in 1984. That same year, he moved to San Francisco, where he spent the next eleven years working as a curator for New Langton Arts, where he also had his first solo exhibition, and served as an instructor at various local art schools.
Blake's work first came to national and international attention when it was featured in the 1991 Whitney Biennial and the 1993 Venice Biennial. He was also included in the Whitney's infamous "Black Male: Representations of Masculinity in Contemporary American Art" exhibition in 1994.
In 1995, Blake co-curated "In a Different Light: Visual Culture, Sexual Identity, Queer Practice" at the Art Museum of the University of California, Berkeley. This was the first major show to exhibit the work of queer artists exclusively. The book produced from the show has become a standard in queer art scholarship.
In 1996, Blake returned to New York, and in 2003, he accepted a position as chair of the International Center of Photography and Bard College's joint Master of Fine Art program in advanced photographic studies.
Blake's work embraces a host of media, including sculpture, drawing, painting, assemblage, video, and performance, and reflects a playful curiosity with his own racial and sexual identities. He is a Black man by the definition of historical jurisprudence, yet easily passes for white. As a gay man, his sexual identity can be equally murky, subject to either concealment or revelation.
Blake's work perennially theatricalizes, and even eroticizes, the characteristically suppressed linkages between interracial desire, same-sex desire, and the overt displays of bigotry and intolerance that customarily greet such transgressions as these. It also frequently probes the changing relationship of the artist's self to his body, its relative health and wellness, and others' perceptions of it. This concern is reflected in his fascination with gory horror movie images of the body's violation and possession, by his use of body weight and fat as erotic signifiers, and by the extensive use of food in his works.
"Gorge" (1998) is a video of the artist sitting shirtless and being hand fed an enormous amount of food for an hour by a shirtless Black man from behind. The performance is charged with the possible inversion of stereotypical roles, but also with real affection between the two men. In 2009, a live version of "Gorge" was staged in which audience members fed Blake.
Among his most famous pieces are a log cabin made of gingerbread squares fitted to a steel frame entitled "Feeder 2" (1998). When it went on display at the Tang Teaching Museum and Art Gallery, visitors nibbled off bits and pieces of the cabin's interior walls, while the smell of the gingerbread filled the gallery. Another well-known work is "Starting Over" (2000), a video of the artist dancing with taps on his shoes in a bunny suit made to weigh the same as his lover, Philip Horvitz. The suit was so heavy that Blake could hardly move as he took choreographic directions from Horvitz offstage.
Maura Riley curated a retrospective of 30 years of Blake's art, "Behavior," which was presented in 2008 and 2009 at Location One in New York City. His work is in the collections of the San Francisco Museum of Modern Art, the Brooklyn Museum of Art, the Whitney Museum of American Art, the Walker Art Center, and the Des Moines Art Center, among others.
Blake has been on the faculty of the Milton Avery Graduate School of the Arts, and has taught at the San Francisco Art Institute, the California Institute of the Arts, the University of California, Berkeley, Parsons School for Design, New York University, the School of Visual Arts, and the Harvard University Department of Visual and Environmental Studies.
Nayland Blake has been exhibiting his work at Matthew Marks Gallery since 1993. Interracial desire, same-sex love, and racial and sexual bigotry are recurrent themes in his sculptures, drawings, performances, and videos, which reflect his preoccupation with his own racial and sexual identities. In his first solo show at Matthew Marks Gallery, he exhibited eight sculptures that expanded on an earlier body of work, dealing with role playing, the skin's role in race and personal identity, and the concept of "passing" in terms of identity.
Tall, bearish and adorned with tattoos, Blake is a well-known and active figure within both the kink and fine art community. He has a reputation for blurring such distinctions, and over the past thirty years, the artist has drawn from his experiences and his unique identity as a means of exploring the constructions of race, sexual orientation, class, and self-identity. Through his work as an artist, teacher, and curator, Blake exerts an important influence on queer art, art scholarship, and artists.
Nayland Blake lives and works in New York City, where he is a revered presence in the City's vibrant art and cultural community, and a frequent presence at LGBTQ events.
We thank Nayland Blake for his unique artistry, for his commitment to exploring human curiosity and teaching others, and for his many contributions to our community.