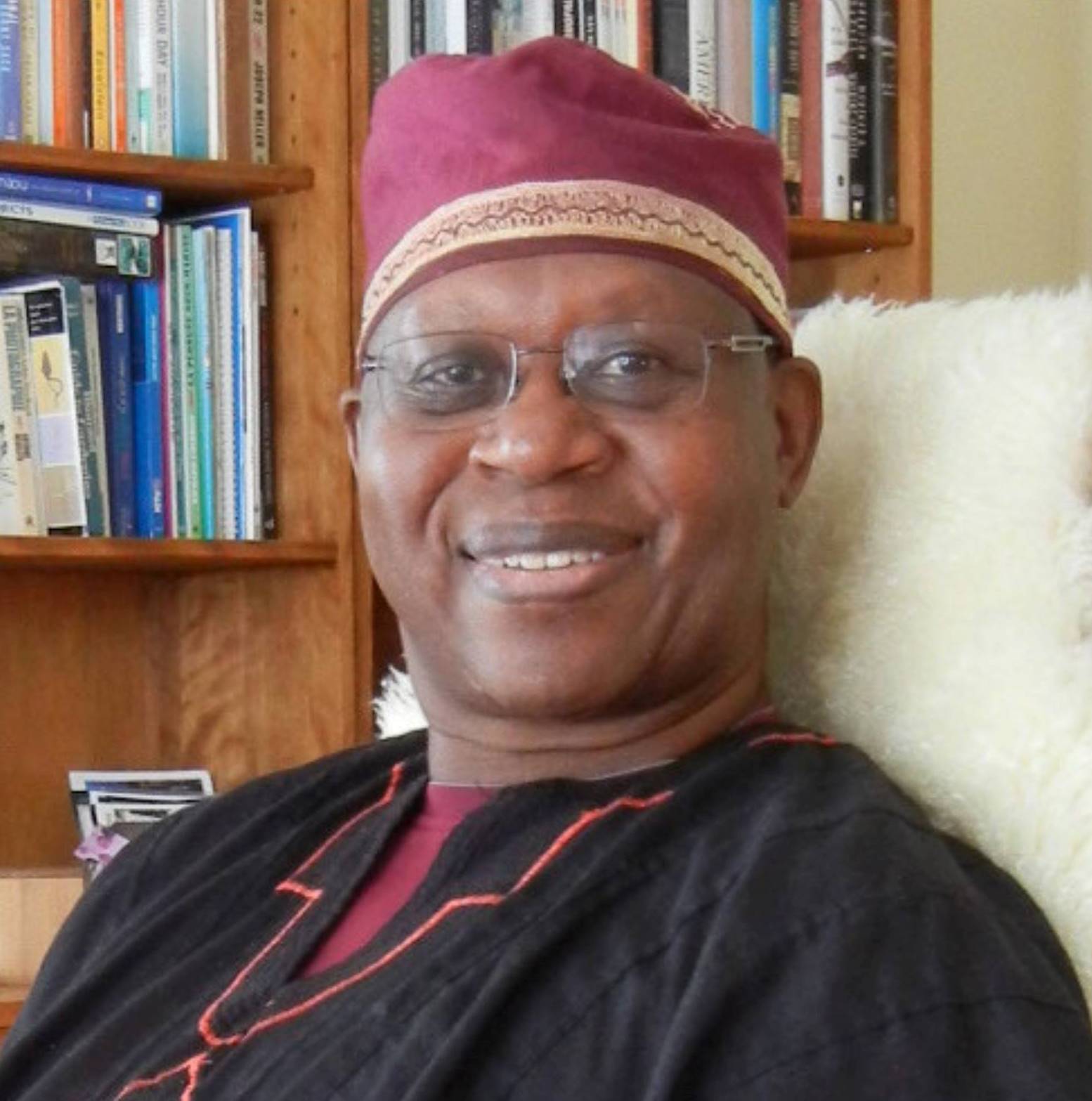 James Credle
James Credle was born on February 7, 1945. He is a highly decorated veteran of the Vietnam War, and a beloved former dean of students at Rutgers University-Newark. Credle is also a proud community builder, and a longtime activist in the Vietnam Veterans and LGBTQ movements.
James Warren Credle was born in Mesic, a very small town on the eastern shore of North Carolina, to Warren Credle, who worked with his hands as a part-time carpenter and laborer, and Carrie Mae Credle, a housekeeper, maid, and homemaker who worked at a military base for five dollars a day. James Credle had thirteen brothers and sisters, only six of whom survive. Life was hard but loving in the Credle home, and they got through the tough times by sticking together. Credle graduated from the all-Black Pamlico County Training School in 1962.
Credle spent his childhood showing very little concern for what was going on in the world of politics. Like many of the people he describes in the South, Credle was more concerned with carrying out the daily routines of his life. From high school athletics to his extracurricular job and church activities, Credle lived a life that sheltered him from the activities of the civil rights movement and the Vietnam War. What came next would forever change how he viewed the world.
After graduating high school, Credle decided to move to Newark, New Jersey, where he knew there would be more job opportunities. After relocating, he found work with his aunt and uncle at a veterans' hospital. Employees had to be at least 18 years old to work at the facility, so Credle falsified his birth certificate in order to get the position. He remained at the Lyons Veterans Hospital before being drafted into military service.
James Credle was drafted into the US Army and served from 1965 to 1967, leaving as a Specialist 4 Medic. He was a medic serving in the Tay Ninh Province, south of Saigon, when he was shot, continuing to help evacuate other wounded soldiers despite his own injuries. For his bravery and his service, Credke received a Purple Heart, a Bronze Star with a "V" for Valor, the Vietnamese Cross for Gallantry, and an Army Commendation Medal, among other military awards. Like many veterans, Credle went into Vietnam hoping to serve his time and get out unscathed. This proved to be an impossible task, as he, like so many others, struggled in the search for peace in a world they now saw in a completely different way.
Following Vietnam, Credle did his best to return to civilian life and his job at Lyons Veterans Hospital. He enrolled in Rutgers University-Newark, where he graduated in 1972 with a degree in sociology. Credle attended Rutgers School of Law for a year prior to accepting the position as director of the Office of Veterans Affairs at Rutgers. While a student, he served as captain of the Scarlet Raiders basketball team for two years, and a starting guard for four years. Credle also joined the Black Organization of Students (BOS) and Tau Kappa Epsilon Fraternity. Since his college days, Credle has held several leadership positions in service to veterans, including vice-chair of the Agent Orange Commission for the State of New Jersey.
Realizing that he was gay at a very early age, and growing up in the Jim Crow South, James Credle pursued sports and became especially proficient in basketball, baseball, and touch football before excelling at academics (he would rank third among his graduating class), as a way of gaining acceptance and dealing with manhood issues. He came out as gay to a select few while fighting in the Vietnam conflict, and expanded to others during his time as a Rutgers student. Credle views the coming out process as a lifelong experience.
In February 1969, Credle was among the student activists who took over Rutgers Conklin Hall, and effectively shut down the campus. The students had risked their lives and potential academic success in order to demand the university provide more access and opportunities to Black and Hispanic/Latin students, staff and faculty, including those from the very communities whose land was taken in order to build the university. Thanks to the protestors' efforts, Rutgers Newark is now a more diverse institution, but James concedes that "more work has to be done because, despite the diversity that exists, the university still lacks significant numbers of Black and Hispanic/Latin students within its student body."
Credle's professional tenure at Rutgers began in 1973, and he was promoted to the position of assistant dean of students in 1976. He says he thoroughly enjoyed the everyday challenges of meeting students where they were in their academic and personal development; Credle knew all too well what it was like to navigate a large university system while feeling outside of its concerns. The extra attention that Dean Credle brought to students who were disenfranchised made a difference in the lives of so many. After 38 years as a student, work study student, and employment as a director, then as a dean, James Credle retired from Rutgers University in 2005. The Women's Studies Department at Rutgers-Newark now bestows The Dean James Credle Award to a worthy student for his/her community service each year. In 2012, Credle received the prestigious Russ Berrie Award for his community service, which included a $5,000 prize.
Throughout the 1980s, James traveled to Manhattan weekly to participate in consciousness raising sessions, and he eventually joined the group Black and White Men Together/New York (now Men of All Colors Together/New York). That led to Credle becoming a founder of the National Association of Black and White Men Together, a group committed to dealing with these issues on a nationwide scale. Credle was able to coordinate an American tour sponsored by local chapters that featured Simon Nkoli, the South African gay activist who was imprisoned along with many African National Congress (ANC) members in their anti-apartheid struggles. Many felt that the respect granted to Nkoli during his imprisonment was behind the support of ANC members for a pro-gay section to the South African Constitution.
While in the military, Credle read "Giovanni's Room" by James Baldwin, and became enthralled with Baldwin's eloquence, and the touching portrayal of life in America. He had the pleasure of meeting and spending some time with Baldwin when the acclaimed writer accepted an invitation from Black and White Men Together/New York to speak—the first time he addressed an openly gay group. Credle says he is compelled to re-read Baldwin over and over again, searching for an overlooked new pearl that he somehow missed, and to marvel at his continuing relevance today.
Credle has also worked with writer, educator, and poet Cheryl Clarke, whom he first met through the anthology "A Bridge Called My Back." Clarke challenges and supports Credle, and helps him to understand the here, the now, and the questions for our future based on our connections to the past. Credle says of Clarke: "She helps me respond to the question: What more needs to be done?"
Credle feels blessed to have loved and been loved by three special men. His first long-term relationship lasted eleven years, and while the two men remain friends, they have moved on. Credle's second notable partnership was with JanHerman Veenker, a Dutch man who passed away in 2005, and is widely recognized for the brilliance of his work with the International Lesbian and Gay Association. Today, the love of Credle's life is Pierre Dufresne, a Canadian currently living in Plattsburgh, New York, who James says is the most gentle, caring, and supportive person one could ever have in one's life. With Defresne, Credle enjoys the discovery of traveling, venturing around with no apparent destination, quiet times, food, and simple living.
Credle and Dufresne were married by then-Newark mayor and U.S. Senator-elect Cory Booker at a service at Newark City Hall in the early morning hours of October 21, 2013, the first day that same-sex weddings were legally sanctioned in New Jersey.
James Credle is the founder of a scholarship program, Circle Of Friends, which was created to honor his former husband JanHerman Veenker and Angel Claudio (Angel Vizcaya), both of whom passed away too soon. The award in their memory provides a scholarship for the student selected for the Dean James Credle Award by the Women's Studies Program at Rutgers Newark. The historic awards were made possible, in part, by the policies under a forward-thinking Dutch law that recognized James Credle as heir to his first husband's estate and pension.
Along with Laquetta Nelson, Credle co-founded the Newark Pride Alliance following the tragic murder of Sakia Gunn. The Alliance works to create safer spaces for youth, and anti-bullying is high on its agenda. He is also a founding member of the Newark LGBTQ Center, which is working to become a one stop service center for the SGL/LGBTQ community in his beloved hometown.
During the height of the HIV/AIDS pandemic, Credle worked with Barbara Smith to write a grant that funded Project FIRE, an initiative that worked closely with the Ball community. Their Hot, Horny, Healthy safer sex playshops became a dynamic educational force that saved lives. Credle worked with the New Jersey Performing Arts Center to bring the Ball community out of the shadows with Newark Is Burning:  From Cakewalk to Catwalk in 2010, and Newark Is Burning: Walking for Tens in 2012. After a successful FireBall Returns event several years ago, plans are underway for FireBall 2018 as part of Newark Pride Week in July 2018.
Credle is also celebrating the 12th anniversary of Circle Of Friends, now approaching the distribution of more than $60,000 in awards to deserving young adults from Greater Newark. In addition, he is working as convention manager for the National Association of Black and White Men Together, planning gatherings in Reno, Nevada (2018), Arlington, Virginia (2019), and New Orleans, Louisiana (2020, the group's 20th anniversary).
James Credle—a self-described "sports nut"—makes his home in Newark, where he enjoys cooking for friends, family, and colleagues, and is writing a book about his life in hopes of inspiring others as he has been inspired.
We thank James Credle for his selfless advocacy and service to the United States, and for his support of our community.