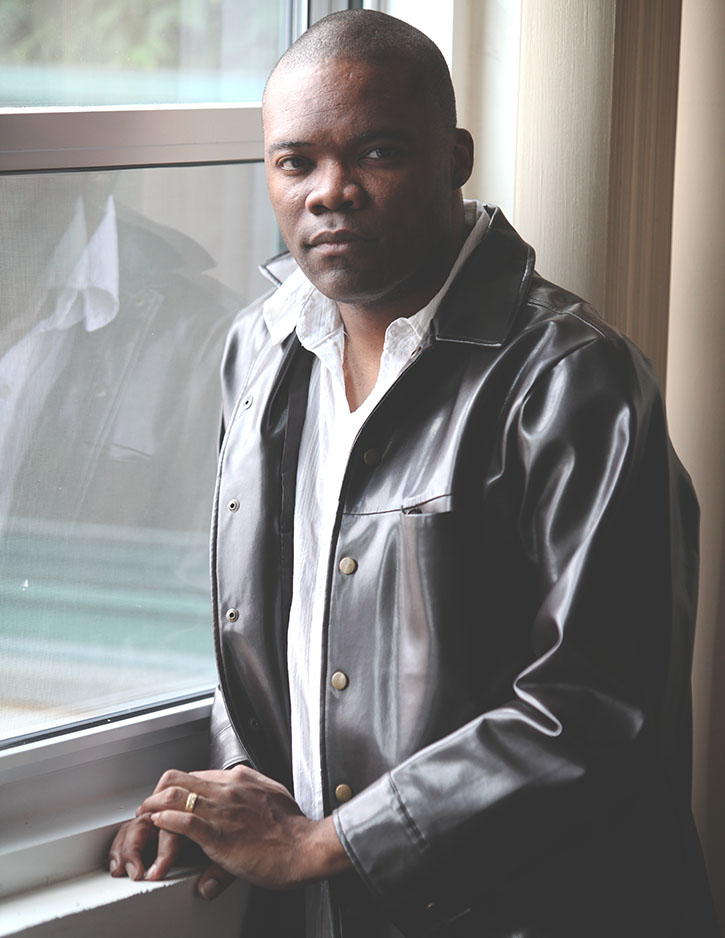 J Marshall Evans
J Marshall Evans was born on February 15, 1975. He is a producer, playwright, dramatist, singer, music composer, teacher, community educator, advocate, and activist.
J Marshall Evans was born in Marshall, Texas, and is the adopted son of Neddie Evans, who was a blue-collar worker and an entrepreneur, and Olivia Burks Evans, a homemaker; he has an older brother and baby sister. Evans was raised in Waco, Texas, where he faced challenges of deep racism, homophobia, and celebration of religiosity, and survived physical, verbal, mental, spiritual, and sexual abuse.
After being accepted into the High School for the Performing and Visual Arts in Houston, the universe offered him opportunities to flee and to find new opportunities for success and healthy living. Following graduation in 1994, he studied for two years at Central Christian College (Kansas) to focus on getting the highest grades he could with no distractions. Evans then enrolled at Grambling University in Louisiana, where he received his bachelor's degree in psychology.
While in school, Evans was an athlete who participated in basketball, soccer, and track and field. He excelled academically, and was also was a Texas All State Singer, and the recipient of several scholarships and grants, including awards from Omega Psi Phi Fraternity, NAACP-ACTSO, and the National Endowment the Arts.
Evans attended the American Musical and Dramatics Academy. He performed on Broadway and off-Broadway in several stage productions, including "The Lion King," "Ragtime," "Eden," and "SOULS.com," directed by the legendary Tom O'Hourgan. Evans is a five-time award winner for acting and directing; his most recent award was the 2016 Perry Award for Outstanding Lead Actor in a Musical for his portrayal of Jim in Interact Theatre's production of "Big River."
Evans worked in theater for many years, but after the death of two friends—one due to complications from AIDS and the other murdered by his lover because of internalized homophobia—Marshall walked off the stage of one of the most popular and successful Broadway musicals in history, and walked into the doors of a non-profit dedicated to health and wellness in the Black gay community. This started his work as an activist, advocate, educator, and community builder.
Evans eventually began working to educate others as a community health specialist, and created Raising Expectation So People Excel with Critical Thinking (RESPECT). The initiative was instrumental in creating conversations through trainings, think tanks, and retreats, and targeted people of all walks of life to talk, commune, and be self-reflective about attitudes and behaviors evident in homophobia, transphobia, xenophobia, and racism throughout the United States.
Evans was appointed by the Mayor of New York City to serve as an Executive Committee member and eventually the community co-chair of the New York City Prevention Planning Group. He also served as a delegate to the Urban Coalition for HIV/AIDS Prevention Services (UCHAPS). Being certified by the American College of Sexology and the American Association for Educators, Counselors, and Therapists, he felt it was important to have a Black male with same-sex desires involved in the creation of honest, authentic, culturally sensitive, sex positive, and realistic prevention methods and messages that affected his community.
After a time, Evans returned to the stage and screen. He joined the amazing cast of "Murphy's Law: Therapy Gone Wrong," written and directed by Andrea Clinton. Evans also performed as Delroy in "Memphis," and Mr. Black in "The Wild Party." In addition to the independent film "The Gardens," Evans completed the writing, producing, and directing of the off-Broadway production of "The Last Hour," which received rave reviews from both audiences and critics. He is currently workshopping new works, including "Dante," "Love, Freedom, and Other Lies from the South," and "Junior." Evans is an executive board member of Harlem Playwrights 21.
As a playwright, Evans is inspired by J.R.R. Tolkien, Frank Peretti, and LA Banks. In his reading journey, he was introduced to Essex Hemphill, James Baldwin, Wallace Thurman, Fredrick Lorca, August Wilson, and Bruce Nugent, all of whom have moved him with their written words. As a performer, Evans has always enjoyed Alvin Alley, and the classic work from Marlon Riggs' "Tongues Untied." The men that he admires the most are his mentors, Ben Vereen and Terrance Gardet, with whom he worked side-by-side at the New York City Prevention Planning Group.
A self-described man with a "savior" complex, Evans initially left the big lights of Broadway to make a difference in the lives of others. He does his work as a way to create a better world for younger Black gay men; his greatest addiction is seeing others be in a better place. Evans owns an acting studio, Marshall's Thespian Collective (MTC), which focuses on the development and support of future thespians and performers of all races, colors, ethnicities, religions, sexual orientations, and gender identification. The studio enrolls students from all over the New York and New Jersey area, and boasts of successful participants on screen and stages around the world.
Evans lives in the New York City area and has been happy in love. He has a dog named Sasha, and a cat, Langston. He is a fanatic for basketball, Japanese anime, fantasy movies, Chili's southwestern eggrolls, and enjoys classical and jazz music.
We thank J Marshall Evans for his numerous contributions to the arts, and for his support of our community.