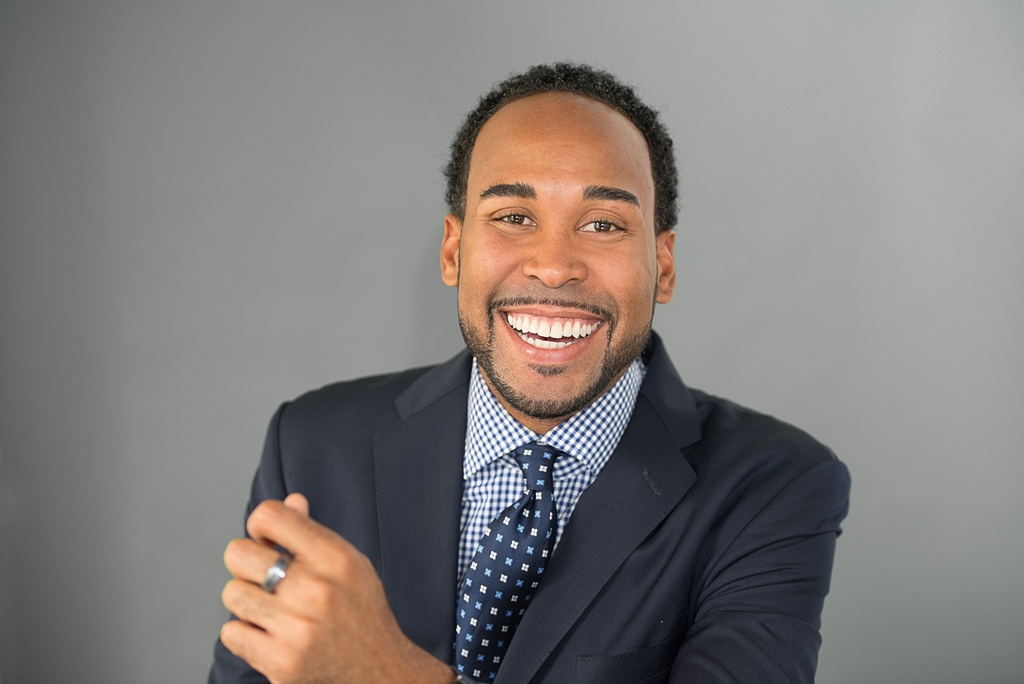 David J. Johns
David J. Johns was born on February 21. He is an educator, community builder, and activist with unique federal policy experience, and a self-described son, brother, uncle, and friend. Since September 1, 2017, Johns has been the executive director of the National Black Justice Coalition (NBJC), a civil rights organization dedicated to ending racism, homophobia, and LGBTQ bias and stigma, and empowering Black LGBTQ people, including people living with HIV/AIDS.
David J. Johns was born in Culver City, California, the son of Homer Johns and Edith O. Johns, and brother to Melinda Nicole Johns. He attended Paul Revere Middle School in Brentwood, California, and graduated from Palisades High School in Pacific Palisades, California. As a Black boy being raised in a non-nuclear family in Inglewood, California, Johns says the possibilities for his masculine identity as well as romantic and intimate relationships were constructed by shallow social understandings of "traditional" and accepted behaviors—definitions that rendered LGBTQ and SGL people and their contributions invisible.
"Growing up, I rarely saw people who looked like me, who showed up in the world as I did—equally proud of and settled into their Blackness as well as their queerness," Johns told the Ubuntu Biography Project. "For me, this meant embracing same-gender attraction as a fundamental part of who I am, and how I move through the world."
Following high school, Johns attended Columbia College at Columbia University in New York City, earning his bachelor's degree in English, African American studies, and creative writing in 2004. Two years later, he graduated summa cum laude (while simultaneously teaching elementary school in New York City) and earned a master's degree in sociology and education policy from Teachers College, Columbia University, where he is expected to obtain a PhD in those fields in 2022. Johns is a member of Kappa Alpha Psi Fraternity.
Johns served with the late U.S. Senator Ted Kennedy, and was a senior education policy advisor to the Senate Committee on Health, Education, Labor and Pensions (HELP) under the leadership of U.S. Senator Tom Harkin. Johns also was a Congressional Black Caucus Foundation Fellow in the office of Congressman Charles Rangel. His research as an Andrew W. Mellon Fellow served as a catalyst to identify, disrupt, and supplant negative perceptions of Black males—both within academia and society.
During this time, Johns recalled becoming keenly aware that advocates purporting to care about the Black community assumed all Black people were heterosexual, and LGBTQ advocates operated as if all LGBTQ people were white. "Understanding the importance of intersectional identities, it is critical that we make space for and celebrate the contributions that Black LGBTQ/SGL people have and will continue to make—not in spite of who we are, love, and how we show up in the world, but precisely because of those things," said Johns.
In 2013, Johns was appointed as the first executive director of the White House Initiative on Educational Excellence for African Americans by President Barack H. Obama, and served until the last day of the Obama Administration in January, 2017. The Initiative worked across federal agencies and with partners and communities nationwide to produce a more effective continuum of education and workforce development programs for African American students of all ages.
Under Johns' leadership, the Initiative studied the experiences of students, leveraging a partnership with Johnson Publishing Company ("EBONY" magazine) to produce a series of African American Educational Summits (AfAmEdSummits) at college campuses throughout the country, where the only experts who sat in front of the White House seal were students as young as elementary school. The student recommendations have been used to improve policies, programs, and practices—including curriculum—designed to ensure that students thrive in school and in life.
As executive director of the National Black Justice Coalition, Johns says "stakeholders can expect continued unapologetic, strategic, and collaborative public policy advocacy that advances the issues that matter most to African American civil rights groups and LGBTQ organizations." He adds that the advocacy of NBJC has been critical to the advancement of productive dialogue in Black communities on issues like marriage equality, the repeal of "Don't Ask, Don't Tell," and employment discrimination against LGBTQ people, to name a few.
Among his organizational goals, Johns vows to lead aggressive campaigns that disrupt deleterious stereotypes about Black LGBTQ and same gender loving people; curate stories about the many contributions Black LGBTQ/SGL people continue to make to our communities, nation, and the world; provide a platform for Black LGBTQ/SGL people, our allies, and our families to advance civil rights and LGBTQ/SGL rights; to strengthen the Black family; and to facilitate true liberation of African people throughout the diaspora.
"I plan to focus deeply on the empowerment of the Black family—which includes the families we are born into as well as those we create—while honoring the opportunity to remain a central repository for advocating for and responding to the needs of Black LGBTQ/SGL individuals and communities," Johns told the Ubuntu Biography Project. "Critical to this work is engaging all Black people in transformative dialogues that honor the diversity of Black families, and the roles that Black LGBTQ/SGL people continue to play in both Black families and communities. One of my strategic objectives and passions in this space is to center some of the most relegated people within our communities, including Black LGBTQ/SGL youth, trans* people, and elders."
Johns has been featured as an influential politico and advocate by several publications and outlets, including TheRoot.com, "EBONY," and "The Washington Post." He is a prominent strategist who offers commentary for several media outlets, including BET, CNN, EducationPost and TV One. Honors include being named to the Root100 in both 2013 and 2014, being selected as a member of the Ebony Power 100 in 2015, and receiving an early career award from Columbia University, Teachers College in 2016.
Johns has contributed his expertise to the National Urban League, the National Institute for Early Education Research, the National Black Child Development Institute's State of the Black Child Report ("Supporting Education Excellence for African Americans Beginning at Birth" and "Removing Barriers to Opportunity: Eliminating Preschool Suspensions"), NBC News, "Philadelphia Gay News," and Talks at Google.
Known as "DJ" and "Mr. TeachTheBabies" by family, friends, and colleagues, Johns lives in Washington, DC and New York City, and enjoys running, the sounds of rain and children laughing, and the comfort of a good book (he counts James Baldwin, Richard Wright, Ann Petry, and Octavia Butler among his favorites).
In his diverse career, Johns has worked on issues affecting low-income and minority students, neglected youth, early childhood education, and Historically Black Colleges and Universities (HBCUs). He remains committed to volunteer services, and improving literacy among adolescent minority males. Much of his work is rooted in bringing his "whole self" into the dialogue, and empowering others to do the same.
"Too often those of us with intersectional identities are asked to check, hide, shrink, or ignore parts of ourselves in order to enter into certain spaces, to be accepted, or to even feel safe," Johns stated. "I envision a world in which each of us are free—physically, mentally, emotionally, spiritually, financially and otherwise—to show up just as we are without fear of shame, stigma, or harm."
We thank David J. Johns for his tireless advocacy, leadership, and support of our community.