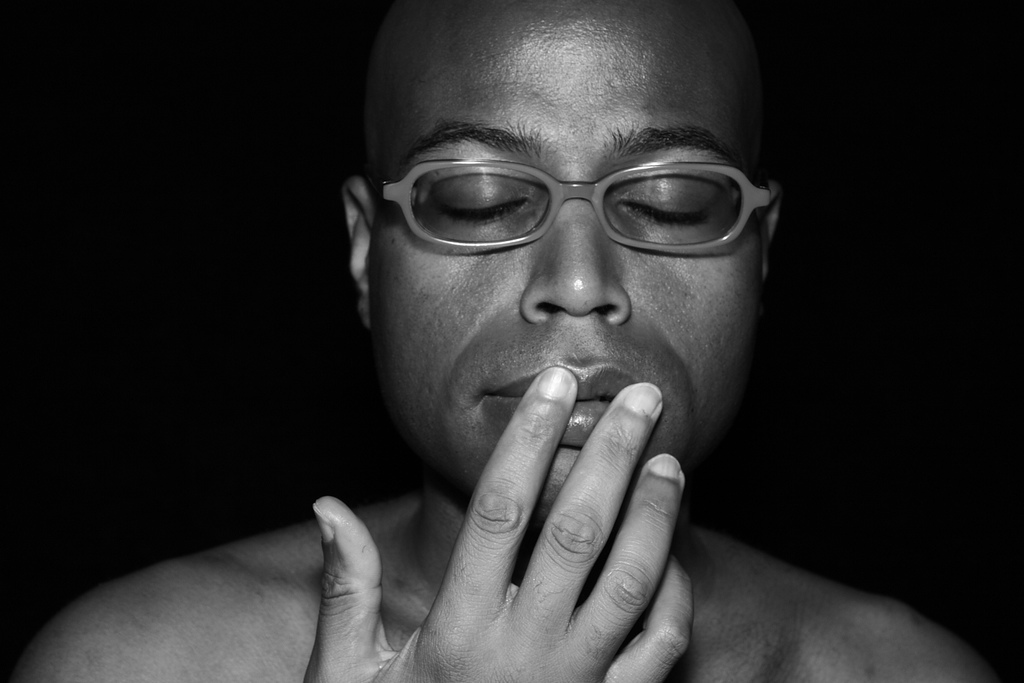 Donald Agarrat
Donald Agarrat was born on February 22, 1970 (to September 14, 2013). He was a popular Harlem photographer, afrofuturist, technologist, artist, beloved activist, website designer, entrepreneur, musician, and deejay.
Donald Andrew Agarrat was born in Hollis, Queens, the son of Delores and Henry Agarrat. He attended various schools and graduated from the talented and gifted program at Eleanor Roosevelt High School of Greenbelt, Maryland in 1988. Agarrat furthered his studies at the University of Maryland in College Park, and immersed himself in other institutions of higher learning after relocating to New York City. While living in Maryland, he worked for radio station WPGC-FM, and the United States Department of Agriculture.
After returning to New York, Agarrat took jobs with Tekserve as a certified Apple product professional, in addition to positions with Morgan Stanley, the Social Security Administration, and Chase Bank. He began his own web design company, Anzidesign, in June of 2003, and created web designs for activist and media pundit Keith Boykin, and many others.
Agarrat was inquisitive, and used his camera to capture everything that interested him in the bustling city. His love of people became evident in his photography as he preserved an array of emotions and circumstances, stopped in each frame. Agarrat's love of the diverse people around him, especially the African diaspora in New York City, empowered and informed his art, and could be seen as the subject matter of many of his photographs. It was also evident in his ability to communicate with anyone in English, French, Spanish, Portuguese, and German.
In May of 2005, Agarrat was one of ten winners of Jen Beckman's "Hey, Hot Shot" photography challenge exhibited at her gallery on Spring Street in the Bowery. He also was featured in "HRLM," an exhibit of Harlem's contemporary and traditional photography at the Studio Museum of Harlem. Agarrat was the recipient of the Galaxy Award from "art in harlem" for excellence in photography.
Agarrat could be the life of the party, but other times was quite introverted and kept to himself. In his quiet time alone, he focused on his writing—mostly about love—in the form of poems, letters, songs, stories, and even plays. He was brave, loyal, trustworthy, committed, and a beloved warrior to all that knew him. Agarrat participated in protests for the rights of African Americans, and the SGL/LGBT/Queer community. A friend noted on one of Agarrat's memorial pages: "Donald was a gentle, witty, often hilarious soul, someone deeply rooted in the communities (black, queer/sgl, artists, tech, and more) to which he belonged, all of which he affirmed in his life and work, and he had eyes and a face so expressive they could stop traffic, a smile that was unforgettable."
Donald Agarrat was a compassionate and brilliant man who gave back to the community in ways both large and small. He was an active member of Gay Men of African Descent, and served on its board of directors. Agarrat used his skills as a photographer to support the Schomburg Center for Research in Black Culture, and could be counted on to record important events hosted by his dear friend and curator, Steven G. Fullwood of the Schomburg's In the Life Archive (ITLA). As official photographer for the ITLA, Agarrat's lens captured events produced by the ITLA's Ordinary People, a program series centered on Black LGBTQ films, books, and politics.
"From the beginning, Donald was there, taking photographs, and helping us set the tone of the series," said Fullwood, co-organizer of the series with Miranda Tarisa-Mims, an archivist at the Schomburg. "His photographs were critical in helping to build the audience for the series, as well as archive these unique events."
In 2014, a posthumous exhibit, "Donald Andrew Agarrat: Harlem Photographer" was presented at the Schomburg Center for Research in Black Culture.
Agarrat loved Harlem and its history and cultural contributions. He had an intense dislike for the gentrification that he saw happening around him, without him, and in spite of him. In an interview with Steven G. Fullwood in 2013, Agarrat said, "I like feeling like I'm a part of what Black people are doing here now and I relate a lot to what we have done here before. I love feeling our history percolate all around us. I can still feel the energy of James Reese Europe and his 'Hellfighters' march around me whenever I walk down Lenox Avenue—I can almost hear the music! I like being away from the rest of Manhattan. It's like we got our own thang uptown. There are many weeks that I never leave Harlem, because whatever we don't have up here, I can get from the Internet. Except for some place that plays cool house music, that is."
Donald Agarrat enjoyed working out, going to Starbucks, and volunteering at the LGBT Community Center. But he will be remembered for his love of people, and especially for his uncompromising support for the Black, queer community.
"Harlem really isn't the same without Donald and his ever-present camera," Fullwood told the Ubuntu Biography Project. "He had a passion for living, for life, and Harlem, and the Black queer community was better because of it. I know that I am."
We remember Donald Agarrat, and recognize him for using his creative gifts to document the community he loved, for his activism and his compassion, and for his many contributions to our community.
Special thanks to Steven G. Fullwood for his valuable assistance in composing this biography.