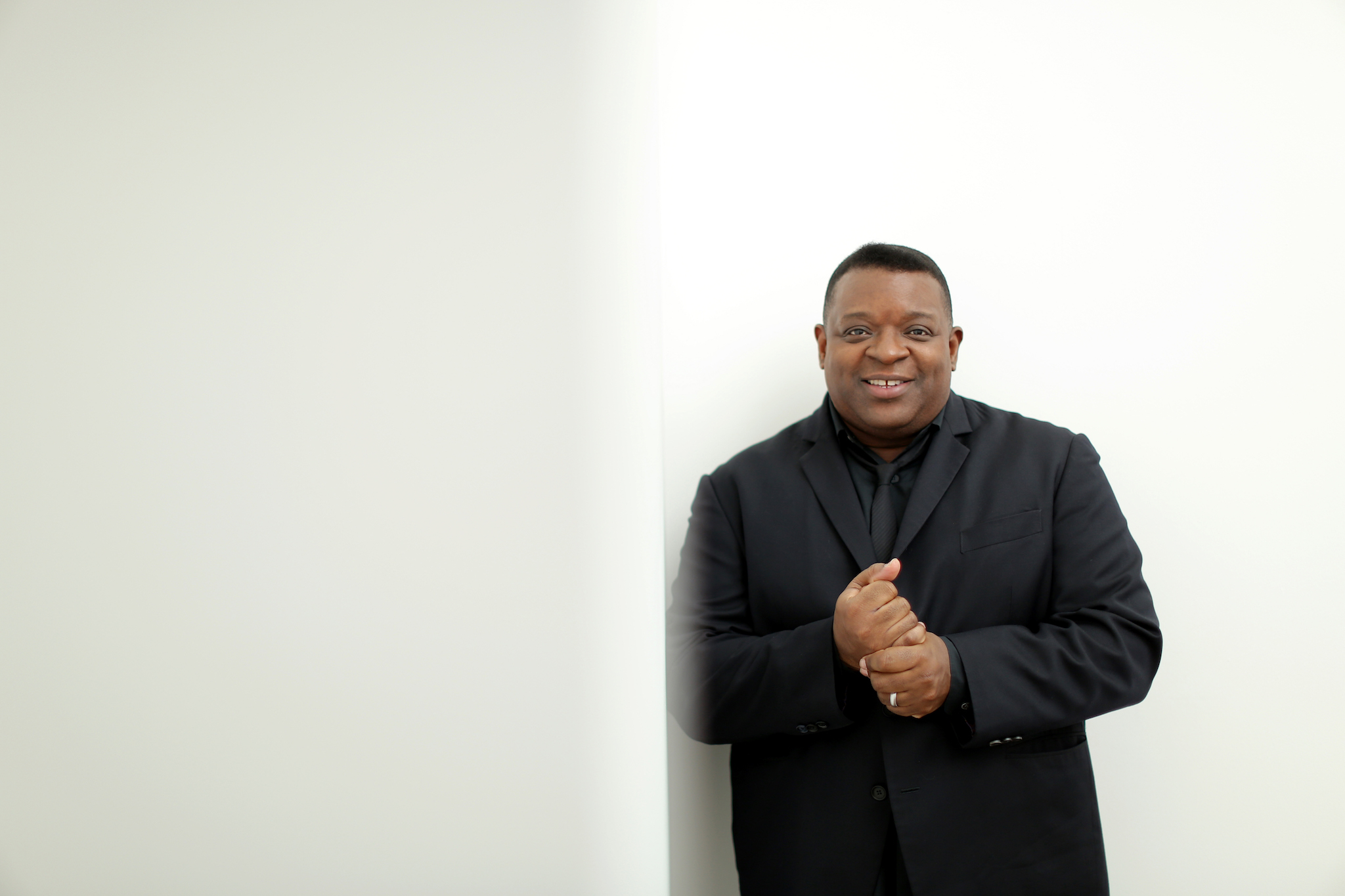 Isaac Julien
Photo: Graeme Robertson
Isaac Julien CBE was born on February 21, 1960. He is a leading international installation artist, filmmaker and academic whose multi-screen film installations and photographs incorporate different artistic disciplines to create a poetic and unique visual language.
Isaac Julien hails from London's East End, one of five children born to parents who migrated to the United Kingdom from Saint Lucia. His mother was a nurse; his father worked as a welder. Julien attended local schools, and while in his teens, was involved with Four Corners Films, the Newsreel Collective, and the London Youth Dance Theatre. He graduated from Saint Martin's School of Art, in London, in 1985, where he studied painting and fine art film. Julien co-founded Sankofa Film and Video Collective, a film and video group dedicated to developing an independent Black film culture in the areas of production, exhibition, and audience. In 1991, he became a founding member of Normal Films.
Julien co-directed Sankofa's highest-profile production, "The Passion of Remembrance," a film inspired by the idea of reconstructing a Black political history which recognizes the difficulty of reclaiming a past based upon notions of identity. At this point early in his career, Julien was already stressing the importance of addressing questions of sexuality and gender in tandem with issues of race and class.
Isaac Julien emerged from the Thatcher era in the United Kingdom determined to create art that had an impact on audiences. He came to prominence in the film world with his 1989 drama-documentary, "Looking for Langston," gaining a cult following with this poetic exploration of Langston Hughes and the Harlem Renaissance. The following grew in 1991 when his film, "Young Soul Rebels," won the Semaine de la Critique prize for best film at the Cannes Film Festival.
A prolific artist, Isaac Julien also directed and produced other films and documentaries, including "This is Not an AIDS Advertisement" (1987), "Young Soul Rebels" (1991), "Black and White in Colour" and "The Attendant" (both 1992), "Darker Side of Black" (1993), "The Question of Equality" (1994), "Frantz Fanon: Black Skin, White Mask" (1996), "Three" and "The Long Road to Mazatlan" (both in 1999), "Paradise Omeros" (2002), and many others.
In the early 1990s, Isaac Julien worked mainly in television and music video. Productions from this period include a four-part series for US television, "The Question of Equality," in 1995, and a music video for Des'ree, "Feel So High," in 1991. More recently, he moved into gallery and museum-based work, with installation pieces including "Trussed" in 1996, "The Conservator's Dream" in 1999, "Vagabondia" in 2000, and the triple-screen version of "The Long Road to Mazatlan" (1999), which was shortlisted for the 2001 Turner Prize.
Running through all Isaac Julien's work is a commitment to examining the politics of sexuality, masculinity, and blackness through the distinctive pleasures of the moving image. Informed as it is by a complex multi-layering of ideas, his work is aesthetically pleasing as well as intellectually and emotionally challenging. One of the objectives of Julien's work is to break down the barriers that exist between different artistic disciplines, drawing from and commenting on film, dance, photography, music, theatre, painting, and sculpture, and uniting these to construct a powerfully visual narrative. Thematically, much of his work directly relates to experiences of his Black and gay identity, including issues of class, sexuality, and artistic and cultural history.
Having recently worked on conserving and restoring "Looking for Langston" images from his extensive archive, Julien exhibited photographic works at Victoria Miro Gallery, London; the Jessica Silverman Gallery, San Francisco; and the Ron Mandos Gallery, Amsterdam, with a screening of the film in its original 16mm print at Tate Britain.
Julien's solo exhibitions and presentations include Zeitz Museum of Contemporary Art Africa (Zeitz MOCAA), Cape Town, South Africa; Platform-L Contemporary Art Centre, Seoul, South Korea; The Royal Ontario Museum, Toronto, Canada; Fondation Louis Vuitton, Paris, France; MAC Niterói, Rio de Janeiro, Brazil; Museo Universitario Arte Contemporáneo (MUAC), Mexico City, Mexico; De Pont Museum, Netherlands (2015); Museum of Modern Art, New York; Art Institute of Chicago, Chicago, Illinois; The Bass Museum, Miami, Florida; Museum Brandhorst, Munich, Germany; Museum of Modern Art, Dublin, Ireland; Centre Pompidou, Paris; and Moderna Museet, Stockholm, Sweden. His later work, "Stones Against Diamonds," was shown in 2015 as part of the Rolls-Royce Art Programme.
Julien participated in the Venice Biennale at the inaugural Diaspora Pavilion at the 57th edition in 2017 with "Western Union: Small Boats." Previously, he presented Kapital and directed Das Kapital Oratorio in the 56th edition of the Venice Biennale, curated by Okwui Enwezor, in 2015. His work has also been exhibited in the 7th Gwangju Biennial, South Korea; Prospect 1, New Orleans, Louisiana; Performa 07, New York; and in documenta 11, Kassel, Germany.
Julien's work is held in collections that include: Tate, London; the Museum of Modern Art, New York; Centre Pompidou, Paris; the Solomon R. Guggenheim Museum, New York; the Hirshhorn Museum and Sculpture Garden, Washington DC; the Albright-Knox Art Gallery, Buffalo, New York; Fondation Louis Vuitton, Paris; the LUMA Foundation, Arles, France; the Kramlich Collection; and the Zeitz Museum of Contemporary Art (Zeitz MOCAA), Cape Town.
In 2016, the Towner Art Gallery Collection (Eastbourne, UK) acquired "Ten Thousand Waves" (2010) as part of a Moving Image Fund program. "Ten Thousand Waves," a globally acclaimed multiple screen installation work, premiered at the 2010 Sydney Biennale, and has gone on to be exhibited extensively—recently at Platform-L in Seoul and Fondation Louis Vuitton in Paris as well as the Museum of Modern Art, New York. Julien also teamed up with the Museum of Modern Art to publish a comprehensive monographic survey of his life and work, entitled "Riot."
Julien has taught extensively, holding posts such as chair of global art at University of Arts London, and professor of media art at Staatliche Hoscschule fur Gestaltung, Karlsruhe, Germany. He is the recipient of the James Robert Brudner '83 Memorial Prize and Lectures at Yale University. Most recently, Julien received the Charles Wollaston Award for most distinguished work at the Royal Academy Summer Exhibition, and was awarded the title Commander of the Most Excellent Order of the British Empire (CBE) in the Queen's birthday honours in 2017.
Julien continues to live and work in London.
We thank Isaac Julien CBE for his creative contributions to cinema and art, for sharing his impactful vision with the world, and for his inspiring advocacy for our community.