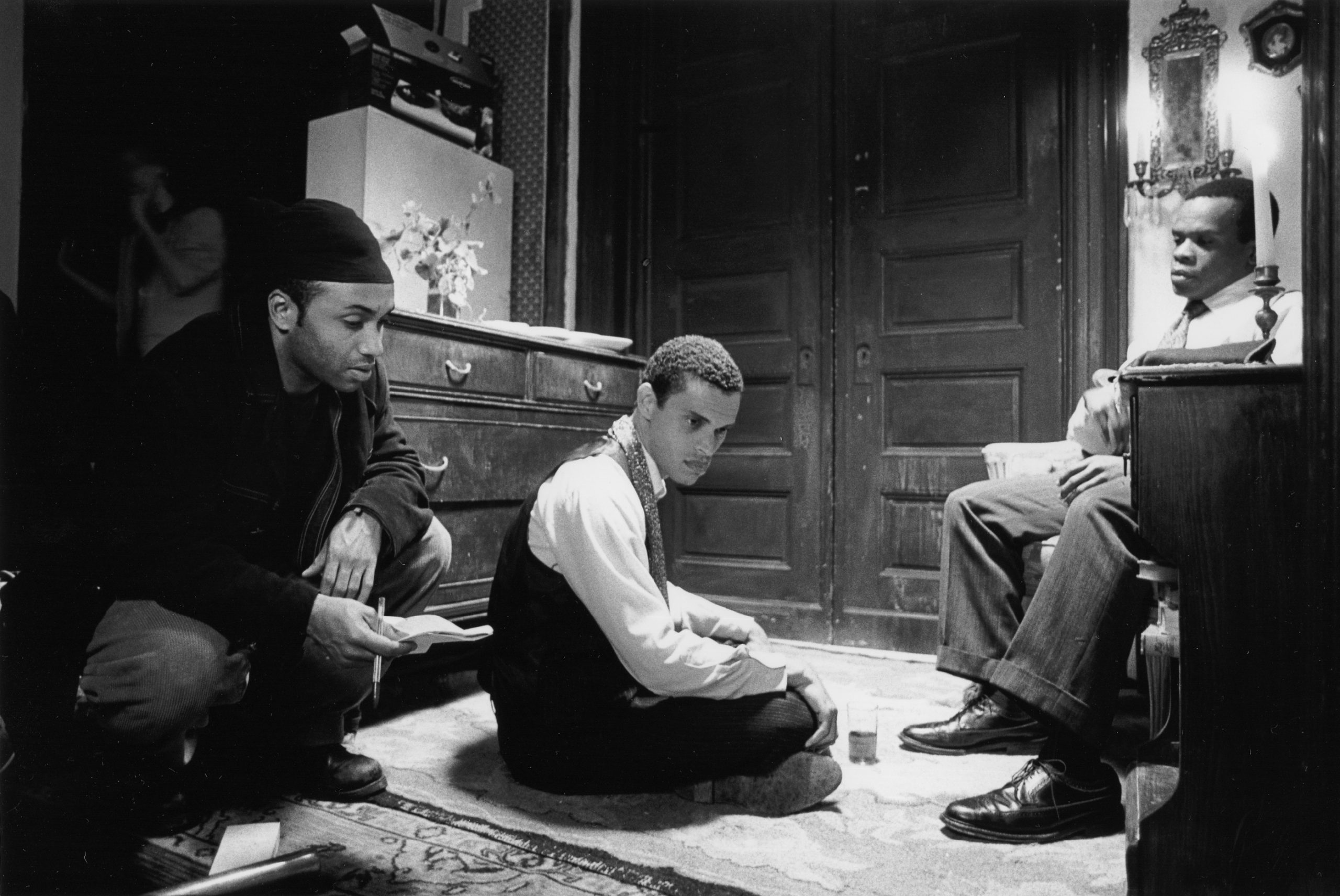 Rodney Evans
Photo: Rodney Evans (l.) directs Duane Boutte (c.) and Ray Ford (r.) in "Brother to Brother"
Rodney Evans was born on February 24, 1971. He is a celebrated director, producer, editor, cinematographer, and screenwriter.
Rodney Evans was born in Brooklyn, New York, and raised in Jamaica, Queens. After graduating from Stuyvesant High School in Manhattan in 1989, he enrolled at Brown University, where he obtained his Bachelor of Fine Arts degree in Modern Culture and Media/Film Production. Evans furthered his education in the graduate program at The California Institute of the Arts, and received a Master of Fine Arts in Film and Video in 1996.
Evans has participated in numerous artist residencies, and as a visiting artist at many of the most prominent universities and artist colonies, including Macdowell, Yaddo, Chateau de La Napoule, The Virginia Center for the Creative Arts, The Edward Albee Colony, Harvard, Wesleyan, UCLA, Howard, The Art Institute of Chicago, NYU, Princeton University, and Barnard College, among others.
Evans' breakthrough film about the Harlem Renaissance, "Brother to Brother," won the Special Jury Prize in Drama at Sundance in 2004. His short drama, "Billy and Aaron," was created as part of the Director's Coaching Program at the Binger Film Lab in Amsterdam, and premiered at the Tribeca Film Festival in 2010. "The Happy Sad," released in 2013, received its U.S. theatrical premiere at the Independent Film Center in New York City and The Sundance Sunset Cinema in Los Angeles. His other award-winning films include "Two Encounters," "Close to Home," "The Unveiling," "Persistence of Vision," "Vision Portraits" (in post-production), as well as "Day Dream," currently in pre-production with Killer Films and SimonSays Entertainment.
Rodney Evans' work has garnered him some of the most coveted prizes in filmmaking, including the Independent Filmmaker Project's Gordon Parks Award for Screenwriting; The Vito Russo Award and Showtime Vanguard Award from NewFest; the MIX Emerging Innovator Award; and top prizes from Frameline-The San Francisco Gay and Lesbian Film Festival, Outfest LA, The Roxbury Film Festival, The Washington, DC Gay and Lesbian Film Festival, The Seattle Gay and Lesbian Film Festival, and HBO's Director To Watch Award. He was also nominated for two Independent Filmmaker Project Gotham Awards, four Film Independent Spirit Awards, and was a finalist for the IFP's Gordon Parks Award for Directing.
A highly respected educator and lecturer, Evans lectured at Princeton University in 2015. He currently teaches film production and screenwriting in the Film and Media Studies Department at Swarthmore College. Evans has taught at NYU's Tisch School of the Arts, Bryn Mawr College, Montclair State University, School of Visual Arts-MFA Program, New Jersey City University, Temple University, and Cooper Union. Evans served as a documentary lab instructor for Reel Works, a teen filmmaking program for at-risk youth in 2009.
Evans is the recipient of grants and fellowships from organizations including the John Simon Guggenheim Memorial Foundation, The Creative Capital Foundation, The Independent Television Service, The Independent Feature Project, The National Black Programming Consortium, Film Independent, The New York State Council on the Arts, The New York Foundation for the Arts, Swarthmore College-Faculty Research Grant, and The Ford Foundation's JustFilms Program.
Evans lives in Brooklyn, and told the Ubuntu Biography Project that he continues "reaching and striving to represent our collective past, present, future, and beyond."
You can learn more about Evans and his work at www.rodneyevansfilm.com.
We thank Rodney Evans for his contributions to our cinematic arts, and for his support of our community.