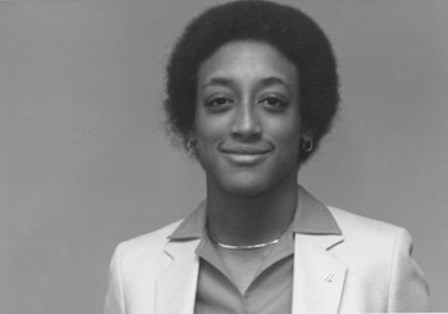 Sherry D. Harris
Sherry D. Harris was born on February 27, 1965. She is a groundbreaking former Seattle public official, engineer, scholar, writer, philosopher, teacher, and interpersonal relations consultant.
Sherry D. Harris was born in one of Newark, New Jersey's toughest neighborhoods, and is the daughter of Dorothy Harris, who was a loving single mom. She was an only child, and vividly recounts the 1967 riots that destroyed much of her neighborhood. Harris' mother, Dorothy Harris, became her daughter's role model with her emphasis on contributing to society and keeping active in community service.
Sherry Harris received her Bachelor of Science degree in human factors engineering (ergonomic engineering) from the New Jersey Institute of Technology in 1978. She relocated to Seattle, Washington soon thereafter, and accepted a position as an engineer for Pacific Northwest Bell Telephone Company, and later for the Boeing Company. She engaged extensively in neighborhood activism through community organizations, including Maple Leaf Community Club, Northwest Women's Law Center, Association of Lesbian Professionals of Seattle, and Greater Seattle Business Association. She was appointed to five city boards and commissions in the 1980s.
As her activism increased, Harris entertained thoughts of running for public office. Most of her friends tried to talk her out of it, believing it impossible to win election as an out lesbian. Harris decided to prove the skeptics wrong, and announced her candidacy for Seattle City Council in Washington State. She became the first candidate endorsed by the then newly-founded Gay & Lesbian Victory Fund, a national organization supporting LGBTI candidates for public office. By a 70 percent majority, Harris defeated the 24-year incumbent, Sam Smith, who had been the first African American elected to the Seattle City Council. She served as an at-large City Council member from 1992 to 1995, holding the distinction of being the nation's first openly lesbian African American city council member. She was also the first African American woman on the Seattle City Council.
Harris chaired the Council's Housing, Health, Human Services and Education Committee, and served on the Transportation and Utilities Committees. She sponsored or co-sponsored several gay-positive initiatives. She also helped to raise more than $1 million to fight anti-gay ordinances in Washington State. Growing up in Newark with its poverty and lack of investment spurred her to promote downtown Seattle projects like the expansion of the Washington State Convention and Trade Center, and a downtown symphony hall. In championing downtown interests, Sherry Harris said, "I was raised in a city where the downtown died, and so did the rest of the city."
In 1994, Harris and fellow Council Member, Jane Noland, successfully added an amendment to the Women and Minority Business Enterprise Ordinance to ensure a certain percentage of city contracts for women and minorities along with encouraging the city's utilization of their businesses. She co-founded and chaired the Gay/Lesbian/Bisexual Caucus National League of Cities.
But Harris' four years on the Seattle City Council often disappointed three powerful and very demanding interest groups. Feminists, and gay and African American communities demanded 100 percent from Harris, and their simply wasn't enough of her to go around. By 1995, those communities had found other council candidates to support, and she was defeated in her reelection by John Manning. Many in the Black community still resented Harris for challenging and defeating Sam Smith, who earned the adoration of his constituents by personally answering his district office phone.
Despite sponsoring or co-sponsoring more than a dozen gay-positive initiatives, Harris came under constant attack by some in the LGBTQ community. "Many in the gay community thought they owned a piece of Sherry," said George Bakan, senior editor at the "Seattle Gay News." "They thought she could solve every problem. If a gay person had a pothole in front of their house, they would call Sherry and expect her to personally fix it." Councilwoman Harris wanted to change the system—not be the face of marginalized communities and fix potholes. As an at-large representative, Harris worked on the bigger picture issues of restoring downtown, and had an engineer's passion for addressing infrastructure problems. She would later say, "I had greater expectations put on me, yet who I am as a minority has nothing to do as to why I want to be on the council."
In her last stint on the council, Harris was instrumental in forcing through 50 additional low-income housing units at Sand Point. But instead of being hailed as a champion of the poor, Harris only managed to scare the heck out of a powerful, upper-middle-class neighborhood association.
When she won election in 1991, Harris celebrated her victory with a public embrace of her partner, Judith Scalise. But after 17 years, the couple broke up, following Harris' loss in 1995 to Manning. "The breakup has been devastating to me," said Harris, who helped raise Scalise's son and grandson.
After leaving the political arena, Sherry D. Harris has focused on a holistic vision of persons, politics, and society. She is an internationally sought-after speaker on spirituality and transformation. In 2010, she published her book, "Changing The World From The Inside Out; Consciousness As A Political Strategy." Harris is the founder of Spirit Mind Body Educational Resources (SMB), an "international organization teaching core skills for living consciously and manifesting intended results."
Harris now dedicates her life's work to empowering people to wake up to their true potential, to live the life they have always wanted to live, and achieve the personal, political, and business results that support that vision. She gives inspiring and dynamic talks on life topics teaching how to be and live from your higher self, empowering people to use the principles of spirituality to consciously and deliberately create results.
Sherry D. Harris still makes her home in Seattle.
We thank Sherry D. Harris for her courageous commitment to public service, her advocacy for her diverse constituency, and her many contributions to our community. Thanks to Doug Cooper Spencer for contributing some of the research materials on which this biography was based.