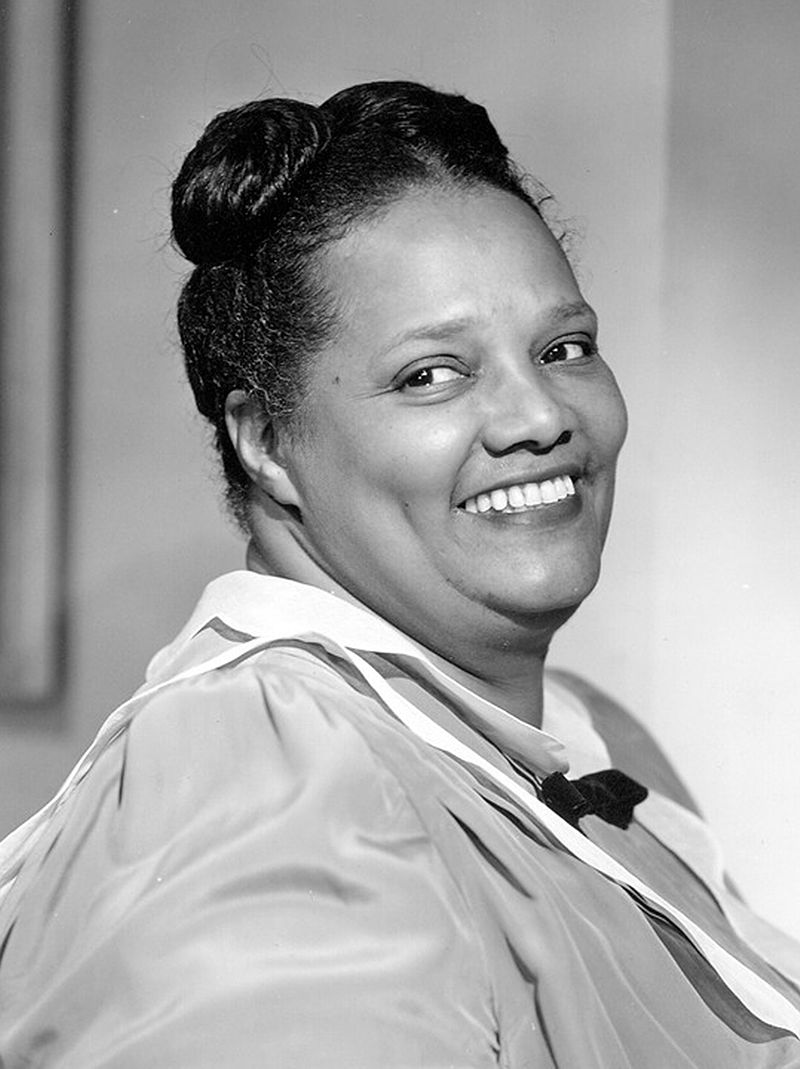 Ruby Dandridge
Ruby Dandridge was born on March 3, 1900 (to October 17, 1987). She was a radio, television, and film actress from the early days of those mediums, also notable for being the mother of actresses Vivian and Dorothy Dandridge.
Ruby Jean Butler was born in Wichita, Kansas, the daughter of Nellie Simon and George Butler. Her father was born in Jamaica in 1860, and came to the United States when he was a child. George Butler was a janitor at the Union National Bank, as well as a minister, grocer, school principal, and an entertainer, appearing before both Black and white audiences. Not much is known about Dandridge's mother, except that she was born in 1870, and had a mix of Spanish and Indigenous American heritage.
Together, Nellie and George had four children, three boys and one daughter. Ruby went to school in Wichita, and from her father learned dancing, singing, acrobatics, horseback riding, and a love of performing. From the time she was a child, Dandridge hoped to perform one day just like her father.
Dandridge's dream was put on hold when she married Cyril Dandridge in 1919, a union that was not happy. They lived with his mother, but he did not have steady work to support them. Less than two years after they married, their daughter, Vivian, was born in 1921. The birth did not make the marriage better or settle the tensions in the home, and Ruby left. Still wanting his marriage to work, Cyril persuaded her to come back to his mother's home, and even though Ruby was five months pregnant, she decided to leave her husband again, this time permanently. On November 9, 1922, Ruby gave birth to her second daughter, Dorothy, in Cleveland's City Hospital.
Following the divorce, Ruby Dandridge had a relationship with a woman named Geneva Williams, her long-term companion who reportedly treated Dandridge's two daughters harshly.
Ruby Dandridge is best known for her role on the radio show "Amos 'n Andy", in which she played Sadie Blake and Harriet Crawford, and also as Geranium on radio's "Judy Canova Show." Her film credits include 1959's "A Hole in the Head," and the classic 1943 film "Cabin in the Sky." Dandridge had recurring roles in the early television show "Beulah" from 1950 to 1953.
The Civil Rights era and the rise of the Black Arts Movement brought condemnation of the type of entertainment that made Ruby Dandridge famous. Productions like "Amos 'n Andy" and degrading minstrel shows were strongly condemned by the National Association for the Advancement of Colored People (NAACP) and others for their humorous but disrespectful portrayal of America's Black community. Dandridge was too closely associated with that period and the denigrating productions to escape her own condemnation, and rarely found work after her success in "Beulah."
Dandridge emerged from relative obscurity to attend her daughter Dorothy's funeral in 1965. Ruby Dandridge died of a heart attack, at the age of 87, on October 17, 1987 in Los Angeles, California, and was interred next to Dorothy at Forest Lawn Memorial Park Cemetery in Glendale, California.
We remember Ruby Dandridge in appreciation for her many contributions to our community.