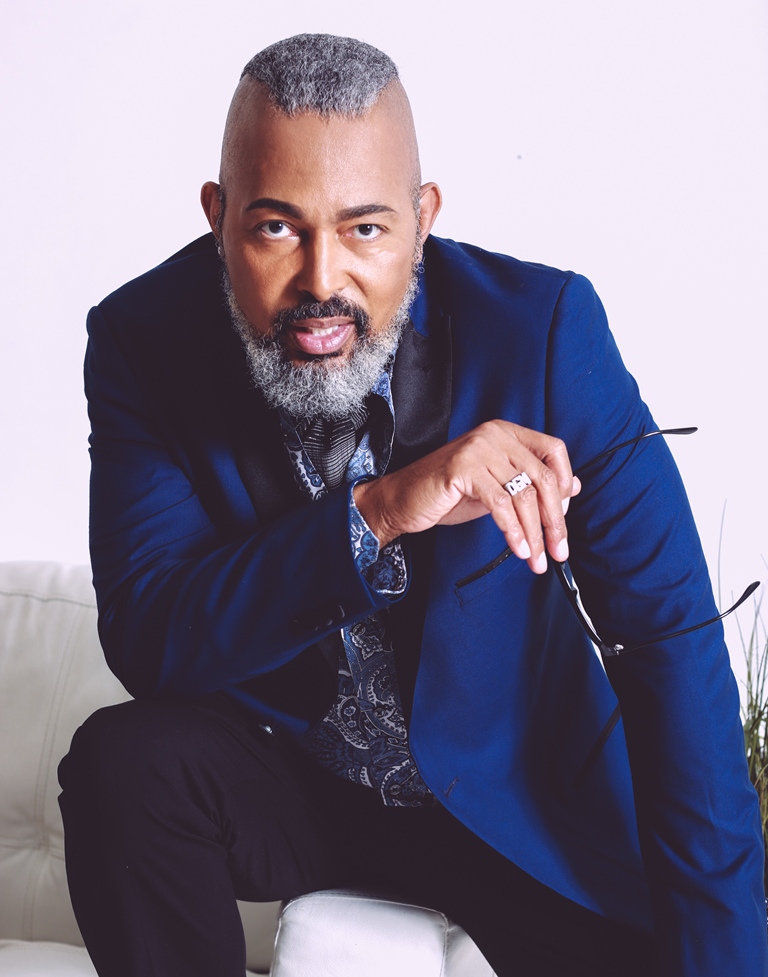 Dale Guy Madison
Dale Guy Madison was born on March 22, 1958. He is a former QVC host, and an award-winning educator, LGBTQ activist, playwright, author, doll collector, performance artist, and artist-in-residence.
Dale Guy Madison was born on a naval base in Great Lakes, Illinois. He attended Northwestern Senior High School in Baltimore, Maryland, graduating in 1976. Madison received his bachelor's degree in liberal arts from Antioch University, and a master's degree in education and leadership.
In the 1980s, Madison played a pivotal role in Baltimore's gay African American community with his work in HIV education and prevention. He was one of the original members of Men of Color AIDS Prevention Project (MOCAPP) and Men of Color Against AIDS (MOCAA). Since re-locating to Los Angeles, he's worked with various grassroots organizations, using the arts to affect change in AIDS awareness, substance abuse, community health issues, and homophobia.
Madison left Baltimore in 1991 to become a host on the Quality Value Convenience (QVC) network. He knows how to show and sell, and as one of the first African American hosts of QVC, produced the African Marketplace shopping hour on the popular shopping network. In fact, Madison is an avid doll collector, and his own line of handmade African dolls sold out in five minutes. In fact, Ubuntu Biography Project founder Stephen Maglott purchased one of Madison's dolls just months before his transition in 2016.
Because of Madison's exposure on QVC, he became a nationally-recognized doll designer, and traveled around the country, promoting African art. Madison's handmade African-inspired cloth dolls were on display at the William Grant Still Arts Center from December 2017 through February 2018 as part of its 37th Annual Black Doll Show, entitled "Jubilee, Celebrations in Color."
Madison is the author of "Dreamboy: My Life As a QVC Host," a memoir—set against the tunes of the 1960s girl group, The Supremes—that details his broken relationships, a whirlwind heterosexual marriage, life as an openly gay Black actor in Hollywood, his work as a QVC host, and a period of darkness, which found him clinging to life in a mental institution. In addition, Madison penned "Sissy Sammy in the Land of WeHo 90069," an adult fairytale about an effeminate boy from the hood who is bullied, but eventually gets lost in an all-gay town.
Madison founded the production company, Damn Good Man Productions, to create, curate, and produce culturally-relevant entertainment that embraces positive, empowering messages for the LGBTQ community. Madison's two short films,  "Dreamboy: My Life as a QVC Host & Other Hits," based on his memoirs, won the Best LGBT Film Award at the 2008 San Diego Black Film Festival (SDBFF), and "The Panty Man" was nominated as Best Short in the 2009 Pan African Film Festival (PAFF).
Madison received a Maryland State Arts Council Individual Artist Award for his one-man show, "FREEda SLAVE: Mask of a Diva," which addresses the masculine and feminine discrimination within the gay community. Bringing the show to Los Angeles, it won the critic's "Pick of the Week" in "Backstage West." 
In 2010, Madison debuted his second one-man show, "My Life in 3 Easy Payments," directed by Malik Shakur, to a sold-out crowd at the Highways Performance Arts Space in Santa Monica, Calif. After a limited engagement in Santa Monica and West Hollywood, Madison took his one-man show to the Big Apple for the United Solo Theatre Festival in New York City. The show speaks to the pop culture phenomenon of reality programming, and the quest for fame at any cost. Adapted from his memoirs, "My Life in 3 Easy Payments," offers a humorous interactive story through spoken word, songs, storytelling, and video footage of his life.
Madison's film and television credits include "Hairspray," "Stonewall," "To Wong Foo, Thanks For Everything! Julie Newmar," and "Homicide: Life on the Streets," to name just a few.
On his 60th birthday in 2018, Madison is preparing to go onstage at the Ace Hotel in Taylor Mac's Pulitzer Prize-nominated play, "A 24-Decade History of Popular Music," presented by UCLA's Center for the Art of Performance. He also appears in the indie "Proxy Kills," written and directed by K.J. Downes, set to premiere at the North Hollywood Cinefest March 23-29, 2018. In addition, he is working on the LA revival of "My Life in 3 Easy Payments," set for Pride Month in June, kicking off at the Hollywood Fringe Festival.
Madison has received a plethora of recognition for his work and activism, including the Baltimore Black Pride Chairman's Award, the Individual Artist Award in Playwriting by the Maryland State Arts Council, and the Community Service Award from Citizens Democratic Action Committee.
In 2006, he was a recipient of an Audre Lorde Scholarship to support his educational and cultural offerings in the LGBTQ community. In addition to his artistic pursuits, Madison serves as an arts educator with the Los Angeles Department of Cultural Affairs.
We thank Dale Guy Madison for his numerous contributions, and his support of our community.