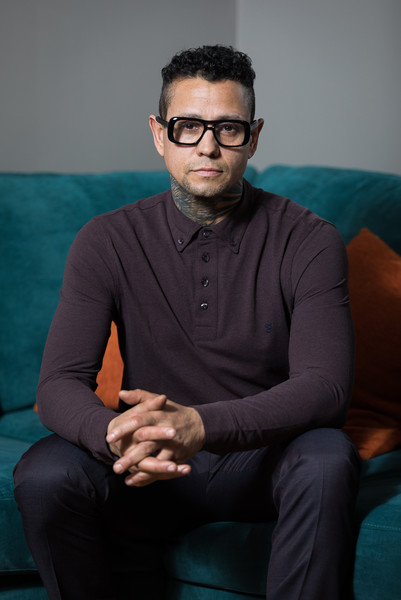 Jaye Davidson
Jaye Davidson was born on March 21, 1968. He is an American-born British actor, model, and fashion promoter best known for his role as transwoman Dil in the 1992 film "The Crying Game," for which he received an Academy Award nomination for Best Actor in a Supporting Role.
Jaye Davidson was born Alfred Amey in Riverside, California, to a Ghanaian father and English mother; he has two sisters. Davidson and his family moved to the United Kingdom when he was two years old, growing up in the London suburb of Hertfordshire, England.  The actor is hesitant about discussing his parents, especially his late father. "We shan't even mention him. My mother would be very annoyed," he noted in a "Rolling Stone" interview. Davidson did, however, emphasize his "fabulous relationship" with his businesswoman mother. "My mother's very correct and very beautiful. She's to be admired. She brought three children up and worked full time and ran a house—all on her own."
Davidson left school early to pursue his interests in the fashion business, but first took a job at Walt Disney's London offices—inside a life-sized Pluto costume—and later became a fashion assistant with the task of buying the fabric and buttons.
Davidson's exotic and androgynous look led to his casting in "The Crying Game" with Forest Whitaker. Davidson, who had no acting experience, was discovered by a casting associate at a wrap party for Derek Jarman's "Edward II." Offered an audition, he refused, later telling "The New York Times" that he was inebriated and had no recollection of the exchange. Even so, the film's casting personnel, unsatisfied by others seeking the part, kept after him. Though Davidson had been working for fashion designers David and Elizabeth Emmanuel, he soon found his employers' business going under. At last, Davidson relented and read for the role; his unstudied poise and integrity appealed to the producers, and he was offered the part.
Neil Jordan's "The Crying Game" was well received by critics as well as the public, and the movie was an unexpected hit. Distributed by Miramax, critics tended to obey a request to not disclose the film's surprise scene in which it is revealed that Dil is, in fact, a man. Davidson was a surprise pick in the 1992 Oscar race, nominated as Best Supporting Actor. He wound up losing to Gene Hackman's evil sheriff in "Unforgiven," but he was the first biracial British actor to be nominated for an Academy Award. His powerful role in "The Crying Game" also garnered Davidson a nomination by the National Society of Film Critics Award for Best Supporting Actor, and the BAFTA Award for Best Actor in a Supporting Role. He was also voted "best newcomer" by the National Board of Review.
When Davidson was nominated, he quickly became the biggest question mark of the Oscars, not just the matter of whether the notoriously shy actor would decide to attend the show but what he'd wear if he did show up. After being modest about the event for weeks, Davidson appeared at the event in an aptly gender-bending ensemble: a woman's equestrian-style blazer, white shirt, riding breeches, and thigh-high leather boots. Later, he pronounced himself happy to have met Jane Fonda and Richard Gere.
 After filming wrapped, Davidson returned to his fashion career until landing the role of the evil sun god Ra in the film "Stargate" in 1994, opposite Kurt Russell and James Spader. His dislike of the attention that he received after "The Crying Game" made Davidson reluctant to take the role in "Stargate." He didn't want to just turn the offer down, so made what he expected to be an unacceptable demand of $1 million. His request was accepted, and he took on the role. Davidson also appeared as himself in the 1996 documentary "Catwalk," and had a small part in the 1999 film "Cousin Joey." In 2009, Davidson emerged from obscurity to play a role as a Nazi photographer in "The Borghilde Project."
Jaye Davidson has reportedly retired from acting, stating that he "genuinely hated the fame" he was receiving. He has become more driven toward the fashion business now, and has worked on several big photoshoots. On Hollywood's treatment of gay characters, Davidson said, "It just happens that some desires go this way and some desires go that way. It's sad when people are oppressed. But it's a question of rising above it. Personally, mentally, and, if you have to, physically."
Davidson reportedly enjoys his simple and blissful life in Europe away from the focus of media and publicity.
 We thank Jaye Davidson for his cinematic achievements, and his many contributions to our community.