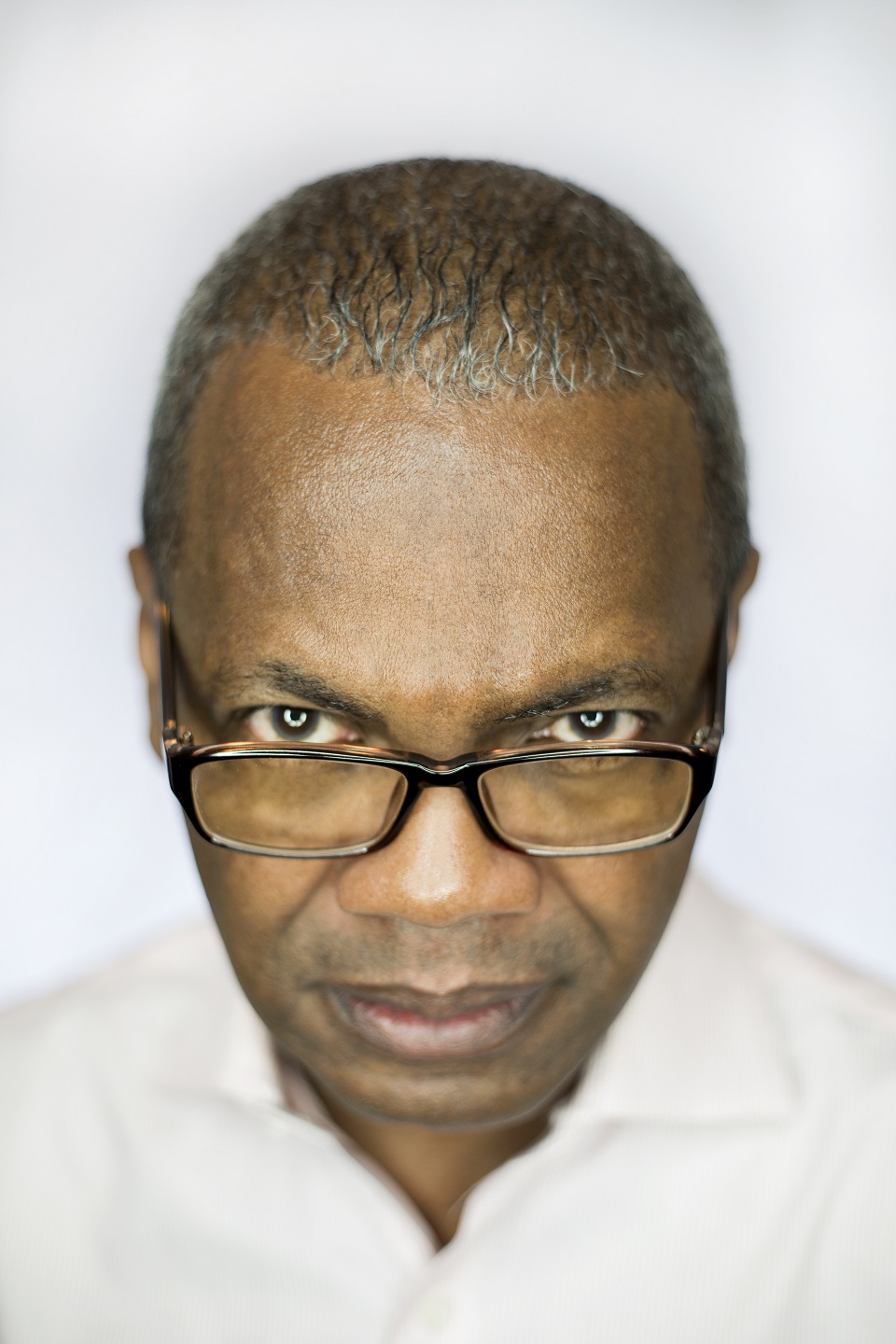 Stanley Bennett Clay
Stanley Bennett Clay was born on March 18, 1950. He is an acclaimed novelist, playwright, filmmaker, actor, and activist.
Stanley Bennett Clay came into the world as Stanley Gale Clay in Chicago, Illinois, born to a single mother, Bertha Florence Clay. He was reared in a loving household by his homemaker mother and her new husband, mailman Raymond L. Fleming, whom Clay embraced as his father. Clay is the second oldest of eight children. An avid reader with a musical aptitude, he began writing poetry and playing the piano by ear at the age of eight. By age 10, Clay had written and composed a musical play, which he performed in his family's living room, with an audience of friends and neighbors to whom tickets and popcorn were sold.
Because of Clay's mother's severe asthma, his father moved the family to Los Angeles, California when he was twelve. There, he attended Mount Vernon Jr. High School, and wrote poetry for the yearbook and school paper. He attended Manual Arts High School and graduated from Banning High School. At Banning, Clay served as the editor of the school newspaper, and president of the journalism, drama, and chess clubs. He was also a member of the Knights Honor Society, performed on national television as a member of the school's Scholar Quiz team, and was the leading actor in most of the school's dramatic productions. His idol was—and still is—acting legend Sidney Poitier.
Two months after graduating from high school in 1968, Clay made his professional acting debut on the original "Bill Cosby Show." Several featured, co-starring, guest-starring, and starring roles in film and television followed throughout the 1970s, 80s and 90s. This year marks his 50-year anniversary as a professional actor, and his 50-year membership in The Screen Actors Guild, currently known as SAG-AFTRA.
Aware of his same-sex attraction as early as the age of eight, Clay came out in 1969 at the age of 19, and lived and worked as one of Hollywood's first Black openly gay actors. His siblings were enthusiastically accepting, and his parents, though devout Jehovah's Witnesses, did not allow their religious beliefs to trump their love for their child.
In 1971, the very busy 21-year-old, self-taught writer and artist completed his first novel, which didn't sell. However, that same year his short story, "Family," was professionally published by "Emca" magazine. At the age of 22, Clay was named artistic director of the Argo Repertory Company, and directed and composed the music and lyrics for the musical "Don't Ask!" at Margaret Avery's Zodiac Experimental Theatre.
Clay's social, cultural, and political association with Los Angeles and Hollywood's sizable Black gay community presented Clay with great support and mentoring, especially from Black openly gay actor Raymond St. Jacques.
In 1976, Clay "married" Clifford Cloud, his partner of two years, in a full ceremony at Metropolitan Community Church, founded by gay activist Reverend Troy Perry. The next year, he starred in the award-winning TV movie special, "Minstrel Man." Hollywood was touting him as the young Sidney Poitier, and fan magazines were praising him as a hot new matinee idol. Because of the national attention, Clay's handlers warned that it was not in his best career interest to let the public outside of Hollywood know he was gay. Clay weighed the choice of impending stardom against living his life in truth. He chose impending stardom.
Suddenly, Clay began appearing at movie premieres and on the red carpet with one young starlet after another on his arm. This soon took its toll on his relationship with Cloud, and they broke up, resulting in Cloud attempting suicide and suffering a nervous breakdown.
The realization of the pain he inflicted on the man he loved through a life of lies caused Clay to reverse himself. He contacted a reporter friend, officially came out in the national press, and retired from the screen, confining himself to only voice-over work and live stage play performances, and living his life as an openly gay man once again. But this wasn't enough to save his relationship with Cloud, although they remained distant friends until Cloud died from complications of AIDS in 1985.
In 1980, Stanley Bennett Clay's concentration on his writing was beginning to pay off. He began writing articles for various fan magazines, using his Hollywood connections for exclusive stories with the stars. By this time, he had altered his name to not only distinguish himself from his acting persona, but in tribute to his maternal grandmother Johnnie Mae Bennett, who, after three marriages, legally re-claimed her maiden name, the family's name, Bennett. In 1980, Clay legally changed his name to Stanley Bennett Clay.
That year, Clay was named editor-in-chief of "Soul Teen" magazine, later re-named "Black Beat" magazine. In his first year, he increased the circulation by 32 percent with a new Afrocentric gay-friendly slant. The following year he wrote, directed, and co-produced his first full-length play, "Ritual." It was slated for a six-week run but ended up running 13 months, becoming and a Los Angeles Times Critics Choice, and an LA Weekly Pick-of-the-Week. Clay also received three NAACP Theatre Awards, and three Drama-logue Awards for writing, directing, and co-producing the play. Nearly twenty years later, he would write and direct the film version of "Ritual" starring Clarence Williams III and Denise Nicholas, and win the Jury Award at the Pan African Film Festival. Three years ago, Clay produced the Off-Broadway production of "Ritual."
As he watched AIDS take away friend after friend, Clay decided to get involved, and began working with the Minority AIDS Project, ultimately becoming board vice president. Once again, he called on his Hollywood connections to donate performances for the agency's annual fundraisers.
In 1986, Clay became the first openly gay Black man to win the NAACP Best Actor Image Award for his stage performance in "Anna Lucasta." Two years later, his first published novel, "Diva," featuring two prominent gay characters, hit book shelves. In 1991, Clay published and edited "SBC" magazine. For ten years (1991 to 2001), "SBC" was the most widely distributed national monthly celebrating the lives and achievements of Black LGBTQ people. He later served as American correspondent for London's "Blues & Soul" magazine, and was a contributing writer and editor for several publications, including "DBQ," the LGBTQ People of Color bi-monthly magazine.
Throughout the nineties, Clay's critically-acclaimed productions and/or direction of such stage play as "Anna Lucasta," "Jonin'," "Lovers," "Willie & Esther," "The First Breeze of Summer," and several local and national productions of "Ritual" reminded Hollywood that its distinguished Black theatre was being mentored by an openly gay Black man. He also produced, directed, and wrote the 1992 NAACP Theatre Awards Gala, and in 1993, the National Council of Negro Women's Black Family Reunion Concert featuring Stevie Wonder. For several years, Clay was actively involved with Los Angeles' In The Meantime Men's Group, where he facilitated its monthly book discussion. He was also an active participant in the Black Gay and Lesbian Leadership Forum.
After 47 years in Los Angeles, Stanley Bennett Clay relocated to New York City. Within fourteen months of the move, he was starring in his new Off-Broadway play, "Armstrong's Kid" (2012). For five years he wrote the script for the annual Thurgood Marshall College Fund's Awards Gala. Five years ago, Clay penned and directed the documentary "You Are Not Alone," an examination of depression among Black gay men. It won the Best Documentary Award at Detroit's Black Gay Pride. He also collaborated with Ashford and Simpson on the score of the upcoming Broadway musical version of E. Lynn Harris' "Invisible Life."
Clay directed the stage adaptation of "B-Boy Blues," which won New York's Downtown Urban Theatre Festival's Audience Award, and earned him his second Pride Index Esteem Award for Artistic Expression.
An avid reader—Clay routinely reads a book a week—he considers Toni Morrison his literary idol. Clay himself is the author of seven published novels, including the NY HOTEP Society award-winning "In Search of Pretty Young Black Men" (Simon & Schuster), and the Amazon best-selling "Aching for It" (Ellora's Cave Publishers).  His other popular books include "Looker," "Diva," "Hollywood Flames," "Madame Frankie," and "Dominican Heat." He also collaborated with good friends James Earl Hardy and Terrance Dean on the acclaimed anthology "Visible Lives: Three Stories in Tribute to E. Lynn Harris" (Kensington Books).
Clay completed his fourth stage play, "Gethsemane," in January of 2018, and will stage it Off-Broadway this fall as he releases his eighth novel. The following year, Clay will produce and direct his original musical, "Another Thousand Hearts." Currently, he is working as a producer and writer on Sidra Smith's upcoming web series, "A Luv Tale." Clay is also adapting his novel "Diva" for the big screen.
Over the years, this self-described political junkie has received many awards and honors. Clay received the Role Model to the Gay Community Award from "Genre" magazine, The National Black Writers' Founder's Award, the first Black Gay and Lesbian Cultural Alliance Award, the 2008 Oakland Black Gay and Lesbian Film Festival Lifetime Achievement Award, the Blatino Oasis 2010 Award for Literature, the Indianapolis Black Pride/Brothers United Lifetime Achievement Award, and the 2015 Lifetime Achievement Award from Better Brothers Los Angeles.
Stanley Bennett Clay is a proud and passionate Black gay artist who has always considered his sexuality to be as normal as his blackness and his left-handedness. He is happy that he's been able to be an active member of the Black LGBTQ community as an artist, activist, mentor, lecturer, and role model. And he is so happy that his 90-year-old mother is healthy and happy, and living a never-a-dull-moment life, still traveling to a different foreign country every year, and still savoring the beautiful and loving relationship she had with Clay's late dad. She is surrounded by Clay's seven siblings, their spouses, and dozens of grandchildren and great grandchildren back in Carson, California. Clay checks in with her often, and visits her whenever he's in Southern California.
But what also brings Clay supreme joy is his fourteen-year love affair with and three-year marriage to his husband, Reny.
We thank Stanley Bennett Clay for his decades of contributions to the arts and written word, and for his unwavering support of our community.