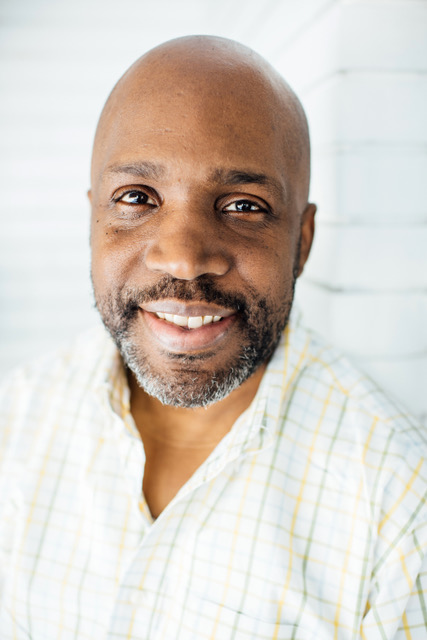 A. Nzere Kwabena
Photo: Andrew Potter
A. Nzere Kwabena (formerly Curtis Lipscomb) was born on March 23, 1965. He is a Black gay artist, publisher, scholar, community organizer, developer, advocate, mentor, devoted friend, and executive director of LGBT Detroit.
Kwabena was born in Detroit, Michigan, to Lester L. Lewis and Mary K. Salley. He attended and graduated from Cass Technical High School, where, under the direction of his beloved teacher, Marion Stephens, he excelled academically and was encouraged to pursue his creative dreams. Following high school, Kwabena enrolled at Parsons The New School For Design in New York City, and graduated with a Bachelor of Fine Arts in fashion design. Kwabena was known as an excellent illustrator and, according to Parsons dean Frank Rizzo, a gifted conceptual designer. Notably, Kwabena's senior year project mentor was American designer Donna Karan.
Kwabena self-identified as gay at the age of 14 in the summer of 1979. He came out to the community when he was 15, during his first year in high school. Kwabena's coming out process was uneventful, but was fueled by the sudden death of his father. He was fortunate not to experience hardship growing up as LGBTQ; with support from childhood friends and family, Kwabena avoided the pain many young people endure. He also was fortunate to come out of the closet at an early age. With guidance of LGBTQ "older" adults and elders from his job at Bac-Room Designs, and from the community, he was introduced to and witnessed a thriving movement in the late 1970s, and entered a brave new world of the 1980s.
Kwabena saw people confidently expressing themselves and adorned in high style—beautiful garments, manicured hairstyles, and sophisticated attitudes. Inspired by the Detroit LGBTQ cultural aesthetic, he embraced this new world and linked in toward this new movement. In an instant, and at an early and impressionable age, Kwabena saw what it was to be proud of oneself, and to embrace authenticity. It helped him to assemble a brother and sisterhood of high school friends—all of whom came out at Cass Tech—to experience a collective coming of age, from freshman year to senior year and beyond.
Kwabena arrived in New York soon after graduation from high school. He embraced the East Coast LGBTQ culture, and attended established iconic spaces: the Paradise Garage, Christopher Street, Nickel Bar, and Better Days, all the while working and attending school. During the height of the HIV and AIDS epidemic in New York in the 1980s, Kwabena lost many friends. Robert E. Penick, III, his childhood best friend, tragically died in his arms at the age of 28.  Devastated and traumatized, Kwabena dedicated his life to Penick's honor and memory so others would not experience the pain, stigma, and hurt that Penick endured during his crisis. He subsequently returned home to the affirming embrace of his native Detroit.
What Kwabena most loves about his work today is the development of LGBTQ culture, having a direct impact on people he serves, and his commitment to the residents of Detroit. His first  boss was an African American gay man, David Eric, who operated a clothing design firm called Bac-Room Designs in Detroit; he hired Kwabena when he was only 16. There, he was the resident illustrator showcasing Eric's creations to potential clients. During his college years in New York City, Kwabena interned at various clothing manufacturing firms. Following graduation, he worked with private label firms for Lord & Taylor, Saks Fifth Avenue, and Macy's. The positions gave him the opportunity to travel for business to Europe, Hong Kong, and Korea around the age of 25. Kwabena's most memorable and favorite creative employment was with the newly re-imagined retailer, Banana Republic, for whom he designed apparel for men and women, helping to establish a new global brand.
Committed to LGBTQ culture since 1994, Kwabena founded the third African American media house (Kick Publishing Company), co-founded the world's second oldest Black LGBTQ pride celebration (Hotter Than July), and founded LGBT Detroit, an education and advocacy organization. His commitment to the community can be found in the countless organizations to which he given life. Kwabena is the founder of Adodi Detroit, formerly served on the Adodi National board of directors, and is the winner of the 2012 Black Male Engagement (BMe) Challenge. He also was a co-planner of the 2012 National White House Conference of LGBT Housing and Homelessness at Wayne State University, an organizer of the 2013 United States Small Business Administration & National Black Justice Coalition's Economic Empowerment Tour, organizational winner of the 2002 and 2014 Equality Michigan Catalyst Award, and in 2015, organized the 20th anniversary of Hotter Than July.
In 2016, Kwabena, with the leadership of LGBT Detroit's board of directors, achieved significant success. LGBT Detroit became the first African American-led LGBTQ organization in America to own its headquarters and surrounding property. This safe, brave space in the Detroit northwest neighborhood of Murray Hill solidifies a commitment to furthering LGBT Detroit's mission, increasing the prominence and visibility of the city's LGBTQ culture, and building a strong, healthy, and vibrant community, with a focus on youth and young adult development; sexual orientation and gender identity education and advocacy; and emotional and physical well-being.
Kwabena served as the development director at Unified (formerly AIDS Partnership Michigan) for eleven years, and he developed and is currently directing the program's LGBT Detroit Leadership Academy, Woman 2 Woman, Many Men Many Voices, Breaking The Cycle, Healing & Support Services, Cancer Action Council, and Talk Tuesday.
Kwabena envisions a world free of stigma and shame—a world where loving your neighbor is not an abstract and is practiced daily. You can visit his passion at www.lgbtdetroit.org.
In his free time, Kwabena watches "General Hospital" and "Judge Judy," daily. For relaxation, he visits every Banana Republic store in every city, and collects Starbucks mugs and khaki blazers and jackets. From 2008 to 2015, Kwabena was the president of his neighborhood block club. He loves buying and playing vinyl records (he owns four players, including one at the office), and collecting comic books (too many to count).
Kwabena's late grandmothers, Rev. Evelyn Lewis and Melonee Lipscomb, are his heroes. Both southern migrates to the north, they managed large household families, and created examples of what is it to love unconditionally. With fewer worldly goods and an abundance of love and care, Kwabena aims to capture a bit of what they gave him. Kwabena is also inspired by the people who have entered his life, and is grateful for his friends. He has friendships since the age of eight that continuously encourage him to try harder and succeed. Without their support of his authentic self, Kwabena says he couldn't contribute to our community today. Finally, and most importantly, he adores his longtime partner of twenty years, Willie Jew.
We thank A. Nzere Kwabena for his lifelong commitment to advocacy, and for his support of our community.