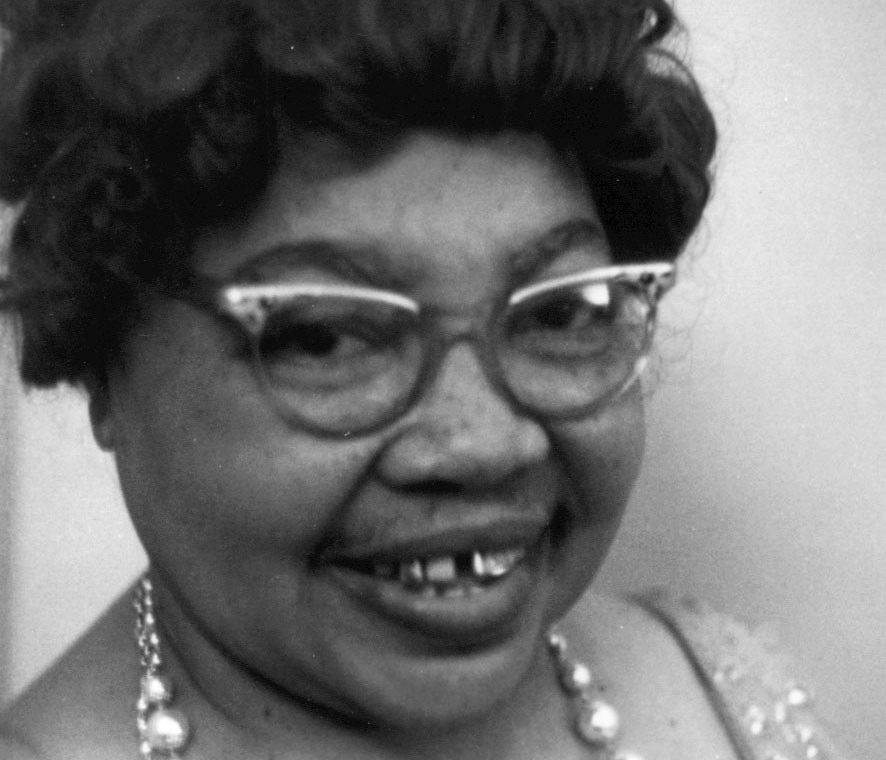 Lucille Bogan
Lucille Bogan was born on April 1, 1897 (to August 10, 1948). She was an important blues singer who sometimes recorded under the pseudonym Bessie Jackson. Bogan was considered by many to be the toughest practitioner of a genre known as the Dirty Blues in the early part of the twentieth century. She was one of the first Black women to record, and stands along with Ma Rainey and Bessie Smith as one of "the big three of the blues."
Born as Lucille Anderson in the small town of Amory, in Monroe County, Mississippi, little is known about her childhood, but by 1916 Bogan had moved to Birmingham, Alabama, and married Nazareth Lee Bogan, who was a railway fireman, and gave birth to a son, Nazareth Jr., in either 1915 or 1916. She also gained a stepdaughter through her marriage.
Bogan first recorded vaudeville songs for Okeh Records in New York in 1923, with pianist Henry Callens. Later that year, she recorded "Pawn Shop Blues" in Atlanta, Georgia, which marked the first time a Black blues singer had been recorded outside of New York or Chicago.  In 1927, Bogan began recording for Paramount Records in Grafton, Wisconsin, where she made possible her first big success, ""Sweet Petunia," which was covered by ragtime singer and guitarist Arthur "Blind" Blake. She also recorded for Brunswick Records, backed by blues guitarist Tampa Red, and boogie-woogie pianist Cow Cow Davenport.
Bogan was the aunt of pianist and trumpet player Thomas "Big Music" Anderson, and it was said that she possessed one of the finest voices of any female blues singer. Although her early work was influenced by vaudeville stylists, with age and experience Bogan's voice deepened, and her expressions were said to mature, even as her lyrics became raunchier.
By 1930, Bogan's recordings had begun to concentrate on drinking and sex, with songs such as "Sloppy Drunk Blues" and "Tricks Ain't Walkin' No More" (later recorded by Memphis Minnie). She also recorded the original version of "Black Angel Blues," which (as "Sweet Little Angel") was covered by B.B. King and many others. Trained in the rowdier juke joints of the 1920s, Bogan composed songs with thinly-veiled humorous sexual references. The theme of prostitution, in particular, featured prominently in several of her recordings.
In 1933, Bogan returned to New York City, and, apparently to conceal her identity, began recording as Bessie Jackson for the Banner label. She was usually accompanied on piano by Walter Roland, with whom she recorded over 100 songs between 1933 and 1935, including some of her biggest commercial successes, "Seaboard Blues," "Troubled Mind," and "Superstitious Blues."
Bogan had a very colorful love life, and engaged in romantic liaisons with both men and women.  At one point, it was rumored that Bogane had an affair with pianist Will Ezell, who had accompanied her to Paramount in a session that also featured Papa Charlie Jackson. As a result of her affair with Ezell, she was involved in divorce proceedings started by her husband, but they were never finalized.
In 1928, Bogan recorded for Brunswick, backed once again by Tampa Red and Cow Cow Davenport. Other influential recordings followed, including "Alley Boogie," "Stew Meat Blues," :Coffee Grindin' Blues," "My Georgia Grind," "Honeycomb Man," "Mr. Screw Worm In Trouble," and "Bo Hog Blues."
Bogan's final recordings for the American Record Company (ARC), with Roland and Josh White, included two takes of "Shave 'Em Dry," her biggest and most memorable hit. Bogan recorded two versions of the song—one clean and one explicit. The clean recording is representative of what would be pressed to wax at the time; full of double entendres, it was a more palatable version of what was actually being sung in the juke joints. But the dirty version—which is mind-blowingly raunchy from start to finish—actually lets us hear what was being truly sung in the clubs. Hoping to cash in on the popularity, Roland subsequently released a less successful response song, "I'm Gonna Shave You."
Bogan expressed herself fluently in her music but did so obscenely on numerous occasions, and her fans loved it. Her explicit sexual references were a unique reflection of the lyrics sung in after-hours adult clubs, and gave listeners a sneak peak at more controversial passions. One of her compositions, "B.D. Woman's Blues," takes the position of a "bull dyke" ("B.D."), with the lines "Comin' a time, B.D. women, they ain't gonna need no men. They got a head like a sweet angel and they walk just like a natural man."
ARC Records didn't renew Bogan's contract, and she returned to Birmingham, Alabama in 1935, still with her husband Nazareth, never to record again. She spent time managing her son's jazz band, Bogan's Birmingham Busters. But her marriage finally broke up in 1941, and she eventually followed her son to Los Angeles with her then common-law husband, James Spencer, who was 22 years younger than she.
Bogan died in 1948, aged 51, from coronary sclerosis. She was interred at Lincoln Memorial Park in Compton, California, but no headstone was purchased, and there is now some dispute as to the exact location of her still-unmarked gravesite.
We remember Lucille Bogan in appreciation of her incredible and pioneering contributions to the blues, and for her support of our community.