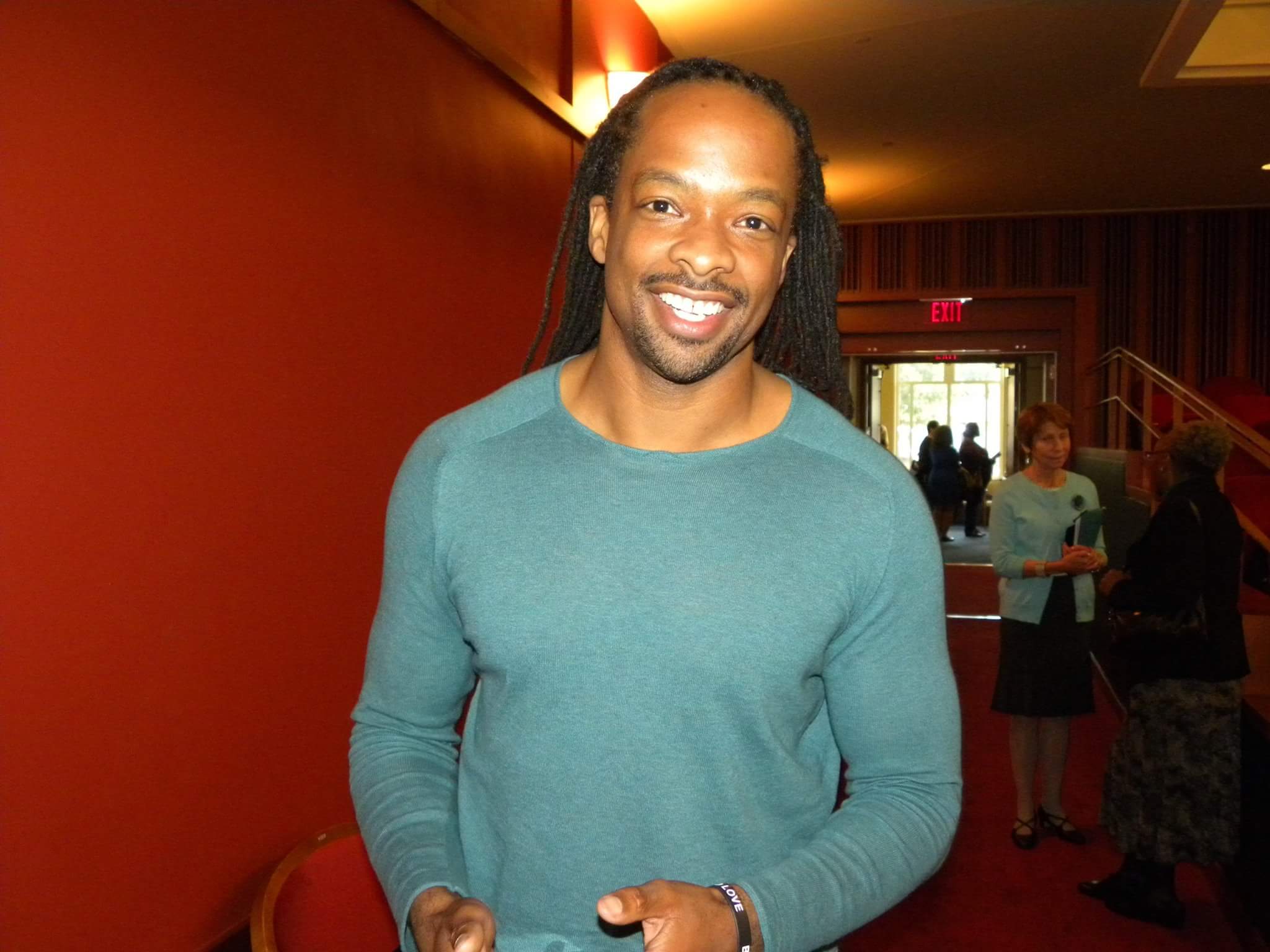 Jericho Brown
Jericho Brown was born on April 14, 1976. He is an award-winning poet and beloved college professor, LGBTI activist, and community builder.
Jericho Brown was born Nelson Demery, III in Shreveport, Louisiana, to Nelson Demery, Jr. and Neomia Lenoir Demery, who made their living cutting lawns and cleaning homes and other buildings. His sister is the filmmaker, Nequella Demery. Because of his family moving so often and his own behavior, Brown was expelled several times, attending five grade schools and two middle schools. Brown attributes his love of language to time spent in his local library as a child. "I have to trace it back to a mother who would drop my sister and me off at the library whenever she had errands to run. We had no choice but to read. I don't know if the librarians knew it or not, but they were our babysitters," Brown told the Ubuntu Biography Project.
Brown graduated from CE Byrd High School in 1994, and left his hometown to enroll at Dillard University, a Historically Black College and University (HBCU) in New Orleans, Louisiana. Brown pledged to the Alpha Phi Alpha Fraternity, Inc., and graduated magna cum laude with his Bachelor of Arts degree in English. He went on to earn his Master of Fine Arts in creative writing from the University of New Orleans, and his Doctorate (Ph.D.) in literature and creative writing from the University of Houston, where he gave the commencement address at graduation.
While living in New Orleans, Brown became a member of the Nommo Literary Society led by Kalamu ya Salaam, and a fellow at the esteemed Cave Canem Workshop/Retreat.
After finishing his undergraduate degree, Brown became a speechwriter for Mayor Marc Morial of New Orleans. He says of this time in his life, "It was a wonderful opportunity, my first big break and a huge training ground. I learned to work under really stiff deadlines, structuring things and to write every day. Speeches, press releases, ghost writing columns—all kinds of writing in the communications and press office for City of New Orleans." At the end of Morial's term, Brown moved to Houston to finish work on his first book of poetry, "Please," which was awarded the 2009 American Book Award.  "Please" is, among other things, a book about coming into one's own sexual identity, and about domestic violence.
Brown's impactful second book, "The New Testament," is about masculinity, blackness, brotherhood, and race in America, and was a finalist for the NAACP Image Award, and a winner of the Anisfield-Wolf Book Award.  In its review of "The New Testament," National Public Radio said, "In the best moments, Brown weaves together strains of religious invocation with his uneasy identity as a southern, gay, black man into a beguiling self-myth…" "The New Testament" was named one of the best books of the year by "Library Journal," "Coldfront," and the Academy of American Poets.
A recent Guggenheim Fellow, Brown is completing the final edits on his third book, "The Tradition," set to be published by Copper Canyon Press in April 2019.
Brown is currently an associate professor at Emory University, where he teaches English and creative writing. He says he was drawn to staying closer to the South, and his roots, adding, "One of the things I hope I bring to Emory is the fact that I'm always looking at newer work, younger people, trying to figure out who the up-and-coming voices are. I want to stay very aware of what's going on in contemporary poetry throughout the world. People who are emerging give us an idea of what the trends in poetry will be, gives scholars an idea what to look for in future work."
Brown is also the recipient of a Whiting Writers Award, and fellowships from the Radcliffe Institute for Advanced Study at Harvard University, and the National Endowment for the Arts. His poems have appeared in "The New York Times," "The New Yorker," and the "Best American Poetry" anthologies.
In 2017, Brown won two of the annual awards given by The Poetry Society of America. He recently had a poem appear in the "New Yorker," and his short essay on poetry and the current moment was published by "Lambda Literary."
Brown loves that his books afford him the opportunity to travel, give readings, teach workshops, meet young people, and interact with other poets who want to make art that lasts beyond their lifetimes. He adds that his writing gives him the chance to face the truths about himself that the world asks him to ignore. "We are in no way trained to be vulnerable and understanding of the truth. To paraphrase Jimmy Carter, we're a nation in which everyone says he wants peace, but we're also a nation that builds some of its wealth by selling weapons to other countries. My poems help me understand where my talk doesn't fit my actions, and they ask me to get my actions in line with my beliefs," said Brown.
In the autumn of 2014, Brown started the #blackpoetsspeakout hashtag with Jonterri Gadson, Amanda Johnston, and Mahogany L. Browne. They invited Black poets across the nation to record themselves reading poems that protested and brought awareness to police killings of unarmed Black men, women, and children.
Brown dealt with thoughts of suicide from the ages of six to 26, mostly because he couldn't bear the thought of living life as a gay man. However, having examples of queer men and women who live their lives joyously and fully helped Brown to see some hope for his own life. He embraces the belief that we are born in this world to refuse unnecessary traditions that have nothing to do with our happiness. Brown is quick to add, "We have to be proud of ourselves for ourselves, but also because our pride shows people—straight or gay—that happiness is a choice.  No one knows better than queer men and women of color that we all have the power to create our own lives. No one can take joy from anyone who believes in himself."
Brown is currently single, and makes his home in Atlanta, near Emory University. He spends a lot of time in the gym because it helps him to focus on something other than his work. Brown attends the Spiritual Living Center of Atlanta, and is a big fan of old skool music, especially 60s, 70sm and Motown, including Michael Jackson, Diana Ross, The Temptations, and Stevie Wonder. When he's not touring, he enjoys shopping and shamelessly visits nightclubs.
Brown has been known to see three movies at the theater in a single weekend, and he wants to go to more plays. He is addicted to "Game of Thrones," "How to Get Away with Murder," and, of course, "Scandal." Brown looks forward to writing longer literary works, and incorporating works of prose into his literary legacy. More than anything, though, Brown loves to have deep and loving conversations and to laugh.
You can learn more about Jericho Brown on his website.
We thank Jericho Brown for his immeasurable contributions to the written word and academia, and for his support of our community.