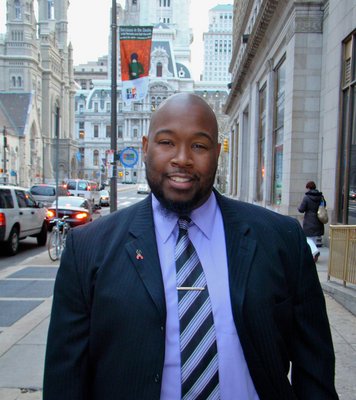 Robert K. Burns
Robert K. Burns was born on April 14, 1975 (to December 8, 2011). He was a respected professional in the delivery of health care services, the former executive director of the COLOURS Organization, a leader in the house ball community, and a beloved DJ around the country.
Robert Keith Burns, also known as Robbie Rob Blahnik, was born in Cleveland, Ohio, to a large and supportive family. He is a graduate of John F. Kennedy High School who went on to earn his master's degree in human services with a concentration in counseling from Philadelphia's Lincoln University in 2009. Burns was a leadership fellow of the Centers for Disease Control and Prevention/Association of Schools of Public Health's Institute for HIV Prevention in 2008. His knowledge of health prevention planning, program development, advocacy, social services practice, and social justice provided him with a strong foundation to work and excel in the human services arena.
While in Cleveland serving as the head of the minority outreach program for the AIDS Taskforce, Burns emerged as DJ Robbie Rob, spinning EPs and re-mixes at Club Out, a gay nightspot on Saint Clair Avenue in Cleveland with a primarily Black clientele. He spun records every Saturday night, and lived at that time with his boyfriend Koran, on the City's East Side.
As an experienced public health/social service professional and community advocate for over 15 years, Burns worked with many organizations, including the Black Gay Research Group (BGRG), the Free Clinic of Greater Cleveland, the Brother 2 Brother Program at AIDS Taskforce of Greater Cleveland, BlackOut Unlimited, Brother's Circle of Cleveland, and Lutheran Children and Family Services.
After moving to North Philadelphia, Burns served as the director of the Mazzoni Center's Collective Program, a federally-funded multi-agency collaborative serving the needs of African American, Latino, and Asian/Pacific Islander communities. He went on to serve as the deputy director and eventually executive director of COLOURS, ensuring the administration of a federal project geared towards providing assistance to LGBTQ re-entry populations.
Burns was a founding member of Beyond Abstract Consulting Firm and the Black Gay Men's Leadership Council, an empowerment and advocacy group responsible for examining the implications of social, political, and health information among African American gay men in Philadelphia. Burns served as a member and co-chair of the Philadelphia Prevention Planning group, a group given the task of providing a voice to health disparities impacting marginalized communities. He also worked closely with the Department of Human Services as a youth care worker for Bethel Community, Philadelphia's only LGBTQ group home, and was active in the Archivists Society.
Burns was executive director of the House of Blahnik, Philadelphia chapter, from 2005 to 2009. His work with the House of Blahnik drew upon his love of music, dance, and the house ball community, and merged those passions with his tireless efforts as a community builder who could unite, educate, and entertain audiences all over the country. While at the House of Blahnik, Burns assisted in the evelopment of a strategic planning process on a ten-city leadership team, and helped facilitate the successful ten year anniversary event that raised funds for an annual scholarship award.
Burns may be best known as DJ Robbie Rob: "The Spin Doctor." He was a very popular and highly respected DJ who re-mastered vogue CDs, and was in demand all across the country. He often used his skills to benefit various community non-profits and Pride organizations, and never missed an opportunity to educate and empower others in HIV prevention.
Burns was passionate about HIV prevention and education, and worked tirelessly to save the lives of same-gender loving men of color. He served the Philadelphia community by being a voice for many, and was an outspoken activist on raising awareness of, and lowering HIV rates, among the Black LGBTQ community.
Burns was awarded the Leaders of Today and Tomorrow Award from the NAACP's African American AIDS Policy and Training Institute, the Vanguard Award from the Brother Circle of Cleveland, and the Brothers of Excellence Award.
Burns died of complications from AIDS on December 8, 2011, after a valiant struggle to maintain his health and vitality. He was surrounded by his friends, and fellow members of the House of Blahnik.
We remember Robert Keith Burns in appreciation for his loving advocacy and public service, his passionate activism for those impacted by HIV and AIDS, and his many contributions to our community. Special thanks to Louis "Azucar Negro" Farmer for his assistance in creating this bio.