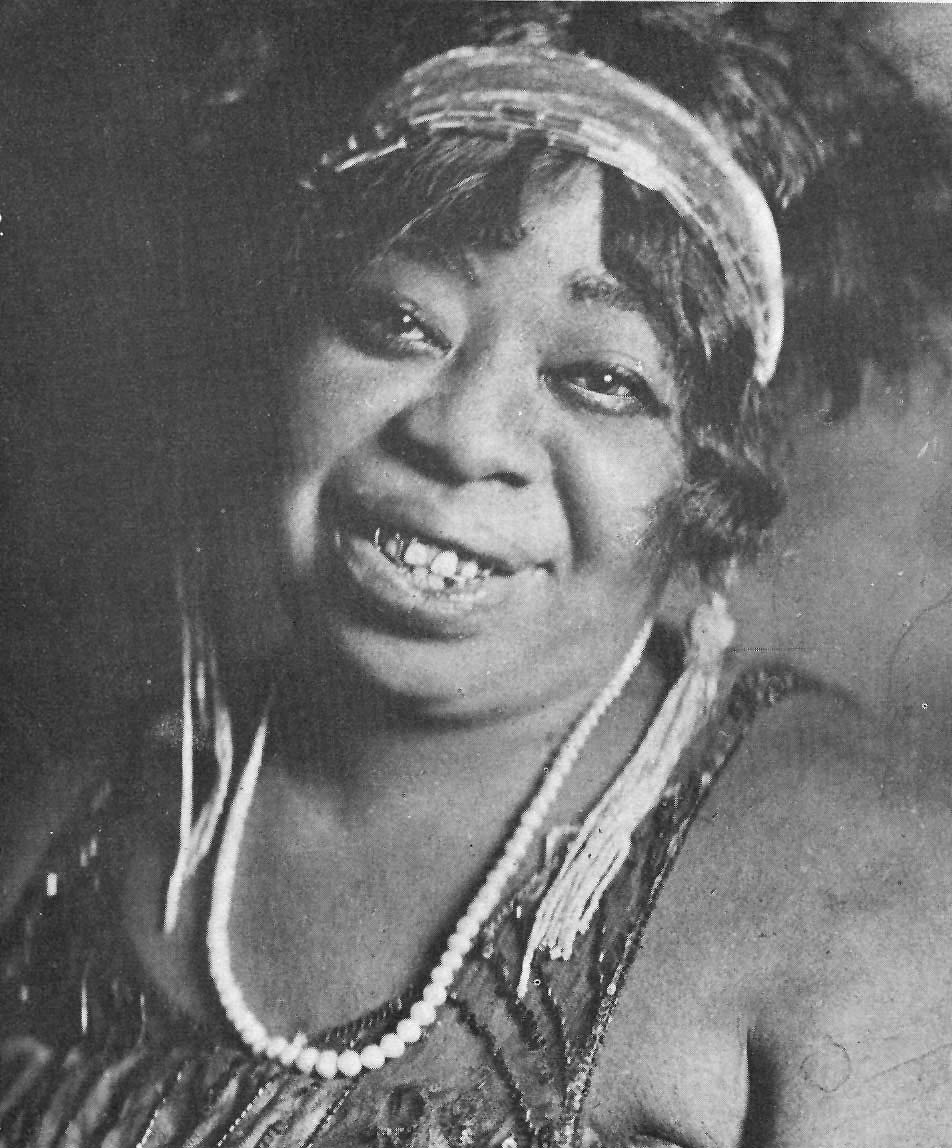 Ma Rainey
Ma Rainey was born on April 26, 1886 (to December 22, 1939). She was one of the earliest American professional blues singers, and one of the first generation of singers to record. She was billed as "The Mother of the Blues."
Born Gertrude Pridgett in Columbus, Georgia, she was the second of five children born to Thomas and Ella Pridgett, who were originally from Alabama. Both parents performed in minstrel shows, and are credited with inspiring Gertrude's interest in the field of entertainment. Rainey's stage career got its start with a song and dance troupe when she was only 14. In 1902, she heard her first blues song at a theater in St. Louis, Missouri, and adopted the blues style for her shows, quickly making them her own.
Rainey married traveling entertainer Will "Pa" Rainey on February 2, 1904. Together, they toured with F.S. Wolcott's Rabbit Foot Minstrels throughout the southern United States as Ma & Pa Rainey and Assassinators of the Blues. Ma would later become a solo act with a number of addenda to her name, calling her "The Mother of the Blues," "The Songbird of the South," the "Paramount Wildcat," and "Gold Necklace Woman of the Blues."
Wintering in New Orleans, Rainey met some of the top musicians of her time, including Joe "King" Oliver, Louis Armstrong, Sidney Bechet, and Pops Foster. Blues music increased in popularity, and Ma Rainey became well known. Around this time, Rainey met Bessie Smith, a young blues singer who was also making a name for herself.
The demand for recordings by Black musicians increased, and in 1923, Ma Rainey was discovered by Paramount Records producer J. Mayo Williams. She signed a recording contract, and in December made her first eight recordings in Chicago. These included the songs "Bad Luck Blues," "Bo-Weevil Blues," and "Moonshine Blues." Rainey made more than 100 recordings over the next five years, which brought her fame beyond the South. In 1924, she made some recordings with Louis Armstrong, including "Jelly Bean Blues" and "Countin' the Blues," and also had hits with "Bo-weevil Blues" (1923), "Moonshine Blues" (1923), "See See Rider" (1924), "Black Bottom" (1927), and "Soon This Morning" (1927).
Separated from her husband in 1916, Rainey subsequently toured with her own band, Madam Gertrude Ma Rainey and Her Georgia Smart Sets, featuring a chorus line and a Cotton Blossoms Show, and including Donald McGregor's Carnival Show.
Unlike many other blues musicians, Ma Rainey earned a reputation as a professional on stage and in business. As quoted in the liner notes to August Wilson's 1988 play "Ma Rainey's Black Bottom": "Ma Rainey was a shrewd business woman. We never tried to put any swindles on her." During Rainey's five-year recording career at Paramount, she cut nearly ninety sides, most of which dealt with the subjects of love and sexuality—bawdy themes that often earned her the billing of Madam Rainey. According to Charles E. Shaw's "The Untold Stories of Excellence," "Ma Rainey's blues were simple, straightforward stories about heart break, promiscuity, drinking binges, the odyssey of travel, the workplace and the prison road gang, magic and superstition—in short, the southern landscape of African Americans in the Post-Reconstruction era."
With the success of her early recordings, Rainey took part in a Paramount promotional tour that featured a newly assembled backup band. In 1924, pianist, arranger, and gospel music icon Thomas A. Dorsey recruited members for Rainey's touring band, The Wild Cats Jazz Band. Serving as both director and manager, Dorsey assembled able musicians who could read arrangements as well as play in a down "home blues" style. Rainey's tour debut at Chicago's Grand Theater on State Street marked the first appearance of a "down home" blues artist at the famous Southside venue.
In 1925, Rainey was arrested in Chicago when police responded to a noise complaint, and found a room full of naked women in "intimate" situations. Rainey spent the night in jail for hosting an "indecent party," and was bailed out the following morning by her bisexual friend and fellow blues singer, Bessie Smith.
Ma Rainey never shied away from her feelings in her music, including 1928's "Prove It On Me":
"Went out last night with a crowd of my friends,
They must have been women, 'cause I don't like no men.
Wear my clothes just like a fan, Talk to gals just like any old man
'Cause they say I do it, ain't nobody caught me, Sure got to prove it on me."
The newspaper ad that promoted the release of "Prove It On Me" featured Ma Rainey dressed in a man's suit flirting with two other women. Rainey was also outspoken on women's issues, and was seen as a role model for future women entertainers who took control of their own careers.  She was known as a shrewd businesswoman who often battled promoters and record companies for her fair share of profits.
Draped in long gowns and covered in diamonds and a necklace of gold pieces, Rainey had a powerful command over her audiences. She often opened her stage show singing "Moonshine Blues" inside the cabinet of an oversized Victrola, from which she emerged to greet a near-frantic audience. As Dorsey recalled in "The Rise of Gospel Blues," "When she started singing, the gold in her teeth would sparkle. She was in the spotlight. She possessed listeners; they swayed, they rocked, they moaned and groaned as they felt the blues with her."
Until 1926, Rainey performed with her Wild Jazz Cats on the Theater Owner's Booking Association circuit (TOBA). That year, after Dorsey left the band, she recorded with various musicians on the Paramount label, often under the name of Ma Rainey and her Georgia Jazz Band, which, on various occasions, included musicians such as pianists Fletcher Henderson, Claude Hopkins, and Willie 'The Lion' Smith, reed players Don Redman, Buster Bailey, and Coleman Hawkins, and trumpeters Louis Armstrong and Tommy Ladnier.
In 1927, Rainey cut sides such as "Black Cat, Hoot Owl Blues" with the Tub Jug Washboard Band. During her last sessions, held in 1928, she sang in the company of her former pianist Thomas "Georgia Tom" Dorsey, and guitarist Hudson "Tampa Red" Whittaker, producing such numbers as "Black Eye Blues," "Runaway Blues," and "Sleep Talking Blues."
Though the TOBA and vaudeville circuits had gone into decline by the early 1930s, Rainey still performed, often resorting to playing tent shows. Following the death of her mother and sister, Rainey retired from the music business in 1935, and settled in Columbus, Georgia. For the next several years, she devoted her time to the ownership of two entertainment venues—the Lyric Theater and the Airdome—as well as activities in the Friendship Baptist Church.  Rainey died in Rome, Georgia on December 22, 1939. Her obituary described her as a housekeeper, but her recording legacy continues to influence successive generations of musicians.
A great contributor to America's rich blues tradition, Ma Rainey's music has served as inspiration for artists from many disciplines, including poets Langston Hughes and Sterling Brown, the latter of whom paid tribute to the majestic singer in the poem "Ma Rainey," which appeared in his 1932 collection, "Southern Road."
More recently, Alice Walker looked to Ma Rainey's music as a cultural model of African American womanhood when she wrote the Pulitzer Prize-winning novel, "The Color Purple."  In "Black Pearls," Daphane Harrison praised Rainey as the first great blues stage singer: "The good-humored, rollicking Rainey loved life, loved love, and most of all loved her people. Her voice bursts forth with a hearty declaration of courage and determination—a reaffirmation of black life." American singer/songwriter Bob Dylan refers to Rainey in the song "Tombstone Blues." The 1982 August Wilson play, "Ma Rainey's Black Bottom," took its title from her song of the same name recorded in December of 1927, which ostensibly refers to the Black Bottom dance of the time.
Rainey was inducted into the Blues Foundation's Hall of Fame in 1983, and the Rock & Roll Hall of Fame in 1990. In 1994, the U.S. Post Office issued a Rainey 29-cent commemorative postage stamp. Academy Award-winning actress Mo'Nique played Ma Rainey in the 2015 film "Bessie," starring Queen Latifah.
We remember Ma Rainey in recognition of her contributions to the blues, and thank her for her advocacy for women in entertainment, and for her many contributions to our community.