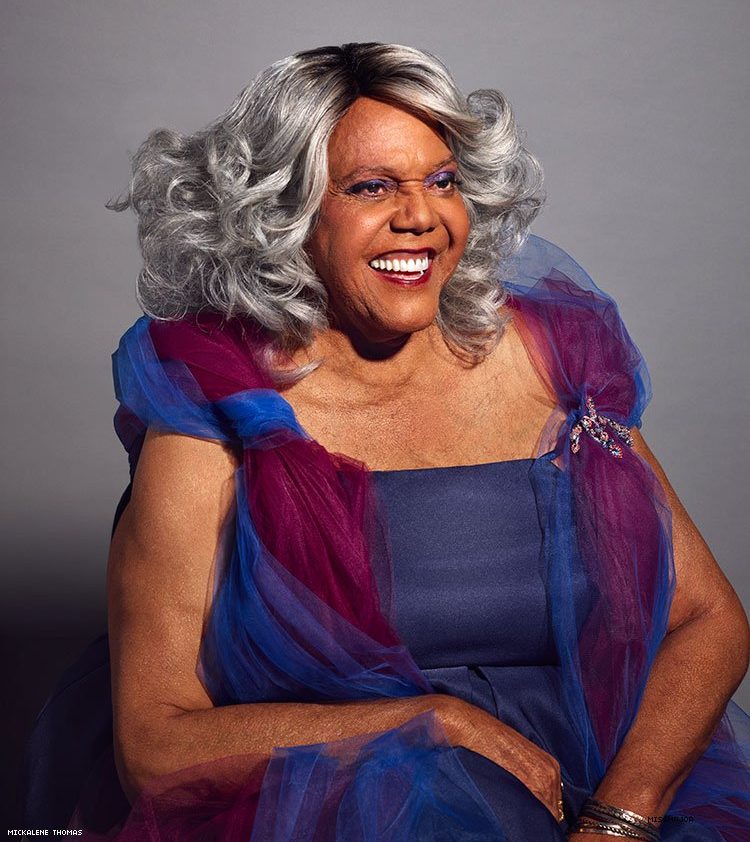 Miss Major Griffin-Gracy
(b. 1940)
"There's girls in prison who need to hear from us; who need to know that somebody out here gives a damn whether they live or die. And I want things to be better for everybody…and if they would accept my community, just for who they are, it would be better for everybody." 
Miss Major Griffin-Gracy was born on (or around) October 25, 1940 in South Side Chicago, Illinois to Edgar Mae Griffin (known affectionately as Lulu), a beauty shop owner, and LeRoy Rudolph Gracy (who people called Honey), a postal office employee. Miss Major had a younger sister named Cookie who took her own life at the age of 26. Miss Major says that they were close, but her family had a hard time accepting her. They clung to the idea that she was going through a phase for decades after she disclosed her gender identity as a teen. At the time, the language to accurately describe herself as a transgender girl did not yet exist.
Miss Major graduated high school at the age of 16 and went to Minnesota for college. Shortly after a roommate discovered her dresses, however, she returned from class to find her bags packed with a note saying she had to leave. This was the first of two colleges from which she was expelled for wearing "women's clothes." She wasn't able to complete an undergraduate degree (though she has since encouraged others to and through higher education).
With college an unsafe space, Miss Major moved to New York City in 1962. It was more progressive than the Midwest. She made good money and had a "fabulous" time as a sex worker, though there were the challenges of unsafety and police harassment. While in New York, Miss Major also performed, alongside drag king Stormé DeLarverie, in the Jewel Box Revue, a racially integrated touring variety show. Miss Major was a showgirl who performed with 24 other drag queens and DeLarverie to make up the show's "25 Men and One Girl." 
Like many LGBTQ+ and same gender loving New Yorkers, Miss Major spent time in Greenwich Village and, in particular, at the Stonewall Inn. "Stonewall was a wonderful place to be in," Miss Major said, "because all of the things that you needed to be around or see, was[sic] there. …There was an atmosphere of enjoying who we were in our space." She was there on June 27, 1969 when police raided the bar and patrons resisted their aggression for what would become the Stonewall Rebellion, sparking a powerful turn in the movement for LGBTQ+/SGL rights.
While in New York, in 1970, Miss Major was arrested and sent to Sing Sing Correctional Facility. Out on parole, she shaved, colored her hair, and applied a bit of makeup, only to have the police say she was attempting to abscond from parole. They violated her back to prison. She was incarcerated at Clinton Correctional Facility in Dannemora for five years. It was there that she met Frank "Big Black" Smith and others who had started the historic prison uprising at Attica on September 12, 1971. Through conversations with those revolutionaries, Miss Major became "politicized" and shifted to thinking about how to help her community, both there in prison and after her release. 
After leaving Dannemora, Miss Major returned to New York, where she met and developed an intimate relationship with Deborah Brown. They eventually had a son together, Christopher, in 1978. The family moved to California, but when the relationship didn't work out, Deborah returned to New York, leaving Christopher with Miss Major. Christopher calls her Dad and says he was "the most loved kid, ever."
In 1988, Miss Major moved to San Diego, CA with her partner Joe Bob Michael. Five years later, in 1993, he succumbed to AIDS-related illness. She had a living memorial installed to honor him and other veterans who were lost to AIDS. She later moved to San Francisco in 1995 to care for her parents and became an HIV outreach and prevention educator and advocate. She ran the transgender drop-in center and did street outreach through the Tenderloin AIDS Resource Center (TARC).
In 2003, she began to work for the Transgender Gender Variant Intersex Justice Project, where she eventually became the Executive Director. The organization provides human rights support and advocacy for system-involved, formerly inarcaerated, and police-targeted trans and gender nonconforming people. For her work, Griffin-Gracy has been awarded the Social Justice Sabbatical Award from the Vanguard Public Foundation as well as the Bobbi Jean Baker Memorial Award from the Asian Pacific Islander Wellness Center.
In 2014, Miss Major was named Grand Marshal of the San Francisco Pride Parade alongside Janet Mock and in 2015, a documentary, Major!, was released chronicling her life, mentorship, and activism. Her mantra, "I'm still f*ing here" rings out through the voices of trans women of color as the film closes and, undaunted by numerous health challenges including a stroke in 2019, Miss Major is still here, too.
We offer this biography in deep gratitude to Miss Major Griffin-Gracy, who has nurtured, protected, encouraged, cajoled, and loved. As Yoseñio Lewis said, she "expose[s] the truth of life among the forgotten," so we can't ignore and we can't forget. 
 4 To dress in drag is to use clothing, make up, and artistry to imitate and often exaggerate gender signifiers and gender role performances. 
5 http://sfonline.barnard.edu/a-new-queer-agenda/this-is-what-pride-looks-like-miss-major-and-the-violence-poverty-and-incarceration-of-low-income-transgender-women/0/