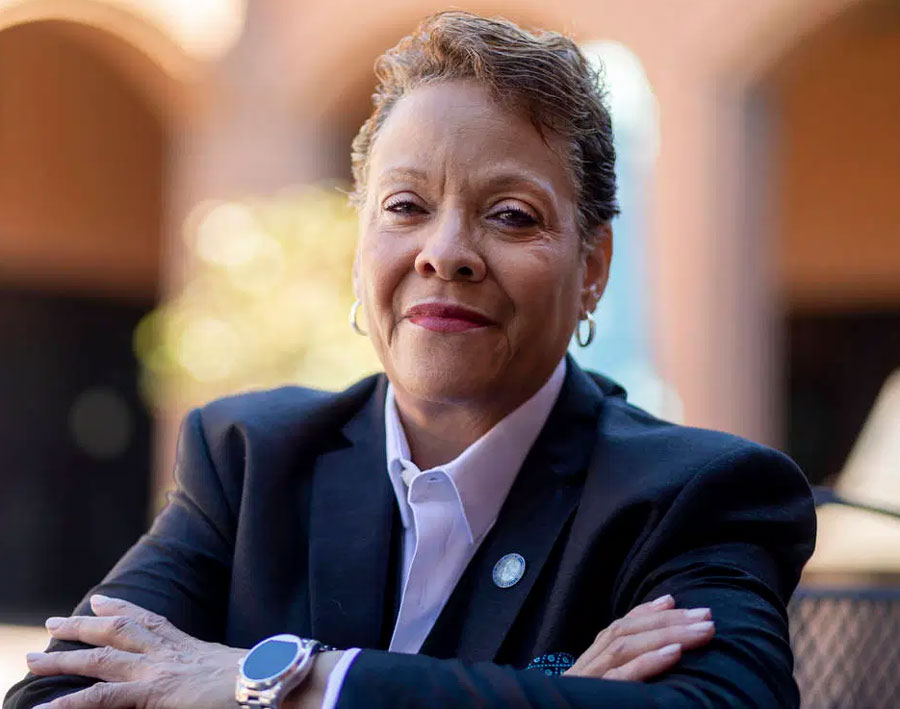 Patricia "Pat" Spearman
(b. 1955)
"I find it laughable… if it weren't so tragic. People who are born in privilege always debate whether or not those of us who were not deserve equality.  Equality is not a debate. We are born with it."
Doctor Patricia "Pat" Ann Spearman was born in 1955 in Indianapolis, Indiana to a traveling evangelist mother and a professional electrician father. Spearman was the middle child in a blended family of four brothers and nine sisters. She attributes her drive to succeed to her late grandmother, who she describes as being an inspiration for not letting your dreams be weakened because of societal obstacles.
Because of her mother's profession, Spearman moved around several times growing up. During high school, she lived in Alabama and was one of the first students to integrate a high school there. She describes her experience with that as a "refusal to accept racism," saying "I became relentless to get to a place where I could make a difference." 
After high school Spearman studied at Norfolk State University and earned a Bachelor of Arts in Political Science. She then earned a Master of Divinity from the Episcopal Theological Seminary of the Southwest. Years later, while also running to unseat a two-term incumbent in the State Senate, she was pursuing a Doctor of Business Administration from Walden University. 
Spearman's professional life has been dynamic. From 1977-2007, she served in the U.S. Military Police Corps and earned the rank of lieutenant colonel. In the 1980s and 1990s, she held multiple public service positions in San Marcos, Texas, ultimately being elected to the San Marcos Consolidated Independent School District in a landslide election. Six months later, she was elected Board President by her School Board colleagues. 
From 2001 to 2005, Spearman was a lecturer at the University of Louisville and directed their multicultural center. In 2005, she moved to the Las Vegas Valley, founded a church, and served as the pastor. 
In 2012, Spearman ran for senate against an incumbent who did not support gay marriage. She won the primary election with 63% of the vote. In her first term, she sponsored a bill that listed gender identity as a motivating factor for hate crimes, supported a constitutional amendment to legalize gay marriage, and worked on legislation to provide equal pay for women and minorities.
In 2016, Spearman ran for re-election and won. Since then, she has continued to use her voice to support LGBTQ+ Rights, Criminal Justice Reform, Equal Rights and Healthcare, and more. In 2017, Spearman chaired the Senate Committee on Health and Human Services, served as vice-chair of the Senate Committee on Commerce, Labor and Energy, and sat on the Senate Committee on Education. During the 2019-2020 legislative session, she served as chair of the Senate Committee on Commerce, Labor and Energy, vice-chair of the Senate Committee on Health and Human Services, and sat on the Senate Committee on Growth and Infrastructure. During the summer of 2020, Spearman joined colleagues in declaring racism a public health crisis, citing local issues like being subjected to food deserts and structural ones like inequitable access to mental health services. Still, Spearman has hope and continues to fight for Black communities every day. 
We offer this biography with deep appreciation for Senator Pat Spearman's courageous advocacy, commitment to public service, and outspoken support of our community. 
6 https://spearman4nevada.com/herstory