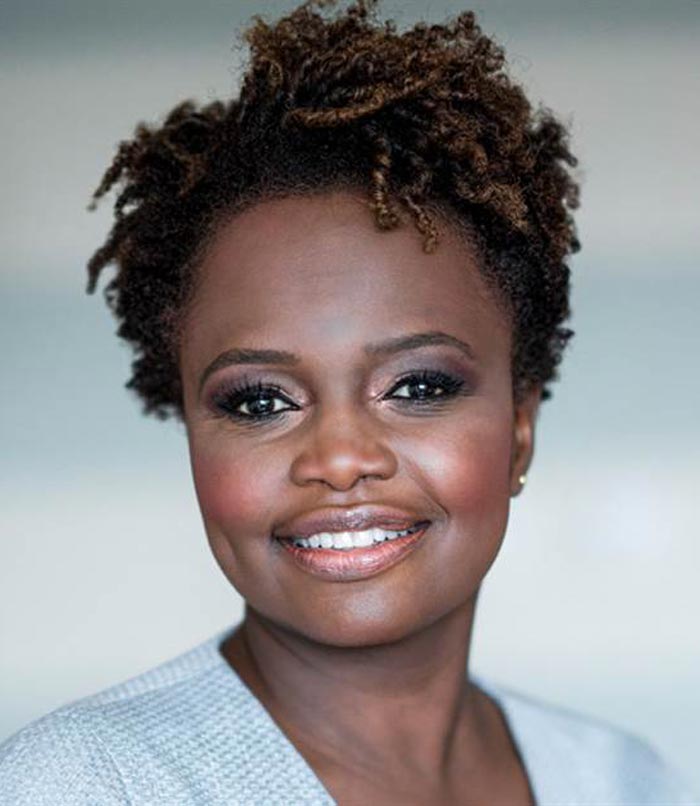 Karine Jean-Pierre
(b. 1977)
"There's a stigma connected to mental health and people don't want to talk about what they go through when they are in dark times and they don't know how to get out of it… There was a time when I attempted to take my life…and I put that in [my] book, because I want to help people…I want anybody who's ever felt that way…to know there's a way out. "
Karine Jean-Pierre was born August 13, 1977 in Fort-de-France, Martinique and was raised in Queens, New York. She was the first of three children born to her Haitian immigrant parents: her father, a cab driver with an engineering degree, and her mother, a health care worker. She attended New York Institute of Technology and went on to receive her Master of Public Affairs from Columbia University's School of International and Public affairs. 
Jean-Pierre's career has always pointed toward public service. She has served on local, state, and national electoral and advocacy campaigns. She was the Southeast Regional Political Director for the Presidential campaign of John Edwards in 2004 and the Southern Political Director for the Obama for America campaign in 2008. Jean-Pierre then worked for the Obama administration as regional political director for the White House Office of Political Affairs. She spoke about working for President Obama and being openly LGBTQ saying that "serving and working for President Obama where you can be openly gay has been an amazing honor. It felt incredible to be a part of an administration that prioritizes LGBT issues." 
Jean-Pierre joined President Obama's re-election campaign team in 2011 as the Deputy Battleground States Director, where she led political engagement in key states along with the delegate selection and ballot access process. Following a successful re-election campaign for President Obama, Jean-Pierre managed Tish James' successful 2013 campaign for New York City Public Advocate. In 2014, Jean-Pierre was the Campaign Manager for ACLU's Reproductive Freedom Initiate (RFI). She also returned to her alma mater Columbia University in 2014 as a lecturer in international and public affairs. Jean-Pierre then served as the deputy campaign manager for Martin O'Malley's 2016 presidential campaign. After the O'Malley campaign, she worked as the Chief Public Affairs Officer for MoveOn.org during the 2016 presidential election. 
Jean-Pierre has been featured on major news networks like Fox News, CNN, MSNBC, C-SPAN, and PBS as a political commentator. In 2019, she released her memoir, Moving Forward, in which she talked about how she became involved in politics and reflected on her personal and professional life. 
Jean-Pierre served as Chief of Staff for Vice Presidential nominee Kamala Harris during the 2020 presidential election. She currently serves as White House Principal Deputy Press Secretary, as a part of an all female communications team. She is the first Black LGBTQ+ person to hold the position. Jean-Pierre and her partner, Suzanne Malveaux, a CNN correspondent, have a daughter and live in the DC area.
We offer this biography in honor of Karine Jean-Pierre's bravery, perseverance, and insight.