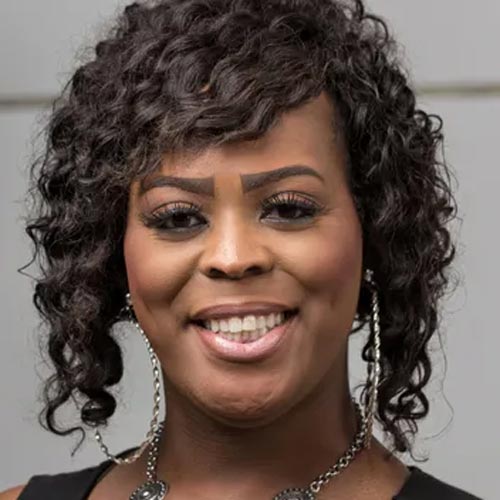 Senior Minister Carmarion Anderson
(b. 1979)
"Trans people have existed through their visibility since the beginning of creation. We cannot erase, ignore, or segregate anyone from this divine form of creation. Recognizing trans-visibility in the world is to recognize the presence of life in everyone, formed in inclusive love."
Carmarion D. Anderson was born on September 14, 1979 in Dallas, Texas, where she was raised in the church under what she calls, "a very traditional, fundamental teaching." She was called to ministry at the age of 12. 
Anderson has been an educator, minister, musician, mother, grandmother, activist, and passionate advocate for inclusion and social justice for the transgender and greater LGBTQ+/SGL community, with a focus in the South. She previously worked in Public Health and Education, and managed several local and national initiatives focused on HIV/AIDS prevention. 
Anderson began her transition at age 16, something that was legally affirmed when she was 19. Anderson founded Black Transwomen Inc., a nonprofit organization focused on uplifting, as the name suggests, Black trans women. She served as the organization's executive director. Anderson now serves as the National Co-Minister and South Region Coordinator for The Fellowship of Affirming Ministries' (TFAM) TransSaints ministry, a network of transgender clergy doing advocacy work. She previously served for 15 years as an Associate Minister at the Living Faith Covenant Church in Dallas, Texas. 
In 2019, Anderson began serving as the Human Rights Campaign's (HRC) Alabama State Director in the organization's Project One America. She is the first Black trans person to work in a leadership role at HRC. Anderson is also a member of the National Black Justice Coalition's Black Transgender Advisory Board.
We offer this biography in deep appreciation of Senior Minister Carmarion Anderson: for the many ways she has created and held space for Black transgender community, particularly in the church.