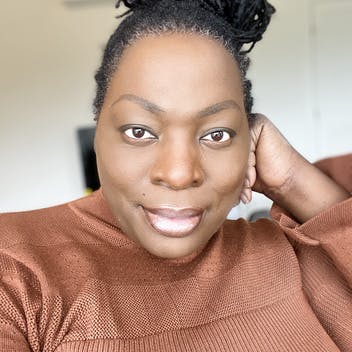 Tori Cooper
(b. 1970)
"It is important for the system to trust us to take care of ourselves, cause we've been doing it all along anyway. But give us a little help. …Invest in us."
Tori Cooper was born on May 21, 1970 and came of age as the HIV pandemic was taking hold, before AZT, before antiretroviral therapy (ART), and in the care of a hostile federal administration in a hostile nation. When she was in middle school, Cooper's mother's cousin died from AIDS-related complications. The following year, Cooper's best friend was diagnosed with HIV and passed just over a year after that. This laid a foundation for Cooper's later professional work and advocacy. As they navigated the health crisis, Cooper and her community realized they were going to have to take care of themselves and one another, so they did. She describes that time as having an air of doom and a sense, particularly in Black LGBTQ+/SGL circles, that HIV would take everyone. In some cases, it did.
In the early 2000's, Cooper was invited by a friend to adapt a CDC HIV intervention so that it would be responsive to transgender women living with the virus. This was notable both because transgender people were being seen as a group of their own and because it offered Cooper a different way of engaging with HIV/AIDS work. She became more focused and targeted in her work from that point forward.
Over the years, Cooper has distinguished herself as a leader and advocate, a community organizer, and an educator. She has been a volunteer and an executive director, founding Advocates for Better Care Atlanta, LLC in 2015. Cooper created Hour of Power, an empowerment group for trans, gender-nonconforming communities and allies. She also served as a National Trainer, Subject-Matter Expert, facilitator and consultant with the Centers for Disease Control and Prevention NMAC's Building Leaders of Color Advocacy Group's National Trainer, Tabernacle Baptist's Ordained Deacon, and Advocates for Better Care (AFBC)'s founder and Executive. She has also been a consultant and prevention specialist at Positive Impact Health Centers in metro Atlanta. 
Cooper has always focused on the most pressing needs in transgender and HIV positive communities. She has said, "The first thing that comes to mind when I think about the transgender community and AIDS are barriers. I think about all of the barriers that society, in general, puts on trans women. I think of all the barriers that society puts on trans women of color. I think of all the barriers that society puts on Black trans women. And I think of all the barriers that are in place if you're all of those things and then add HIV to the mix."
Cooper now serves as the  Director of Community Engagement for the Transgender Justice Initiative at the Human Rights Campaign and has received numerous awards for her work. She is also an author and a subject of the documentary Silent Epidemic about the impact of HIV on transgender community members in the South.
We offer this biography with deep appreciation for Tori Cooper's lifelong commitment to addressing HIV/AIDS and centering trans community needs, hopes, and thriving.