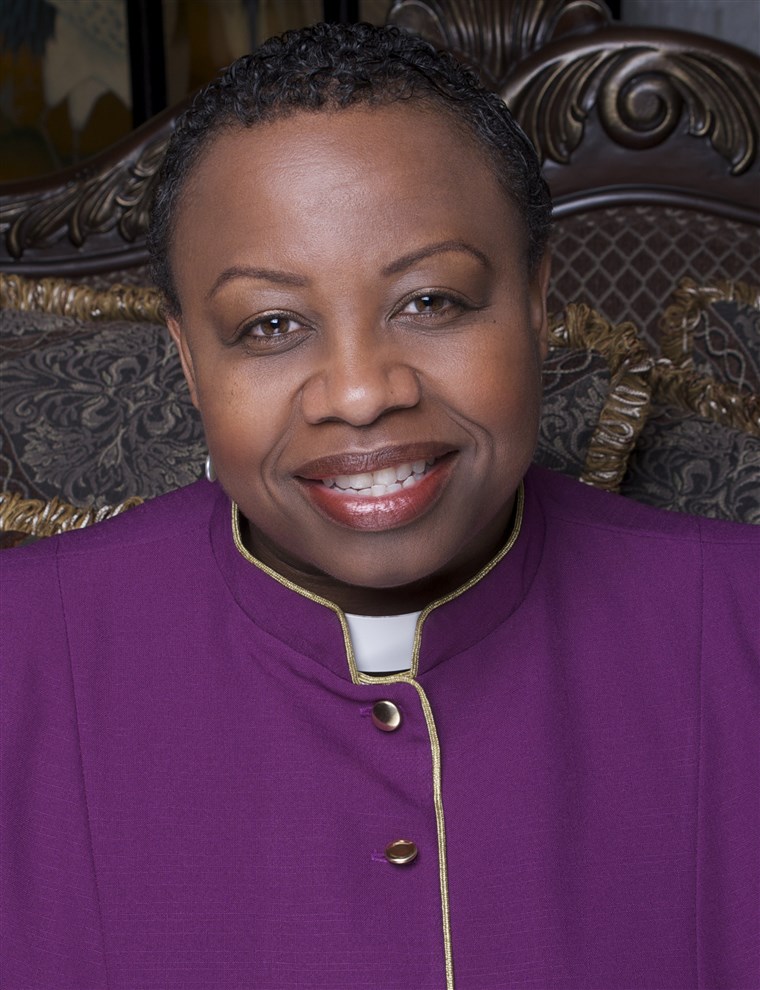 Bishop Tonyia Rawls
(b. 1958)
"Any kind of actual change that is to happen is going to happen as we begin looking at our own selves, at our own biases, at our own challenges… and a lot of that is framed by our history. …Start right where you are."
Born in 1958 and raised in Newark, New Jersey, Tonyia Rawls grew up admiring religious ceremony. Rawls earned a degree in History and Sociology (a double major) from Duke University then went to Episcopal Divinity School in Cambridge, Massachusetts. She was beginning to fulfill her calling.
In 2002, Bishop Rawls married her partner Gwendolyn. The couple have since built a family, with seven children of varying ages and five grandchildren.
In 2008, Bishop Rawls founded the Freedom Center for Social Justice in Charlotte, North Carolina to create a healing, empowering space for the LGBTQ+/SGL community. A year later, the Freedom Center created the Southeast's first LGBTQ+ Law Center and Transgender Employment Program. In 2014, Bishop Rawls founded and became pastor of another LGBTQ+/SGL centered space, the Sacred Souls Community Church – United Church of Christ. The church's mission was to be "a contemporary, welcoming to all, bible-based, Christ-centered church…called to speak about the unconditional love of Jesus Christ and the sacredness of all souls." Further, Rawls has said that the church "[offers] unapologetic counter-narratives specifically about faith and how it affects LGBTQ people." This insistence on inclusion of the LGBTQ+/SGL community in worship and salvation is rare and Bishop Rawls has been a trailblazer. Her work has also allowed responsive faith-based engagement in key community issues, including HIV/AIDS, housing insecurity, domestic violence, and wellness in general.
Sacred Souls ushered in Charlotte, North Carolina's first Black Gay Pride, the state's first Black and Latino Gay Pride, the first openly LGBTQ+ contingency to march in the Charlotte Martin Luther King, Jr. Parade, and shifted local police department responses to domestic violence impacting LGBTQ+ community members. Bishop Rawls is co-founder of the Charlotte-based Black Clergy United Against AIDS, as well as People United For Education. She previously led Grassroots Leadership's Keeping Faith: A Religious Response to the Prison Crisis program as its director and has been a member of the National Black Justice Coalition's Faith Advisory Council, as well as sitting at several other leadership tables.
Bishop Rawls has received the Human Rights Campaign Equality Award and the Charlotte Business Guild's Don King Service Award. She is a reviewer for the Journal of African-American Studies and contributed the chapter "Yes Jesus Loves Me: The Liberating Power of Spiritual Acceptance for Black Lesbian, Gay, Bisexual, and Transgender Christians" to the edited volume Black Sexualities:  Probing Powers, Passions, Practices, and Policies (2009).
We offer this biography with deep gratitude for Bishop Tonyia Rawls' insistent and loving creation of faith space and provision of critical support for our communities, both local and national.