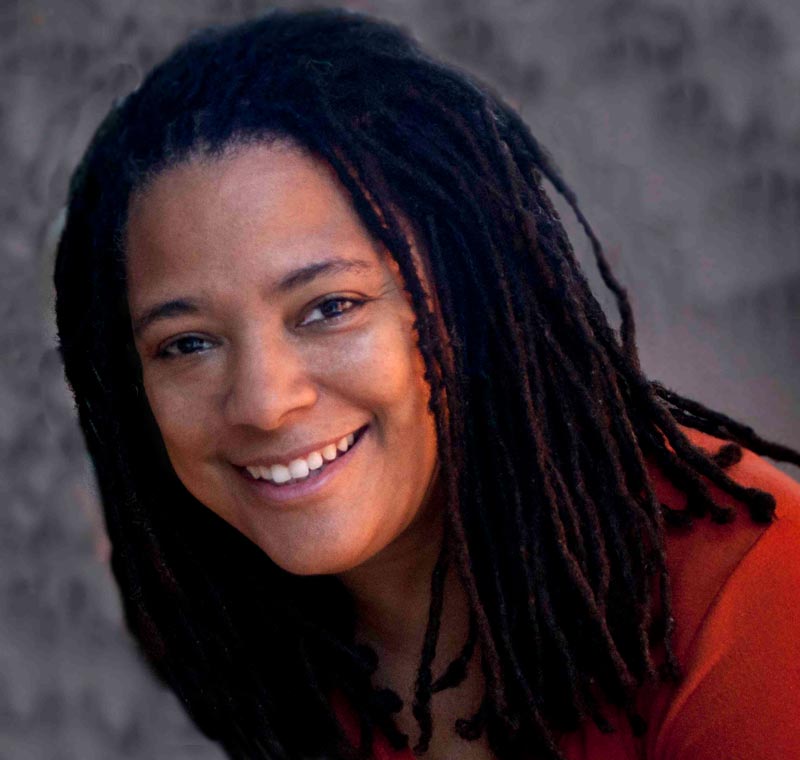 Nadine Smith
(b. 1965)
"At the end of the day, the thing that motivates me in doing this work is that I want to be the adult I wish had been there for me when I was a kid."
Nadine Smith was born August 27, 1965 to a military family. Her father was in the Air Force. Her mother, a naturalized American citizen, hailed from Liverpool, England. As a child, Smith spent a great deal of time on military bases and a bit of time in England, but the hometown she claims is Panama City, Florida. 
In her youth, Smith was academically accomplished. She participated in honor societies, earned high grades, and was class president at one point. She has talked about "the propensity of LGBTQ kids to be overachievers in so many ways because of the fear that you had to sort of bank enough points so that when your secret is revealed you might not lose your family, your friends, your standing." Smith also inherited an activist legacy, stating that she had "family…on the front lines fighting racism as sharecroppers in Mississippi [and] grandparents [who] were part of the first integrated farming cooperative" there. She learned how to confront racist oppression and applied those lessons to LGBTQ+ rights struggles as well. Even so, she describes her early life as extraordinarily isolated. It wasn't until she was 22 years old and attended an LGBTQ+ march on Washington that she saw other Black LGBTQ+ people. 
Smith entered the United States Air Force Academy in 1983, staying for one year, then attending the University of South Florida.. There, here activism began to blossom. She served on the founding board of the International Gay and Lesbian Youth Organization in 1986, graduating with a degree in Mass Communications in 1987.
After college, Smith worked as a reporter for the Tampa Tribune from 1988-1991. In 1991, she ran as the first openly lesbian Black candidate for Tampa City Council, earning the majority of votes during the primary and 42% of the votes in the run-off. Two years later, she participated in a landmark meeting between President Bill Clinton and LGBTQ+ movement leaders. She had been instrumental in coordinating the 1993 March on Washington for Lesbian, Gay, and Bi Equal Rights and Liberation. It was around this time that she joined the Human Rights Task Force of Florida, of which she would become executive director.
In 1995, Smith was the campaign manager for Citizens for a Fair Tampa, which sought to prevent the repeal of the city's human rights law—a law that protected sexual orientation. Her accomplishments also include being co-chair of the Equality Federation for several terms, and serving on the Democratic National Committee. At every turn, she has fought to protect LGBTQ+ rights, including the right to adopt children. 
In 1997, Smith became the executive director of Equality Florida, "statewide grassroots organization dedicated to ending discrimination based on sexual orientation and gender identity." She still holds that position today. The organization passed an anti-bullying bill in 2007.
True to her roots, Smith has also been active in the Black Lives Matter movement, amplifying the voices of LGBTQ+ community activists and organizational leaders, including Alphonso David, Imani Rupert-Gordon, and others. 
Smith has earned recognition for her sustained work and leadership from numerous entities, among them the National Gay and Lesbian Task Force, the Human Rights Campaign, the National Center for Lesbian Rights, and the National Black Lesbian and Gay leadership Forum. She was dubbed one of Florida's  "Most Powerful and Influential Women" by the Florida Diversity Council in 2013 and currently chairs the Leadership Team for State Voices Florida, a coalition of progressive nonprofits. 
We offer this biography with appreciation for Nadine Smith's deep and ongoing liberation work, both in the South and nationwide.