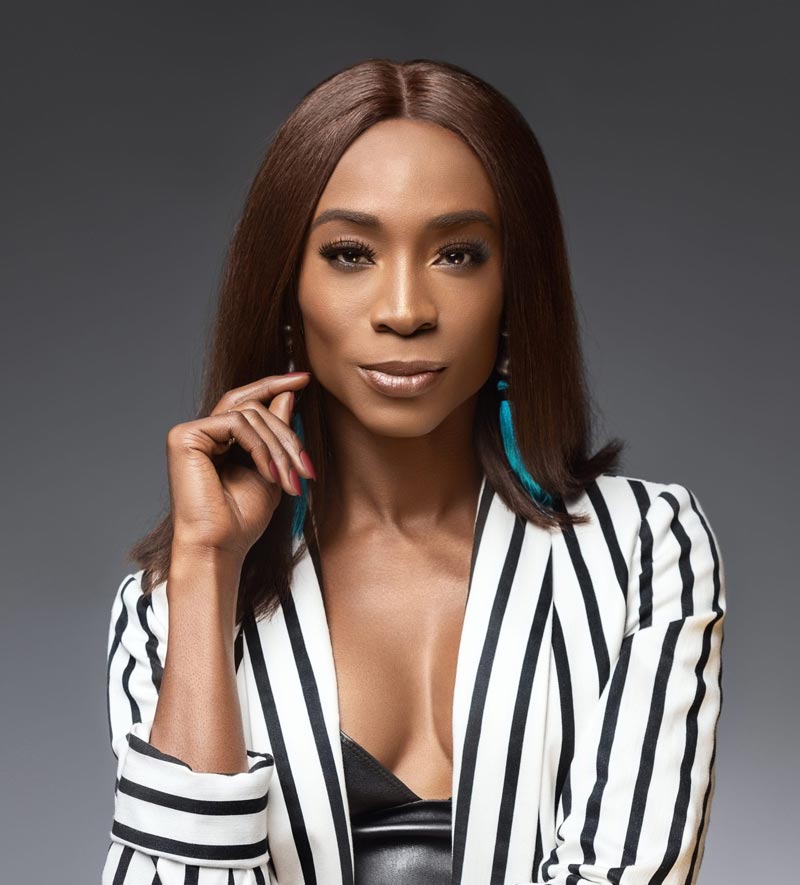 Angelica Ross
(b. 1980)
"Human rights require a dedication to equality at every intersection of life."
Angelica Ross was born on November 28, 1980 in Kenosha, Wisconsin and raised in nearby Racine. In her teens, Ross' preference for feminine dress sparked conflict with her evangelical mother. She has said, "I always knew I was different, but I never had a word for it. I sang in the church choir, played piano, and acted in local theater. At home, I'd drape blankets over my shoulders as if I was wearing haute couture gowns." To avoid discussion with her mother about her clothes, she decided to get a job to pay for them herself. 
At the age of 17, Ross came out to her mother as gay, although she admits she wasn't fully aware of her trans identity. Her mother did not receive the news well, telling Ross to commit suicide or she would, because she couldn't have someone like her as her child. Ross attempted to end her life by overdosing on medication, but survived.
Ross enlisted in the Navy in 1997 to pay for college, but was later discharged after people in the service began to harass her for being gay. At the time, "Don't Ask, Don't Tell" was the official U.S. policy, which prohibited LGBTQ+ people from serving in the military openly. She returned to Wisconsin where she began her transition to becoming the powerful woman she is today. While living at home and beginning her transition, Ross met Milwaukee drag queen Traci Ross, who introduced her to hormones and became like a second mother. Her transition didn't come without its challenges, including being estranged from her family. Ross says those relationships have since been mended.
Today, Ross is an accomplished businesswoman, LGBTQ+ activist, an advocate for Black queer and trans communities, and an actress. In 2005, Ross founded TransTech Social Enterprises, a nonprofit that specializes in training transgender people and other workers. When describing TransTech, Ross says "…we've created a space for trans people to come together, work together, laugh together, go to lunch together. There's strength in numbers. They're building networks, and down the line, they'll think of each other when it comes to jobs." 
In addition to her work in the movement for racial and trans equality, Ross is also a critically acclaimed actress. She got her start in entertainment when performing at the Kit Kat Lounge and Supper Club in Chicago, Illinois. Ross's breakout role was on the Emmy-nominated web series Her Story. This opened up the opportunity to star in the monumental FX series Pose, which chronicles the lives and legacies of New York City's thriving house and ballroom culture. Ross broke glass ceilings when she later starred in American Horror Story: 1984, making her the first transgender actress to have two series roles.
Ross' accolades include the 2016 Visibility Award by the Human Rights Campaign and the Financial Times' Top 10 LGBT+ Executives in 2018. Highlights from her acting credits include Doubt, Transparent, Claws, and I Am Cait. 
We offer this biography in celebration of Angelica Ross, a trailblazer who has triumphed over  adversity time and again. Her influence in the world grows daily and serves as a beacon for those who will follow.