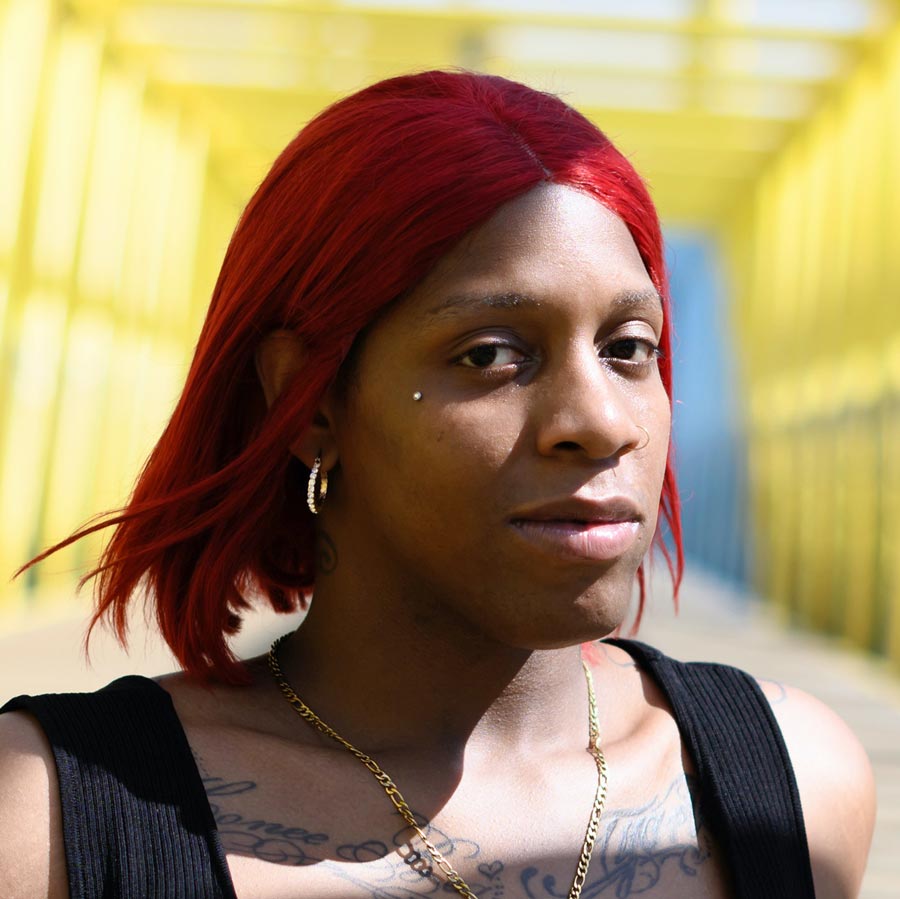 CeCe McDonald
(b. 1989)
"We are all stronger, smarter, talented, beautiful and more resilient than we were told."
CeCe McDonald was born on May 26, 1989 in Chicago, the oldest of seven children raised on the city's South Side by their single mother.
By eight years old, McDonald had fallen in love with femininity. She adored watching the beauty regimens of the women in her life. She told Rolling Stone Magazine that she found it hard to hide the feminine parts of herself – the ways her hips would sway and her walk with "graceful wrists." By junior high, being bullied had become the norm in her life. She was often chased through the neighborhood and beaten up. Around seventh grade, she was attacked by five older kids. At 14, McDonald ran away from home after her uncle beat and choked her when he found a love note she'd written to a boy. She never returned.
What was ahead for her in the streets would be years of hard living – rape, drugs, sex work for survival, and suicide attempts. 
By 2008, McDonald was living in St. Paul, Minneapolis. In the Twin Cities, she earned a GED and enrolled in Minneapolis Community and Technical College, where she studied fashion design. She was diagnosed with gender dysphoria, for which she wore a hormone patch on her hip. This would mark the beginning of her physical transition. With the transition came a growing confidence. By May of 2011, McDonald had moved into an apartment, which she would enjoy for a mere month before a day that would change her life. 
On June 5, 2011, McDonald and her friends were walking by Schooner Tavern when they were confronted by hecklers. They kept walking until the heckling became racist and transphobic slurs. McDonald responded and demanded respect. One heckler's response was to cut her face with broken glass, leading to a brawl. In the midst of the attack, one of the harassers was stabbed. McDonald was the only one arrested, despite being the obvious victim of a hate crime. She faced charges of second-degree murder and 40 years in prison. 
Though the public was outraged and demanded justice for McDonald, Hennepin County Attorney Michael Freeman was determined to seek conviction. Instead of carrying out the trial after seeing a mostly white jury tasked with deciding her fate, McDonald pled guilty to a lower charge and received a 41-month sentence in a state men's prison. McDonald was released from prison in January 2014 after serving 19 months. Her sentence was reduced for good behavior and the time she'd served prior to trial. 
After her release, McDonald ramped up her activism for the lives of trans people and the LGBTQ+ community. In that same year, McDonald was featured in The Advocate's 40 Under 40 and was awarded the Harvey Milk LGBT Democratic Club's Bayard Rustin Civil Rights Award. A documentary about the Schooner Tavern event was produced by Laverne Cox and shown at the first annual San Francisco Transgender Film Festival.
McDonald continues to demand justice for her trans siblings while also fighting for prison reform. In an article written for The Advocate, she says "If I need to take this position, to use this platform to get this word out, then I will." This is only the beginning for McDonald. 
We offer this biography in celebration of CeCe McDonald's strength, advocacy for trans and system-involved people, and her unapologetic living.