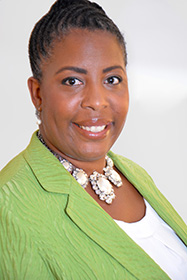 Stacey Long Simmons
(b. 1967)
"Saying the right words at the right time is wonderful — even better is when elected officials take action that demonstrates their roles as leaders fully accountable to an oath and the people who got them into office."
A visionary leader for over 30 years in various social justice movements, Stacey Long Simmons has been a mentor, advisor, builder, strategist, and change agent to countless individuals and causes over the years culminating with her former role as National Director of Public Policy and Government Affairs at Planned Parenthood Federation of America, the nation's largest and most trusted women's health care provider. Earlier in her career, Long Simmons served as Wisconsin's first Women's Health Officer where she directed a multi-million dollar statewide policy initiative to promote women's health through grants to local public health agencies, major conferences and a media campaign.
Long Simmons also worked as the Advocacy and Action Department Director at the National LGBTQ Task Force (The Task Force), the nation's oldest LGBTQ+ advocacy organization and served as a key driver of cultural, legislative and policy changes during an unprecedented era of progress on LGBTQ justice. 
Long Simmons spent 7 years in senior management at Bread for the City, a multi-service center for low-income DC families. Before that in Chicago working with LGBTQ+ at Horizons Community Services (now Center on Halsted) and later as women's program director at Howard Brown Health Center, which specializes in the medical and psychosocial needs of the LGBTQ community. 
Over the years, Long Simmons has volunteered for several organizations and was appointed by the Mayor to serve as Chair of the DC Commission for Women. As a publicly recognized leader, Long Simmons is a member of cohorts in the prestigious Rockwood Leadership Fellowship Program and the 21st Century Fellowship of the Pipeline Project. She maintains an active presence in digital media platforms and has testified before the U.S. Commission on Civil Rights, before the U.S. Congress to speak on LGBTQ+ employees and workplace discrimination in 2015, has appeared on CNN, NPR, Comcast Newsmakers, and was quoted in The New York Times, Reuters, Chicago Tribune, Advocate, The Hill, Politico, Roll Call, The Root and other media outlets. 
Long Simmons graduated from Vassar College with a major in Africana Studies and was recognized with "Distinction" for her senior project, "Black Feminism: The New Pedagogy." As a graduate of the University of Wisconsin Law School, she was awarded for her contributions to the law school community. Long Simmons received the Community Empowerment Award from the Cook County State's Attorney's Office and has earned a Nonprofit Management Executive certificate from the Georgetown University Public Policy Institute. 
Long Simmons is currently focusing on her other love: real estate sales, investment and community development. Long Simmons is married and has one child.