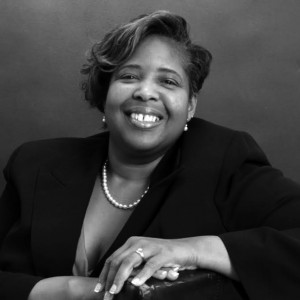 Donna Payne-Hardy
(b. 1963)
"We may occupy a different room being that we are gay or lesbian, but we all live in the same house. When injustice knocks, it's the same door for all of us. BUT when we stand together, we build a world that gives everyone equal access."
Donna Payne-Hardy is an activist and LGBTQ+/Same Gender Loving leader from Memphis, Tennessee. Payne-Hardy graduated in 1986 from the University of Tennessee, Knoxville with a degree in Political Science. 
Payne-Hardy was active for many years in the Washington, D.C. political sphere participating in the Political Congress of Black Women and many congressional campaigns. She is dedicated to bringing visibility to the LGBTQ+ community especially the Black LGBTQ+/same gender loving community. Payne-Hardy volunteered with the Clinton administration aiding in their healthcare reform efforts. She co-founded the National Black Justice Coalition in 2003 in order to advocate for the Black LGBTQ+/SGL community and our issues and served as the First Vice-Chair of the board.  
Payne-Hardy worked with the Human Rights Campaign (HRC) as the associate director of diversity for over a decade serving as one of the longest-serving Black managers at the organization. She led many initiatives while at HRC that helped increase diversity such as the Historically Black Colleges and Universities (HBCU) program that works to support LGBTQ+ students on campuses and address their unique concerns and issues. Payne-Hardy worked to coordinate Black and Brown pride events and events specifically catered to the Black LGBTQ community on behalf of HRC in addition to supporting the National Diversity & Inclusion Council. 
Payne-Hardy has been recognized for the work she has done for the LGBTQ+ community. In 2009, she received Washington D.C.'s Capitol Pride Hero recognition and was nominated as one of the 100 Black Americans who are making exceptional contributions to their community by The Root. In 2011, Payne-Hardy received the Rosa Parks Award for her leadership at HRC and in the HBCU program and the National Action Network's Women of Excellence Award from Reverend Al Sharpton.
Payne-Hardy currently works as the Diversity and Inclusion/ Equal Employment Opportunity Specialist at the Federal Reserve Board in Washington D.C.