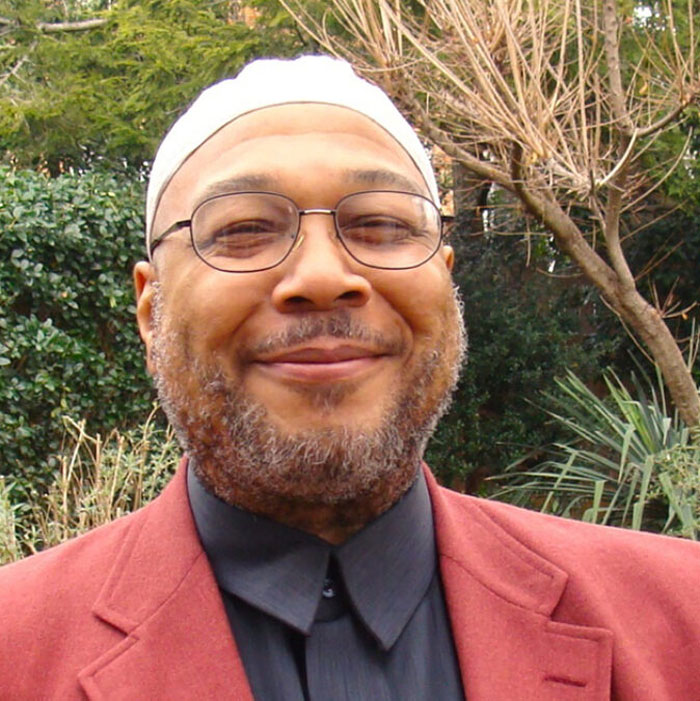 Imam Daayiee Abdullah
(b. 1954)
Imam Daayiee Abdullah (born Sidney Thompson) was born in Detroit, Michigan in 1954. He has 8 siblings and was baptized at the age of eight in a Southern Baptist church. Abdullah graduated from high school when he was 15. Around this time, he also Invited In his parents into his identity as a gay/same gender loving man and began to dive more deeply into the LGBTQ+ community.
In 1975, he moved to San Francisco, California, where he became a court stenographer and worked for the Internal Revenue Service. In 1979, he was a San Francisco coordinator for the National March on Washington for Lesbian and Gay Rights. That same year he moved to Washington, D.C., where he attended Georgetown University studying Chinese language and literature. He studied at the University of Beijing during the early 1980's and formally converted to Islam in 1985 when he began going by the name Daayiee Abdullah.
Abdullah has dedicated his life to changing the perceptions of Muslims and pushes forward acceptance within the community. He graduated as a juris doctor from The University of the District of Columbia David A. Clarke School of Law in 1995. After law school, he practiced corporate and public interest law before going to the Middle East to teach for the Royal Saudi Air Force. He researched a positive interpretation of homosexuality in the Quran while in Saudi Arabia. Based on his interpretation, Abdullah has said that "nowhere within the Quran itself is homosexuality actually condemned" and that those who have interpreted the Quran have misrepresented and made generalizations of the original Arabic.
Abdullah has traveled around the country and world, lecturing on progressive Muslim concepts. He began to be called an Imam after he performed marriages for same-sex couples and religiously differing couples from Abrahamic faiths, funerals, and provided counseling for both heterosexual and homosexual couples. He founded and currently serves as the Executive Director of the MECCA Institute (Muslim Education Center for Creative Academics), which expands progressive Islamic theology through education and research. Abdullah has been involved in a number of other organizations, including serving as a board member and religious advisor for Al-Fatiha, serving on the Advisory Board for Muslims for Progressive Values, and being a moderator for Muslim Gay Men Discussion group. Imam Abdullah is cited as the first openly gay Imam in the world.
In 2021, Abdullah published his book Progressive Islam: The Rich Liberal Ideas of the Muslim Faith, which focuses on ideas such as freedom, opportunity, responsibility, and cooperation and presents a diverse perspective on Islam. He is currently based in Washington, D.C.