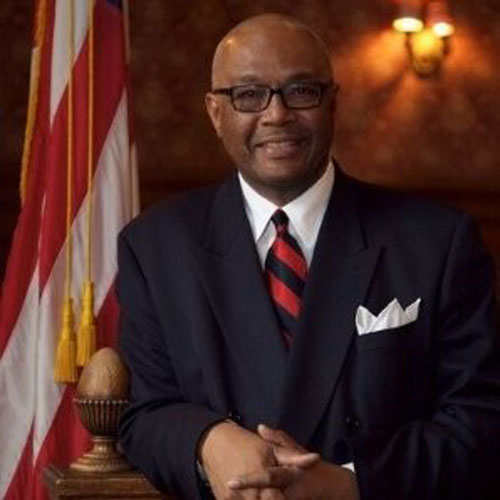 Kenneth Reeves
(b. 1951)
Kenneth Errol Reeves was born in Detroit, Michigan on February 8, 1951. He attended Cass Technical High School, where he graduated in 1968. Reeves attended Trinity College for a year before going to Harvard University, where, in 1973, he received a degree in American History and Literature. While at Harvard, he met his partner, Greg Johnson, when they were roommates. In 1976, he graduated from the University of Michigan Law School.
Reeves worked in private law in Boston, Detroit, and Cambridge before he was elected mayor of Cambridge, Massachusetts in 1992. He was the first openly gay/same gender loving Black man to serve as mayor of any city in the U.S., and the first Black and first openly gay/same gender loving person to be elected as mayor in any city in Massachusetts. Reeves served as mayor of Cambridge for three terms, from 1992 to 1995, and then again from 2006 to 2007. As mayor, he advocated for affordable housing, focused on economic development, fostered citizen empowerment, and encouraged ethnic and gender diversity.
Reeves served on the Cambridge City Council for 23 years, serving eight consecutive terms from 1990 to 2013. As an elected official, Reeves founded the W.E.B. DuBois Academy for adolescent males of African Descent, the Cambridge Community Chorus, the Cambridge African American Heritage Trail, The Cambridge Men of Color Health Task Force and the Cambridge Dance Complex.
Reeves served as the Chairperson of the Cambridge School Committee, chairing the Task Force on the Potential of Students and the Commission on the High School of the 21st Century, which resulted in recommendations for systemic change. He has served in leadership positions with organizations including Men of Color Against AIDS, the Black AIDS Institute, the National Black Lesbian and Gay Leadership Forum, and the National Black College Alliance.
Reeves most recently served as a Dr. Martin Luther King Jr. Visiting Scholar at MIT in the Department of Urban Studies and Planning. He still lives in Cambridge, Massachusetts.