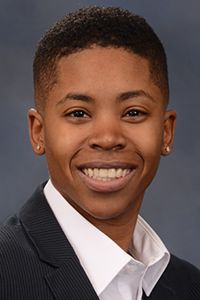 Dallas Harris
Dallas Harris is an American politician from Nevada. Harris was appointed to the 11th district of the Nevada Senate on December 4, 2018. Prior to her appointment to the legislature, Harris served with the Nevada Public Utilities Commission as an administrative attorney. Harris is openly gay. She is one of four openly LGBT members of the Nevada state legislature.
Harris is a Las Vegas native; born in Sin City on July 22, 1985. Growing up in Las Vegas, Harris enjoyed participating in various youth sports, but her favorites were tennis, basketball, and Taekwondo. She attended several schools all around Clark County including Parsons Elementary; Swainston Middle School, Lied Middle School, Las Vegas Academy (majoring in Theatre), and Green Valley High School.  Her own experience in the Clark County School District drives her passion for improving education in Nevada. After graduating high school in Las Vegas, Harris began her post-secondary career at the University of Nevada, Las Vegas. In 2008 she obtained a B.A. in Psychology and in 2009 she graduated with a B.A. in Computer Science.
From there, Harris moved to Southern California to study at Claremont Graduate University where she earned a master's degree in Public Policy. While there she studied economics, cost-benefit analysis, policy analysis, and statistics. This education informs her policymaking today. 
Harris then headed to the nation's capital for law school. During her time in Washington, D. C., Harris interned at Public Citizen, the Federal Trade Commission, Facebook, and at D.C. City Council. She graduated from the George Washington University Law School in 2005 with a new understanding of law and policy.
Since graduating from law school, Harris has dedicated her career to public service. From 2015 to 2017, she worked as a Policy Extern at Public Knowledge, a D.C. based non-profit that advocates for expanded broadband access and consumer protections. She then returned home to Nevada and took a job as an Administrative Attorney at the Public Utilities Commission until mid-2019. There she gained experience in state government and utility regulation. As of August 2019, Harris is a Consumer Rights Attorney in the Adult Guardianship Project at the Legal Aid Center of Southern Nevada.