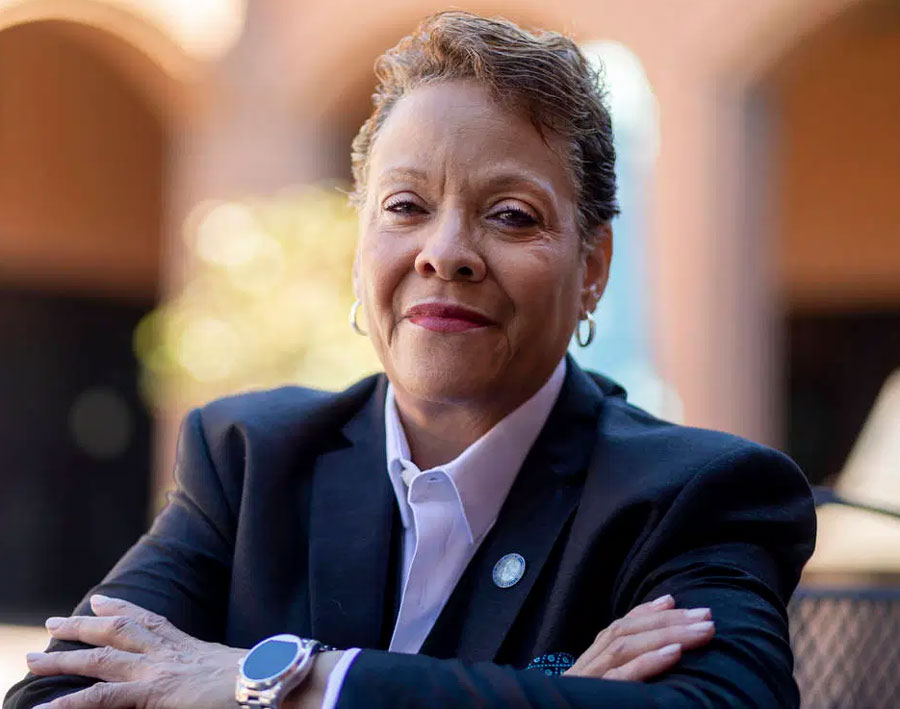 Pat Spearman
Doctor Pat Spearman's courage, commitment and dedication for the rights of the people started long before becoming a State Senator for Nevada District 1. For 29 years, she served our country in the U.S. Army; from Ft. McClellan, Alabama in her first assignment to the Pentagon as a member of the Army Operations Center, ascending to the rank of Lieutenant Colonel. She earned several military awards. 
In 2002 the Governor of Kentucky awarded her the title of "Kentucky Colonel. She received this honor for her selfless service to the community and significant accomplishments, in the military, state, and the nation. The Kentucky Colonel title is the highest title of honor bestowed upon an individual by the Commonwealth of Kentucky.
While living in Texas, Spearman saw the need to improve education, increase teacher's pay, and bring more cultural diversity to the San Marcos Independent School District Board. She ran for School Board Trustee and won in a landslide.  Within 6 months of membership and with a pledge to serve and adherence to education, she was elected Board President by School Board colleagues. As School Board President, she was able to pass a ballot initiative to renovate older schools and build new schools to accommodate the rapid population growth in San Marcos.
Spearman led the efforts to increase teacher's salaries, improve professional development for teachers and administrators, received funding for a "Train the Trainer" program for teachers working with children on the autism spectrum and have had a successful learning experience. She also worked with the Superintendent to increase diversity in the professional staff, increase parent participation, and expand after school enrichment activities for students. She was relentless in her efforts to ensure every child has access to an equal and sustainable public education.
In 2008 Pat Spearman, as a church pastor, led community efforts to increase voter registration and participation, Democrats' Caucus training, and became a volunteer for the Obama Campaign that led to a 12.5 victory in Nevada—the state's largest margin of victory in two decades. Her work with the Obama campaign, her experience as a public servant and the 2008 recession prompted her need to do more. While working with the Stonewall Democratic Club of Clark County, she had an opportunity to see how some current laws negatively affected the LGBTQ+ community. More need to be done to protect this demographic. 
 Spearman's Nevada neighbors were losing their homes, their jobs, and the financial crisis had devastated the state budget. In 2012 Patricia Spearman filed to run for Nevada's 1st Senate District. Although the conservative incumbent had significant financial resources for his campaign, Spearman worked to unite a grassroots coalition. Her ideas to improve the education system, increase renewable energy, diversify the state's economy, and provide full equality for every citizen energized the coalition. Her mission statement to become a voice of the people, a supporter of community groups and an ally to local leaders secured her 63% victory.  While running for the State Senate, she was also pursuing a Doctor of Business Administration at Walden University.  Her research focused on Global Energy Policies and has been downloaded, read, and cited more than 800 times.   
In the Senate, Patricia Spearman has served as Chair of the Legislative Operations and Elections Committee, Chair of the Health and Human Services Committee, Chair of Commerce and Labor, and several other legislative committees.  The Senator has used her roles to pass countless legislations on LGBTQ Rights, Economic Development, Veterans Affairs, Equal Rights and Health Care, Criminal Justice Reform, and Victim's Rights.