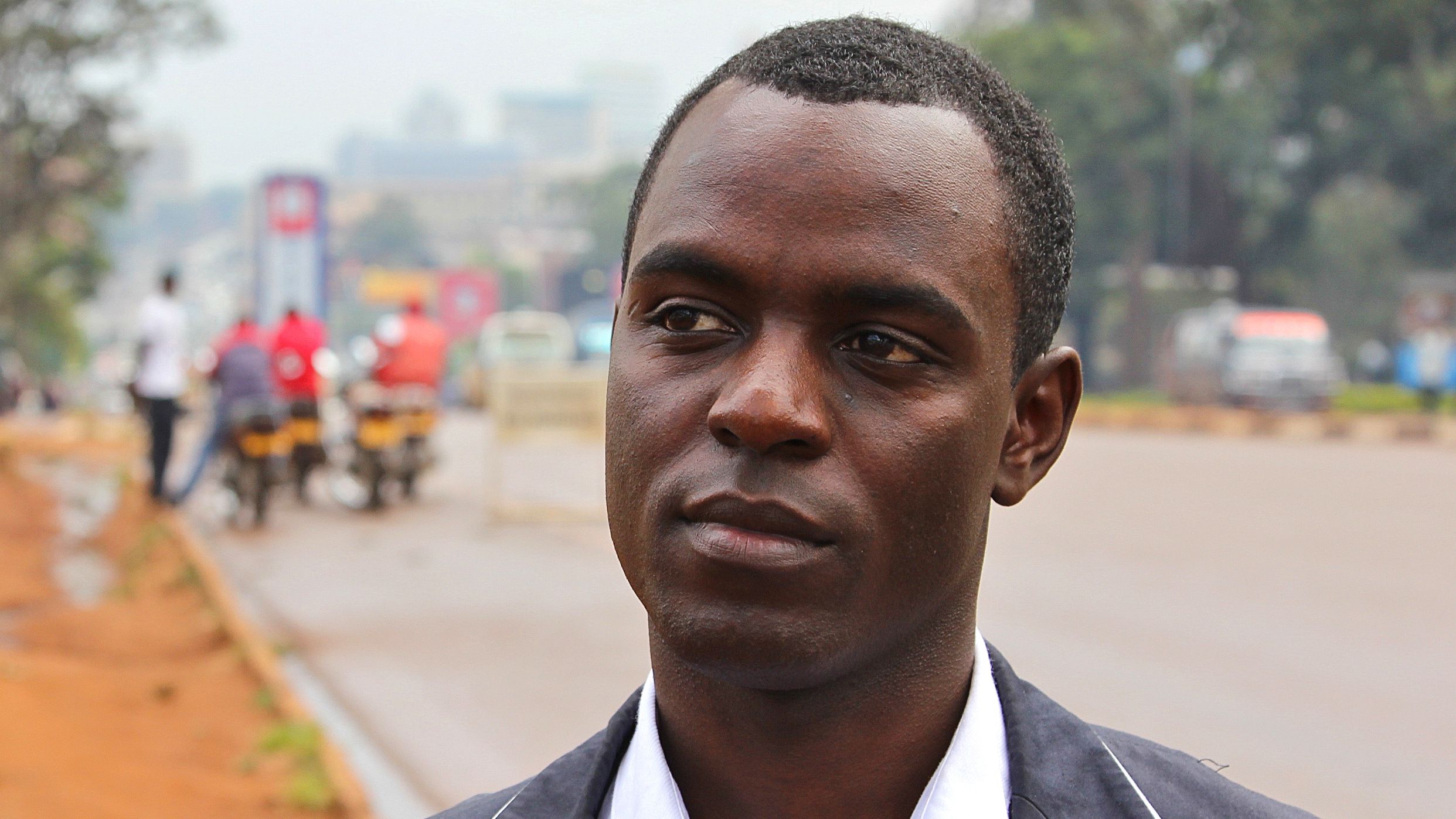 Dr. Frank Mugisha
Dr. Frank Mugisha was born on June 17, 1979. He is a prominent advocate for the rights of sexual minorities in Uganda, a respected champion of human rights, and an anti-violence advocate. Mugisha was a 2014 nominee for the Nobel Peace Prize, and in 2017, was included in "Fortune" magazine's list of the world's greatest leaders.
Frank Carlton Mugisha was born in a suburb of Kampala, Uganda, and raised in a strict Catholic family. He reportedly came out to his brother at age fourteen, which estranged him from some family members, but other friends and family have continued to support him. To come out in Uganda is to subject your life to great risk. In a 2011 "New York Times" op-ed story, Mugisha said, "From the time I was old enough to have romantic feelings, I knew I was gay, but we weren't supposed to speak of such things." In Uganda, you not only risk the possibility of bullying and beatings, you risk imprisonment, and endanger your life as well.
While a student at Kampala's Kyambogo University in 2004, Mugisha founded Icebreakers Uganda, an organization created as a support network for LGBTI Ugandans who are out, or in the process of coming out to family and friends. Icebreakers Uganda offers counseling and suicide prevention services to those who are brave enough to be openly gay in a place where both law and public opinion deem such an identity to be criminal. Mugisha is the executive director of Sexual Minorities Uganda (SMUG), the largest and leading organization of the LGBTI movement in the East African country. The umbrella organization consists of four groups, including Icebreakers Uganda. In Uganda, LGBTI organizations operate in a dangerously hostile climate, and Frank Mugisha is one of the few openly gay LGBTI activists.
In 2012, Mugisha started the first and only LGBTI health center in Uganda. In 2007, he, along with other Ugandan LGBTI community members, came out publicly during a forty-five day media campaign entitled, "Let Us Live in Peace."
Frank Mugisha was close friends with fellow advocate and SMUG founder David Kato, who was brutally murdered in January of 2011 after successfully suing the tabloid "Rolling Stone" for publishing the names of 100 LGBTI Ugandans with an encouragement to "hang them."  On the death of his dear friend, Mugisha said, "I remember the moment when my friend David Kato, Uganda's best-known gay activist, sat with me in the small unmarked office of our organization, Sexual Minorities Uganda. 'One of us will probably die because of this work,' he said. We agreed that the other would then have to continue. In January (of 2011), because of this work, David was bludgeoned to death at his home, with a hammer. Many people urged me to seek asylum, but I have chosen to remain and fulfill my promise to David—and to myself. My life is in danger, but the lives of those whose names are not known in international circles are even more vulnerable."
Mugisha was one of the plaintiffs from SMUG represented by the Center for Constitutional Rights, using the Alien Tort Statute to sue American evangelist Scott Lively for crimes against humanity for his advocacy for Uganda's Anti-Homosexuality Bill. Lively is a Massachusetts-based American evangelical and self-professed expert on the "gay movement." His efforts were described as inciting the persecution of gay men and lesbians and as "conduct…actively trying to harm and deprive other people of their rights [which] is the definition of persecution."
In August 2013, a federal judge stopped an attempt by the defense to dismiss the case against Lively. U.S. District Court Judge Michael Ponsor rejected the jurisdictional claims by the defendant, ruling that the plaintiffs were on solid ground under international and federal law and that First Amendment arguments were "premature." In December 2014, the First Circuit Court of Appeals rejected another petition to dismiss the case, but in June 2017, Ponsor dismissed the case due to lack of jurisdiction.
Mugisha has been continuously named and shamed in the Ugandan media because of his sexual orientation, and has been personally targeted for his outspoken work on the issue. In 2009, he led religious leaders and HIV/AIDS activists in a massive march to petition the Ugandan Parliament to stop the Anti-Homosexuality Bill, which, among its many harmful provisions, would have instituted incarceration for consensual homosexual acts, and criminalized the medical treatment of homosexuals with HIV/AIDS.
Writing in "The Guardian" in 2014, Mugisha argued that homophobia and the hatred behind the Anti-Homosexuality Bill were from western influences. "I am a gay man. I am also Ugandan. There is nothing un-African about me. Uganda is where I was born, grew up and call my home. It is also a country in which I have become little more than an un-apprehended criminal because of whom I love. I want my fellow Ugandans to understand that homosexuality is not a western import and our friends in the developed world to recognize that the current trend of homophobia is."
In that same "New York Times" opinion page article cited earlier, Mugisha writes, "The way I see it, homophobia—not homosexuality—is the toxic import. Thanks to the absurd ideas peddled by American fundamentalists, we are constantly forced to respond to the myth—debunked long ago by scientists—that homosexuality leads to pedophilia. For years, the Christian right in America has exported its doctrine to Africa, and, along with it, homophobia. In Uganda, American evangelical Christians even held workshops and met with key officials to preach their message of hate shortly before a bill to impose the death penalty for homosexual conduct was introduced in Uganda's Parliament in 2009. Two years later, despite my denunciation of all forms of child exploitation, David Bahati, the legislator who introduced the bill, as well as Foreign Minister Henry Okello Oryem and other top government officials, still don't seem to grasp that being gay doesn't equate to being a pedophile."
Frank Mugisha was awarded United Nations Human Rights Defenders Recognition in 2010, the prestigious 2011 Robert F. Kennedy Human Rights Award, the 2011 Rafto Prize for Human Rights in Bergen, Norway, for his work pursuing LGBTI rights in Uganda, and the Cinema for Peace Human Rights Award in 2013. He has received honorary doctorate degrees from Ghent University in Belgium, and Glasgow University in Scotland.
Mugisha's work has been recognized worldwide, including by the United Nation's Secretary General Ban Ki-moon, and former United States Secretary of States Hillary Clinton and John Kerry. In 2009 and 2014, Mugisha was named by "The Advocate" as one of the leading activists under the age of 40. His heroic efforts were recognized in 2014 with a nomination for the Noble Peace Prize, and in 2017 when he was named by "Fortune" magazine as one of the world's greatest leaders.
Despite the constant threat of imprisonment and the possibility of death, Frank Mugisha bravely continues to work for the security, equality, and dignity of Uganda's LGBTI community. He has given motivational lectures and talks around the world, and has met and influenced world leaders, celebrities, and influential persons to fight anti-gay legislation in his country.
We thank Dr. Frank Mugisha for his unwavering advocacy and humanitarian endeavors in the face of danger, and for his support of our community.