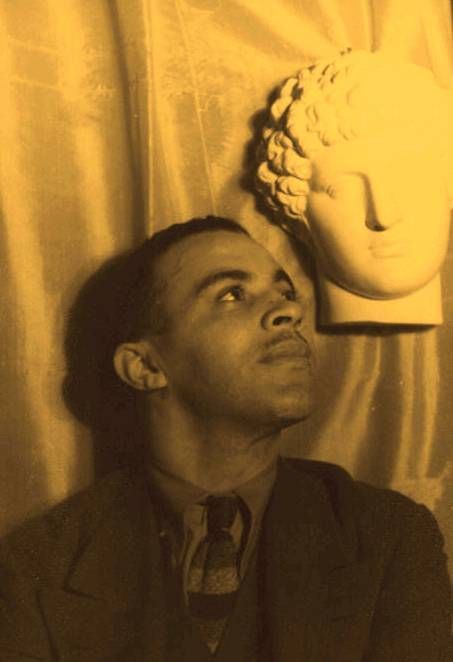 Richard Bruce Nugent
Richard Bruce Nugent was born on July 2, 1906 (to May 27, 1987). He was an important contributor to the Harlem Renaissance whose writings, paintings, illustrations and bohemian personality helped to define and popularize this beloved period in American arts and writing.
Richard Bruce Nugent was born in Washington, DC to a family of high social position in the Black community. His parents, Richard Henry Nugent and Pauline Minerva Bruce, had two children. His mother was an accomplished pianist who was trained as a schoolteacher, and his father was a Pullman porter. Nugent was 13 when his father died and the family moved to New York City. He was introduced to author Langston Hughes in 1925, and the event signaled the beginning of Nugent's lifelong fascination with the arts and his contribution to the literary and political movements of the Harlem Renaissance.
Nugent was unique for his time because he was openly homosexual, and possessed a unique personal style and ideas that made him stand out. In spite of his modest literary and artistic output and the equally small amount written about his life, Nugent was a principal player in the Harlem Renaissance and New Negro movements. His unique and unorthodox personal style and sexual conventions snubbed the established mores of his time. Because of the notoriety surrounding him, and to avoid disapproval and embarrassment to his family, he assumed the pseudonym of Richard Bruce. It is this pseudonym that is often attached to his writings and drawings. He has been described as a "bizarre and eccentric vagabond poet" and "a non-conformist who refused to accept so-called middle class standards." Other attributes used to describe him were "cutting, good-looking, great sense of humor, and highly intelligent."
In 1926, Nugent published "Smoke, Lilies, and Jade," a short story regarded by many scholars as the first publication by an African American to depict homosexuality openly. The story, on which he collaborated with other authors, appeared in the only issue of the groundbreaking art magazine, "FIRE!!" which was unprecedented in its celebration of same-sex desire. Other Harlem Renaissance luminaries also contributed to "FIRE!!" including Gwendolyn Bennett, Zora Neale Hurston, Aaron Douglas and John Davis.
Due to controversy and financial constraints, only one issue of "FIRE!!" was published. The story, which depicts a 19-year-old artist's sexual encounter with another man, was a deliberate attempt to shake up the conventional attitudes of middle-class African Americans. Nugent shopped his new publication around New York on foot and to some of the Greenwich Village bookshops put it on display, and sold copies. But Nugent, who had no job, would collect the money and reportedly ate it up before he got back to Harlem.
After "FIRE!!," Nugent joined the cast of Du Bose Heyward's 1927 stage play, "Porgy," which toured the United States and England for more than two years, and also appeared in "Run, Little Chillun" in 1933. In the thirties he, like Gwendolyn Bennett, worked with the Federal Writers' and Art Project as well as the Federal Theatre.
From 1926 to 1928, Nugent lived with the writer Wallace Thurman at 267 West 136th Street in Harlem. Their apartment complex was known as "Niggeratti Manor," and the walls were decorated by Nugent with provocative murals of men.
"Shadows," Nugent's first published poem, was anthologized in Contee Cullen's 1927 work "Caroling Dusk: An Anthology of Verse by Negro Poets." A one-act musical, "Sadhji: An African Ballet" (based on his earlier short story of the same name), was published in "Plays of Negro Life: A Source-book of Native American Drama" in 1927 and produced in 1932. This African morality tale tells of the beautiful Sadhji, a chieftain's wife, beloved by Mrabo, her stepson, who, in turn, is loved by his male friend Numbo. Nugent's first novel, "Gentleman Jigger," was posthumously published, to mixed reviews, in 2008, more than 70 years after it was written.
His only stand-alone publication, "Beyond Where the Stars Stood Still," was issued in a limited edition by Warren Marr II in 1945. He later married Marr's sister Grace, on December 5, 1952. The marriage was never consummated since he was openly gay, but she insisted they marry with the notion that she could change him. It was not seen as a ploy to hide his homosexuality, but rather an indication they were very close. She committed suicide in 1969.
Nugent attended the Community Planning Conference at Columbia University in 1964 as an invited speaker. The conference was held under the auspices of the Borough President of Manhattan, Community Planning Board 10 and Columbia University. The idea of forming an organization to promote the arts in Harlem emerged from the conference's Cultural Planning workshop and led to the formation of the Harlem Cultural Council. As one of the founders of the Council, Nugent worked especially hard on "Dancemobile" and "Jazzmobile." He was elected as co-chair and also served as chair of the Program Committee until March of 1967.
Richard Bruce Nugent was a protégé of Alain Locke and a contemporary of Langston Hughes, Aaron Douglas, Wallace Thurman and Zora Neale Hurston. His ardent bohemianism was the inspiration for the character of Paul Arbian, an artist and writer, in Thurman's 1932 novel, "Infants of the Spring."
Nugent bridged the gap between the Harlem Renaissance and the Black gay movement of the 1980s. He died of congestive heart failure in Hoboken, New Jersey on May 27, 1987. Despite his bohemian lifestyle, he managed to outlive all the other major Harlem Renaissance figures except Dorothy West. In his later years, he was an indispensable and primary source for historians of the period.
In 2002, Duke University Press released "Gay Rebel of the Harlem Renaissance: Selections from the Work of Richard Bruce Nugent," which included examples of his writing and artwork.
He remained a great inspiration to many of his contemporaries and is featured as a principal character in a film written and directed by Rodney Evans and released in 2004. "Brother to Brother" is a fictionalized meeting of a young art student, Perry (Anthony Mackie), who befriends an elderly Bruce Nugent (Roger Robinson). Through recalling his friendships with other important Harlem Renaissance figures, Nugent's character chronicles some of the challenges he faced as a young, Black, gay writer in the 1920s. Perry discovers that the challenges of homophobia and racism he faces in the early 21st century closely parallel those of Richard Bruce Nugent.
In 2012, the James Weldon Johnson Memorial Collection at the Beinecke Library in New Haven, Connecticut announced that the Richard Bruce Nugent Papers were now available for research. In 2016, Nugent was featured in the "Gay Gotham: Art and Underground Culture in New York" exhibition at the Museum of the City of New York.
We remember Richard Bruce Nugent as a remarkable trailblazer for his creative contributions, his courageous advocacy, and his abiding love for our community.