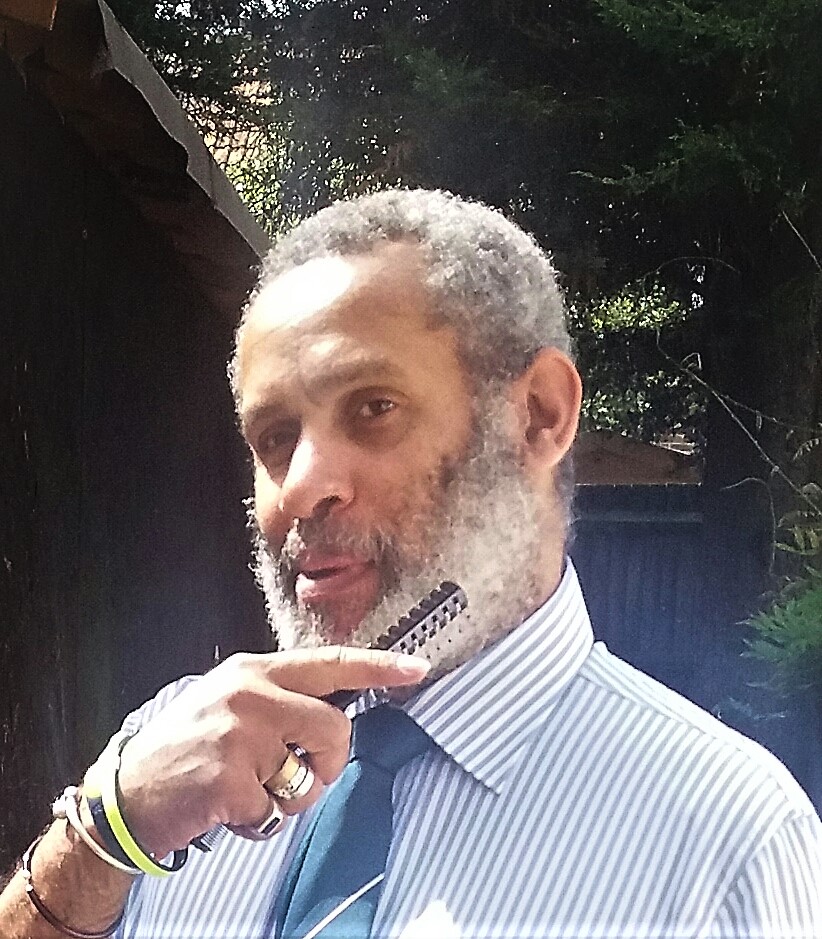 Dirg Aaab-Richards
Dirg Aaab-Richards was born on July 29, 1959. He is a respected Jamaican-British writer, human rights activist, and community builder.
Dirg Aaab-Richards was born in Jamaica, the fifth of six children of John Richards, a retired builder, and the late Norma Chisholm Richards, a realtor and master gardener. He attended Stella Maris Preparatory School and the New Day Primary and Junior High School, all in Kingston, Jamaica. After his family relocated to the United Kingdom in 1969, he attended William Penn Secondary School in South East London, and served as Head Boy for 1976-1977.
On his journey as a Black gay man in 1978, aged 19, Dirg Aaab-Richards felt a great deal of personal stress due to conflicting religious dogma and homophobia at home and in the wider community, and a crushing sense of isolation. This led to some mental health issues upon coming out, which temporarily interrupted this young man's education. With months of rehabilitation, work in the hotel industry, and some personal counseling, Dirg regained his strength and dignity. He was resilient and able to graduate from London's Goldsmiths College with a Certificate Qualification in Community and Youth Work.
Dirg became a member of the Gay Black Group – London, and helped to organize Britain's first Black gay men's conference, "In This Our Lives," in October of 1987, and the International Lesbian and Gay People of Colour Conference, which was held in London in 1990. Dirg became the first Black gay men's outreach worker for an innovative project which focused on galvanizing the Black LGBTI community to establish a Black Lesbian and Gay Centre from 1985 through 1990.
Dirg Aaab-Richards was honored to be part of a groundbreaking anthology, "Tongues Untied" (Gay Men's Press, 1987), along with many other young, Black, gay poets, including Essex Hemphill, Isaac Jackson, and Craig G. Harris.
Dirg Aaab-Richards served as a volunteer for twelve years with South London Lesbian and Gay Young People's Group, facilitating a weekly meeting space so that lesbian and gay youth under the age of 21 could socialize within their own age group, and had access to advice, gay literature, and telephone counseling. The youth group traveled to the Houses of Parliament to lobby for a change in the UK's age of consent ("at which a person, whether male or female, may lawfully consent to a homosexual relationship"), and participated in the successful campaign in having it reduced to 18 years of age (it would later be reduced to 16). His commitment to the youth group stemmed from having a difficult coming out story to tell, and he wanted other young people to have a more positive and enlightened experience.
He co-founded Black Lesbians and Gays Against Media Homophobia in 1992 with Theadore "Ted" Brown, which helped to force into the headlines the issue of Jamaican homophobia in dancehall music. Known as "murder music," it outraged many on both sides of the Atlantic with its lyrics encouraging violence. Protests garnered an on-air apology from the relatively new, Jamaican reggae star, Buju Banton. Shabba Ranks, another reggae performer, undermined his own commercial future with live homophobic ranting as the VHS video of "The Word" reached GLAAD in the United States. Dirg salutes and acknowledges Ted Brown, Peter Tatchell, and Outrage!, who were driving forces doing sterling work, calling public attention and disapproval to so-called "murder music."
With colleagues and support from the British trade union, Unison, he actively participated in a yearlong campaign to shift the homophobic reporting and attitudes at "The Voice," a prominent British Black newspaper. The campaign achieved successful outcomes which included a right-of-reply, and the implementation of an Equal Opportunity Policy at the newspaper.
Dirg is hopeful that Jamaica will recognize all of its citizens, and endorses the campaigns for the withdrawal of the so-called "'Buggery Law," which was enacted by the British colonialists and has been so harmful to Jamaicans and the Jamaican psyche. Dirg invites everyone to see "The Abominable Crime," a 2014 documentary (www.commongoodprod.com) that he highly recommends because it gives voice to gay Jamaicans who, in the face of endemic anti-gay violence or threats of violence, are forced to flee their homeland. The film follows Simone Edwards, a mother, and human rights activist Maurice Tomlinson (who we've profiled here at the Ubuntu Biography Project), as they navigate the conflict of loving their country and staying alive.
Dirg worked as a London bus driver for six months before becoming an outreach worker for Age Concern Lambeth, which serves the South London borough of the same name, meeting the needs of older residents. He also worked with the Pimpernel Group, which served the needs of older gay men, while continuing to serve at Age Concern.
Dirg Aaab-Richards is the recipient of two Community Awards for work in the Black lesbian and gay community: from Blackliners HIV & AIDS Project (whose inaugural meeting he attended), and a Black Gay Community Award two years later in 2002.
Dirg has worked as a self-employed professional gardener, specializing in window boxes and hanging basket floral displays for West End restaurants and hotels. He lives in London, where he remains active in the vibrant gay community. Dirg never misses an opportunity to promote the "'free to the world" internet school, Khan Academy, and invites you to check it out at  khanacademy.org.
Dirg Aaab-Richards modestly says, "No man is an island unto himself," and he humbly acknowledges the many good people, especially young people, with whom he has worked over the years and who continue to inspire him on his journey.
We thank Dirg Aaab-Richards for his contributions to literature and human rights advocacy, and for his support of our community.