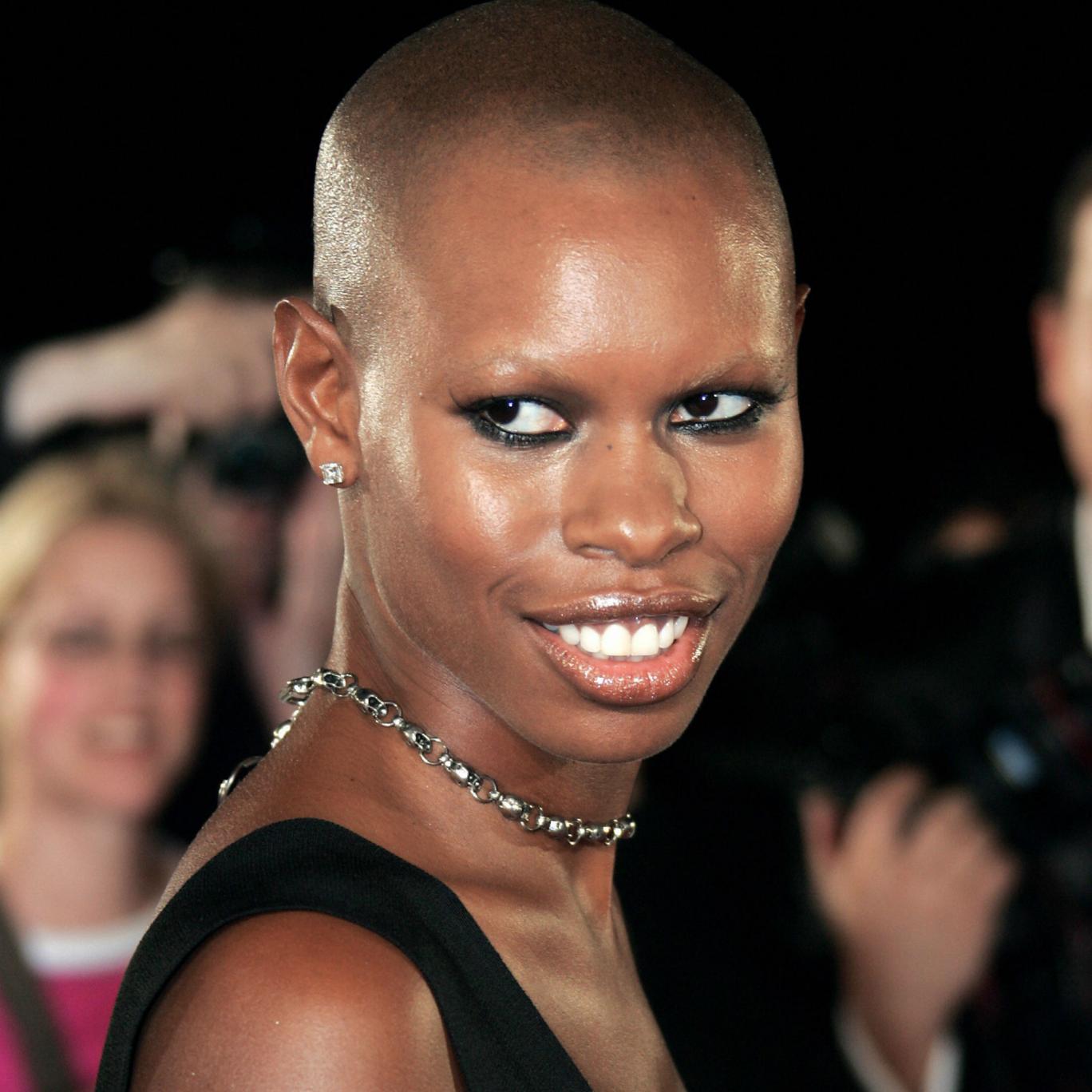 Skin
skin-2017
The British singer known as Skin was born on August 3, 1967. She is an accomplished vocalist, electronic music DJ, fashion icon, and charity activist. As the lead singer of Skunk Anansie, she has sold over four million records and released six albums.
Deborah Anne Dyer was born in the London district of Brixton, and is the daughter of Jamaican immigrants. Her father was in the Air Force and worked on an oil rig, her mother was a nurse before joining the local government. When Skin was just six, she moved in with her grandfather, who ran a club out of his basement. As a child, Skin wanted to be a pianist, but studied interior design at Teesside University, which later awarded her an honorary degree.
In 1994, she launched her music career as lead vocalist of the English hard rock/metal band, Skunk Anansie. The group released the albums "Paranoid & Sunburnt," "Stoosh," and "Post Orgasmic Chill," before they disbanded in 2001. Skin went on to pursue a solo career, releasing her debut solo album, "Fleshwounds," performing around Europe, and supporting Robbie Williams' and Placebo's world tours. Her second album, "Fake Chemical State (2006), launched a small promotional tour, followed by a side project called "Format-3" and a soundtrack contribution to the film "Parlami d'Amore" in 2008. In 2009, Skunk Anansie reformed and released a greatest hits album, "Smashes and Trashes," followed up by "Wonderlustre" and "Black Traffic."
As a member of Skunk Anansie, Skin has performed at the 80th birthday party for Nelson Mandela, and with Luciano Pavarotti at a concert to raise funds for Tibetan children. She also had the opportunity to meet with the Dalai Lama. In describing her band in an interview with "The Jerusalem Post," Skin said, "[Our] songs just reflected our honest opinions, we never really set out to court controversy. We were just the people who we were, living in very trying times. I'm a black female from Brixton who was bisexual—you're always going to have a lot to talk about in that case, by nature of who you are."
Skin entered into a civil partnership in 2013 with producer Christiana Wyly, the daughter of American billionaire entrepreneur Sam Wyly. The union ended in 2015, the same year she served as a judge for season 9 of the Italian version of "X-Factor." In March 2016, she was staying in Istanbul, Turkey, when a deadly bomb attack occurred nearby, shaking the hotel in which she was staying; she was not injured. That October, Netflix released the original series "Medici: Masters of Florence," in which Skin sings in the opening musical piece, "Renaissance." Skin and Skunk Anansie went on tour in 2017 to support their latest album, "Anarchytecture."
We thank Skin for her longstanding contributions to the world of music and fashion, and for her support of our community.