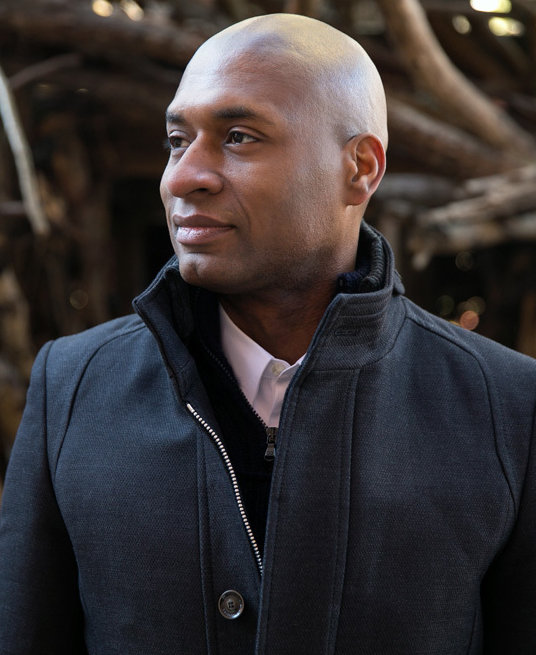 Charles M. Blow
Photo: Beowolf Sheehan
Charles M. Blow was born on August 11, 1970. He is a widely respected columnist for "The New York Times," a knowledgeable political and social critic, and a CNN commentator. He has also appeared on MSNBC, Fox News, the BBC, Al Jazeera, and HBO.
Charles McRay Blow grew up the last of five brothers in rural and segregated Gibsland, a predominantly Black small town in northern Louisiana. At the age of seven, he was sexually molested by an older male cousin. In his later memoir, Blow would reveal the trauma and sexual identity confusion the molestation caused, and how he made plans to violently confront his abuser at the age of 20. He would also write about how his mostly absentee father, Spinner, would show up drunk on the family doorstep after a night of drinking, gambling, or cheating on his wife. Blow's mother, Billie, was a teacher who would have to raise Blow and his siblings after she separated from her husband.
Blow was an athlete and star student growing up. He says that as a young boy, he visited the local newspaper and the staff allowed him and his classmates to typeset and print their names. From that point on, he was hooked on journalism. Blow founded his high school newspaper, and began writing regular letters to the editor at the "Shreveport Times" (where he would work part-time while in college). At Grambling State University, Blow was president of his college fraternity, and graduated magna cum laude in 1991 with a BA in mass communications.
Following graduation, Blow took a job as a graphic artist for "The Detroit News" before joining "The New York Times" in 1994 as a graphics editor and, eventually, graphics director. He became the paper's design director for news before leaving in 2006 to work for "National Geographic" as an art director. He returned to the "Times" two years later as the paper's first visual op-ed columnist.
In 2014, Blow came out publicly as bisexual in a memoir, "Fire Shut Up in My Bones." At the time he revealed, "One thing the gay rights movement taught the world is the importance of being visible…This is how I felt all my life. It does not feel to me in any way transitory. It does not feel like it's going to change. And I also wanted to say that there are people who may not fit what we conceive bisexuality to be."
In an interview on SiriusXM Progress, Blow stated, "People can be bisexual and heteroamorous, meaning they can have sex with both men and women but only fall in love with people of the opposite sex. Or it can be the inverse. It can be people who fall in love with both, but only want to have sex with one. There's a huge spectrum. Part of what my discomfort was, in the beginning, is that I wanted something that didn't exist. I wanted something that was so singular, a label that was so singular for me. I was so special—I was so different from everybody else I was meeting. And that I wanted a different label. And I had to say, 'Charles snap out of that. What are you talking about?'"
Blow has three grown children, including twins, and lives in Brooklyn, New York.
We thank Charles M. Blow for his contributions to journalism, and for his support of our community.