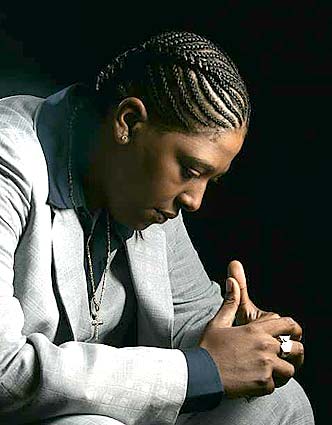 Latasha Byears
Photo: LA Times
Latasha Byears was born August 12, 1973. She is a celebrated former American professional women's basketball player who played power forward for several franchises of the Women's National Basketball Association (WNBA), including the Sacramento Monarchs, the Los Angeles Sparks, the Washington Mystics, and the Houston Comets.
Latasha Nashay Byears was born in Memphis, Tennessee, but grew up in Millington, Tennessee; she attended high school in nearby Arlington. After playing two years in Northeastern Oklahoma A&M, she transferred to Chicago's DePaul University. It was there during the 1995-1996 season that Byears earned her a first team All-American by averaging nearly 23 points and 12 rebounds per game.
Although Byears wasn't selected in the WNBA draft, the Sacramento Monarchs invited her to their training camp in 1997, and she played for them for four seasons. Byears was traded to the Los Angeles Sparks following the 2000 season, and contributed to the team's championship run during the early 2000s.
Following a Sparks game on June 5, 2003, Byears learned that she and three other men were being investigated for the alleged rape of a WNBA player. Byears was cut by the team, even though criminal proceedings against her were closed in 2005 due to insufficient evidence. Byears' filed a lawsuit against the Lakers, alleging gender and sexual orientation discrimination, and the fact she was not given the same treatment as Kobe Bryant (who played for the Los Angeles Lakers, owners of the Sparks at the time) when he had rape allegations leveled against him. The lawsuit was eventually settled, but not before Byears missed two years of playing.
She finished out her career playing for teams that included the Washington Mystics, the Bulgarian team CSKA Sofia, the Houston Comets, and Leszno in Poland.
We thank Latasha Byears for her contributions to the world of basketball, and for her support of our community.