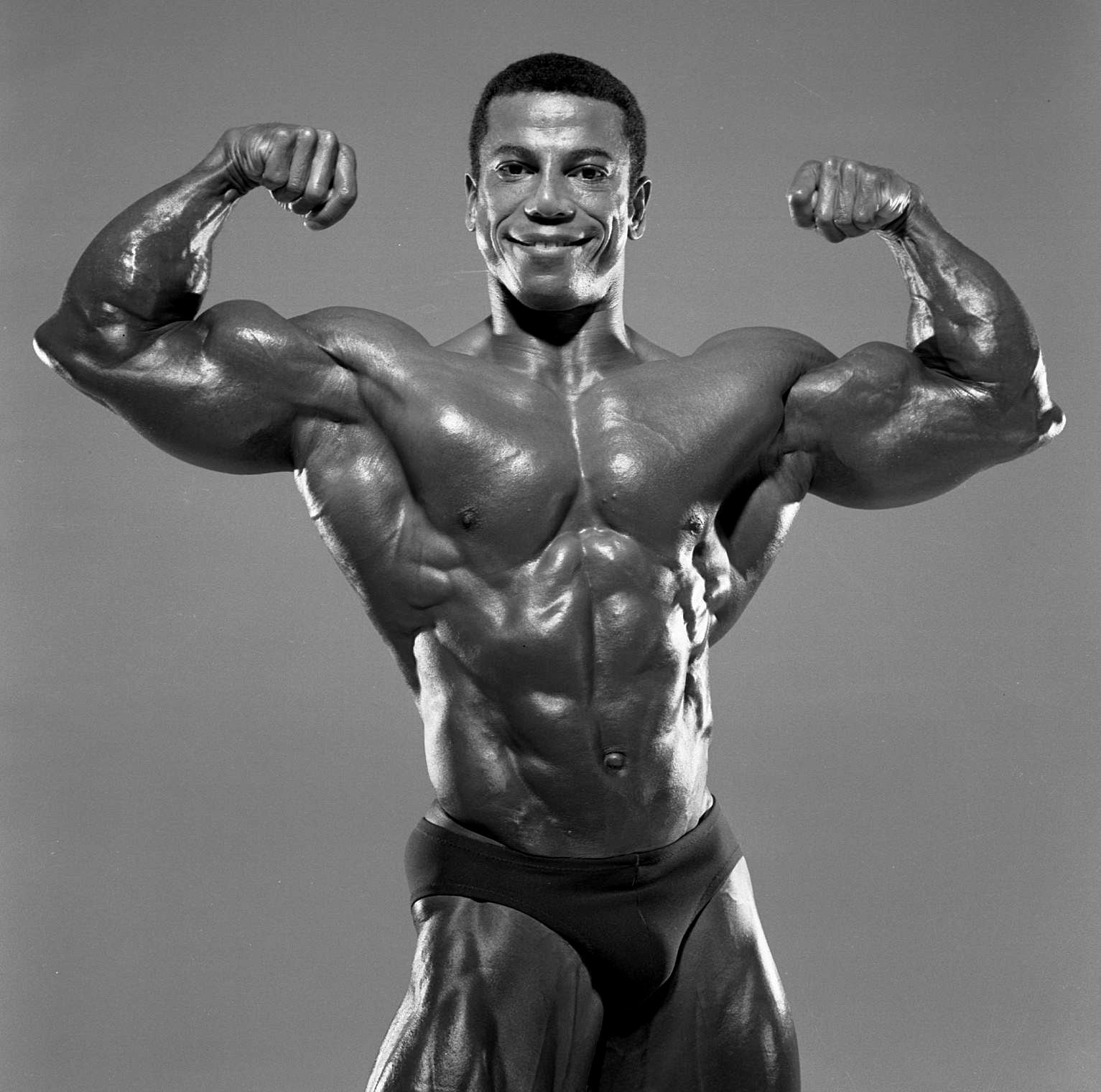 Chris Dickerson
Chris Dickerson was born on August 25, 1939. He is a former professional bodybuilder, model, and opera singer. Dickerson was the first African American AAU Mr. America, the oldest and first Black and openly gay winner of the IFBB Mr. Olympia contest, and one of only two bodybuilders to win both the Mr. Olympia and Masters Olympia competitions.
Henri Christophe Dickerson was born in Montgomery, Alabama, the youngest of triplets. His mother, Mahala Ashley Dickerson, was a lifelong friend of civil rights icon Rosa Parks, and was the first Black female attorney in Alabama, the first Black attorney in Alaska, the second Black woman admitted to the bar in Indiana, and the first African American president of the National Association of Women Lawyers.
When Dickerson was 13, the newly re-married Mahala moved the family to Indianapolis. As a teen, Dickerson immersed himself in acting, singing, musical theater, dance, and gymnastics. He attended a Religious Society of Friends (Quaker) school, graduating from Olney Friends School in Ohio in 1957. Following graduation, Dickerson attended the New York Academy of Dramatic Arts, where he studied acting, drama, and music.
Dickerson became interested in bodybuilding after visiting a relative in California and seeing a photo of Bill Pearl, dubbed the "World's Best-Built Man of the Century." In 1963, he began training with Pearl, while working as an orderly at a Los Angles hospital. In October 1965, Dickerson entered his first competition, Mr. Long Beach, and came in third. He returned to the East Coast the following year, capturing twelve titles that included Mr. Eastern America, Junior Mr. USA, and Mr. New York State.
In the 1960s, Dickerson's athletic ability and training in dance helped him to continually refine his physique and posing, and soon he was in demand as a physique model. In fact, in the seventies, Dickerson posed nude for photographer Jim French, and the photos were published by Colt Studios in an issue of "Olympus," bringing him to the attention of the LGBTQ/SGL community. "The ideal physique is one with broad shoulders, a small, tapered waist, shapely and developed legs," said Dickerson. "The neck, arms and calves should all measure the same or close to it. It is equally important to work on your posing in order to show off what development you have attained to your best advantage."
In 1967, Dickerson won the Mr. California title, and began to set his sights on winning Mr. America. He placed sixth in his first attempt, then third in 1968, and a close second in 1969. Finally, in 1970, he won it all—becoming the first Black man to win Mr. America. That was followed by a whirlwind of travel, tours, TV appearances, and lectures. Over the next ten years, Dickerson continued to compete, with title wins in competitions including Pro Mr. America and Universe NABBA.
After placing fourth in the 1979 Mr. Olympia IFBB Lightweight competition, Dickerson took on the legendary Arnold Schwarzenegger for the Mr. Olympia title in 1980 and 1981. He came in second both times, but observers believed Dickerson should have beaten the more well-known Schwarzenegger, who was riding a wave of popularity from the "Conan the Barbarian" film. Dickerson captured additional titles, including the Grand Prix Louisiana IFBB and Grand Prix California IFBB, before making a third attempt at becoming Mr. Olympia.
In 1982, at age 43, Dickerson became the oldest, the first African American, and the first openly gay man to win Mr. Olympia, beating out fellow Americans Frank Zane and Casey Viator. Although the most lucrative endorsement contracts eluded him, Dickerson enjoyed his own line of gym apparel, and continued to travel and lecture about bodybuilding. In 1983, he was the first African American to grace the cover of "FLEX" magazine.
Dickerson co-hosted the physique competition at the 1990 Gay Games in Vancouver. Four years later, he retired after placing first in the 50+ category of the IFBB Masters Olympia. In 2000, he was inducted into the IFBB Hall of Fame. His career spanned more than 30 years and 50 titles.
Today, Dickerson lives in Florida, where he lectures, trains older clients, and occasionally sings opera.
We thank Chris Dickerson for his contributions to the world of professional bodybuilding, and for his support of our community.