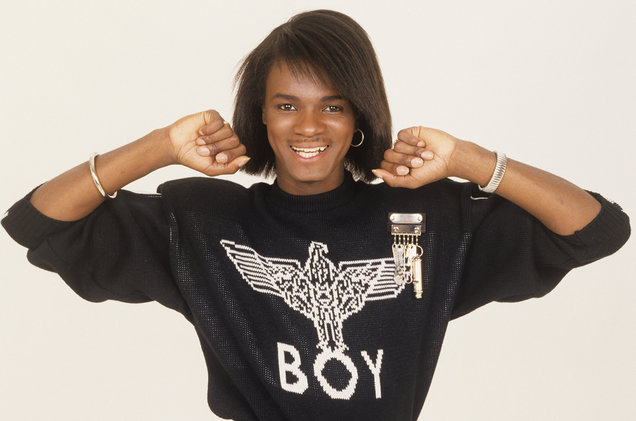 Jermaine Stewart
Photo: Tim Roney/Getty Images
Jermaine Stewart was born on September 7, 1957 (to March 17, 1997). He was a pop singer and dancer best known for his Billboard hits, "The Word Is Out" from his 1984 debut album of the same name, and "We Don't Have To Take Our Clothes Off," from the 1986 album, "Frantic Romantic."
William Jermaine Stewart was born in Columbus, Ohio, to Eugene Stewart and Ethel M. Stewart. While in school, he would often give dance lessons to other children for a dollar. In 1972, Stewart's parents moved him and his five siblings to Chicago, Illinois, where the young teen took his first steps toward a career in entertainment. This was followed by stints as a dancer on both "American Bandstand" and, during the years it was in Chicago, "Soul Train."
Soon Stewart would become a backup singer and dancer for several artists, including The Chi-Lites, The Staple Singers, and Shalamar, while recording backup vocals for such artists as The Temptations and Culture Club. He first sang backup for Culture Club on their hit "Miss Me Blind," and was featured prominently on the group's 1983 album, "Colour by Numbers." As a result, Culture Club used its influence to help Stewart land a solo recording deal with Clive Davis at Arista Records in 1984.
His first single, "The Word Is Out," was produced by Peter Collins and supported by a video shot in Paris.  John "Jellybean" Benitez produced two highly danceable tracks on the album. Although "The Word Is Out" did much to enhance Stewart's reputation, it did not prove to be the commercial success Arista had expected. The song reached number 41 on the R&B and Billboard charts, and was followed by an album of the same name in 1985. Two other singles from the album were issued: "I Like It" (Europe and the United States), and "Get Over It" (Europe only).
Jermaine Stewart's next album, 1986's "Frantic Romantic," included the top ten hit single "We Don't Have to Take Our Clothes Off," written by Narada Michael Walden, a major recording artist in his own right. The song, supported by a video, became an international success, riding into the Billboard top 5, and hitting number 2 in the UK. His second single, "Jody," inspired by his friend Jody Watley, reached the U.S. R&B top twenty. "Frantic Romantic" would be Stewart's most successful selling album, peaking at #34 in the states.
Stewart's third album was entitled "Say It Again," with production handled largely by André Cymone. Supported by international live dates with his band The Party, the title track became Stewart's second U.S. Top 40 Billboard hit, and also reached the U.S. R&B Top 10. On the UK Singles Chart, it reached number 7, helping the album achieve Top 40 status. The next three singles all received remixes by Phil Harding: "Get Lucky" (UK #13), "Don't Talk Dirty to Me" (UK #61), and "Is It Really Love?" found European success, particularly in Germany, where "Don't Talk Dirty to Me" was one of the biggest selling records of 1988.
His fourth and final album under contract with Arista Records was "What Becomes a Legend Most." The album failed to make any impact in America, while the lead single, "Tren de Amor," just reached the top 100 in the UK. The song was featured on the motion picture soundtrack to "She Devil," starring Meryl Streep and Roseanne Barr. In 1989, Stewart sang "Hot and Cold," co-written by Andy Summers, which was featured over the opening credits of the film "Weekend at Bernie's."
In 1991, Stewart teamed up with Chicago producer Jesse Saunders for his last recorded work, an album for Reprise Records, "Set Me Free." The title track was released as a single in the U.S., but sold poorly. The album remains unreleased.
Jermaine Stewart died at age 39 of liver cancer caused by AIDS. His family buried him at Homewood Memorial Gardens in the Chicago suburb of Homewood, Illinois. Following his death, the tabloids frequently linked Stewart to several actors and sport stars, but he remained discrete about his romantic liaisons and those relationships remain unconfirmed. A tell-all book penned by Stewart was rumored to be imminent but never materialized.
Shortly before his death, Stewart returned to the studio to record a new album titled "Believe in Me." Although the album was not completed, the finished tracks were released on the 2005 compilation, "Attention: A Tribute to Jermaine Stewart," which was released under BFG Records, owned by Stewart's brother.
On October 18, 2010, Cherry Red Records re-issued his album, "Frantic Romantic," on CD for the first time since 1986. It included bonus tracks, most notable of which are the 12" mixes of "Jody" and "Dance Floor" making their CD debut.
In 2011, the song "We Don't Have to Take Our Clothes Off" was used in a Cadbury advertisement in the UK called The Charity Shop. This exposed the hit to a new generation who downloaded the track, and returned it to the UK Singles Chart, reaching #29.
We remember Jermaine Stewart in appreciation of his music and creative gifts, and for his many contributions to our community.