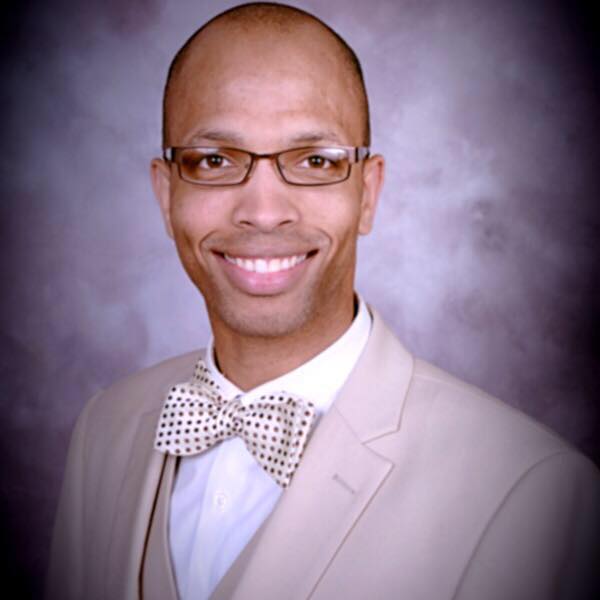 André Cooley
André Cooley was born on September 14, 1985. He is a lawyer, former deputy sheriff, youth advocate, mentor, and LGBTQ rights activist. He came to national prominence in 2010 when the American Civil Liberties Union filed a lawsuit on his behalf following his termination as a corrections officer because he is gay. The lawsuit claimed that Cooley's constitutional rights were violated by the Forrest County Sheriff's Department (Mississippi) and his superior officers.
André Cooley was born in Ann Arbor, Michigan, and is a former foster youth who became part of a loving family that included four siblings. His father is Walter Cooley, and his mother is Debra Hailes. When Cooley was twelve, he was sent by a court to Mississippi to live with a relative, but it was a bad placement, and he was back in foster care at age 16. As he aged in the system, Cooley faced becoming less desirable for adoption, and struggled with people not accepting him for who he was. Cooley says foster care taught him not to value material possessions, and how to find strength and happiness within to meet his day-to-day challenges.
After graduating from Laurel High School in 2004, Cooley enrolled at Jones County Junior College, in Ellisville, Mississippi, where he obtained his associate degree in criminal justice. In 2006, Cooley served as a congressional intern with the Congressional Coalition on Adoption Institute, in Washington, DC. He was assigned to the United States Senate, where he worked in the office of Senator Mary Landrieu of Louisiana. Cooley earned his bachelor's degree in administration of justice from the University of Southern Mississippi in May of 2009. That same year, he was an intern for the American Bar Association's Center on Children and the Law, under the direction of a staff attorney.
In November 2009, Cooley began working for the Forrest County Sheriff's Department, where he was quickly promoted to senior officer. The following June, while at home and off-duty, Cooley called 911 after his boyfriend became physically violent. Among the officers who responded to the call was Chief of Corrections Charles Bolton, one of Cooley's supervisors. After Cooley's boyfriend told Bolton that he and Cooley were in a relationship, Bolton told Cooley not to return to work before speaking with his immediate supervisor. The next day, Cooley was fired.
An exemplary employee, Cooley never received a written explanation for his termination. The American Civil Liberties Union sued the sheriff's office on Cooley's behalf, and as part of the settlement to resolve the suit, the Forrest County Sheriff's Department reinstated Cooley as an officer. The department also made explicit in its written non-discrimination policy that, as a public entity, they don't discriminate on the basis of sexual orientation.
Joshua Block, staff attorney with the ACLU Lesbian, Gay, Bisexual and Transgender Project, said in a statement, "It is well established that a public employer cannot fire an employee based on irrational fears and prejudices against gay people. But Andre's case is also a reminder that people in Mississippi who work for private companies are left almost entirely unprotected from anti-gay discrimination. There is currently no state or federal law protecting against employment discrimination on the basis of sexual orientation."
Cooley was promoted to Shift Commander, and in June of 2011, was transferred to the Billy McGee Law Enforcement Complex in Hattiesburg, Mississippi, an adult detention facility within the Forrest County Sheriff's Office. Three years later, Cooley resigned from the Forrest County Sheriff's Office to fulfill his lifetime dream of becoming a lawyer.
In 2014, Cooley enrolled at Western Michigan University Cooley Law School in Grand Rapids, Michigan. While in law school, he volunteered with the Grand Rapids Veteran's Court, Landlord Tenant Court, and various other community service-based organizations. He received his juris doctorate degree on April 21, 2017.
During his time at Western Michigan, Cooley experienced alleged discrimination when, as stated in his 2016 lawsuit, "Cooley v. FedEx Freight et al," the company unlawfully terminated Cooley. He was ultimately granted unemployment benefits when FedEx Freight could not show that Cooley was involved in any form of misconduct. A further settlement in the case is pending in Michigan Western District Court.
The same day as Cooley's complaint against FedEx Freight, he filed suit against his law school. In "Cooley v. Western Michigan University Cooley Law School, et al," the lawsuit alleges that the school engaged in discrimination on the basis of disability, and that the Michigan Department of Civil Rights refused to issue a charge after the agency received a recording where a professor allegedly told Cooley that he should have received more points under the professor's grading policy. The case, which highlights the important of the Americans with Disabilities Act and the Michigan Persons with Disabilities Act, is pending in Michigan Eastern District Court.
Cooley previously served as a Spanish-speaking service coordinator with the Mississippi Department of Health, and a contract translator for a Head Start program. He is largely self-taught in Spanish, and often serves as a translator. Cooley is active in several organizations, including federal, city, and county courts. Cooley participated in a 2010 Mississippi religious leadership conference, and is a member of the executive board of Rise Above for Youth, a nonprofit service organization for transitional young people. He hopes to someday become a judge, while continuing his legacy of service and giving back to the community.
In his spare time, Cooley enjoys reading, travel, and going to movies. He is very proud to be called Uncle Dre, and has rediscovered the joys of playing on the floor and hosting surprise cupcake parties with his nieces and nephews. Cooley also serves as a foster youth advocate and mentor.
We thank André Cooley for his tireless service and advocacy, and for fighting for the civil rights of our community.