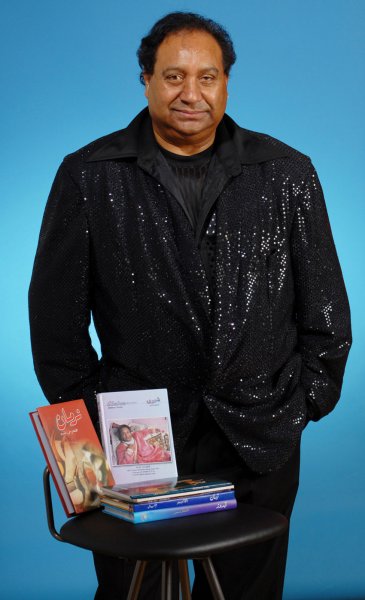 Ifti Nasim
Ifti Nasim was born on September 15, 1946 (to July 22, 2011). He was a gay Pakistani American poet, writer, broadcaster, and activist who co-founded Chicago Sangat, an organization to support the LGBTQ South Asian community. Nasim was inducted into the Chicago Gay and Lesbian Hall of Fame in 1996.
IIftikhar "Ifti" Nasim was born in Faisalabad, Pakistan (then called Lyallpur) in 1946, although an exact birthdate has been difficult to document. In an interview with "The Friday Times," Nasim stated, "I was born in Lyallpur and my date of birth is 15 September 1946…" Nasim was born into a large family of seven children, and following his mother's death, his journalist father remarried and moved to a new home. He worked odd jobs to help support his struggling family.
It was a difficult childhood for Nasim, and life as a teenager was no easier. In a predominantly Muslim country that didn't allow people to live as openly LGBTQ, his coming out process was a painful one. "When it dawned on me that I am gay I was totally devastated," he told "The Friday Times." "I found no reason to live. I was very suicidal. But luckily I bumped into Chandar Nath Ahuja, a professional psychologist."
When he was 16, Nasim was shot after reading a poem at a protest against martial law. "I put a cloth on my leg and went home," he recalled. "I didn't tell anyone. The next day my sister came into my room and saw blood all over." He was confined to a bed for the next six months.
At 21 years old, Nasim's parents pushed for an arranged marriage, but Nasim said he didn't want to sneak around on a wife. "I did not want to live a double life," he told the "Chicago Tribune." "I did not want to leave a wife at home and go out and pick up guys. I thought that was a dishonest way of living." By this time, Nasim had already acknowledged to himself that he was gay, and had several sexual encounters with other men.
After earning a law degree from Punjab University in Lahore, Nasim asked his father to pay for a trip abroad so that he could further his studies in the United States, a country Nasim said he read about in "Life" magazine as "the place for gays to be in." He settled in Detroit, enrolled at Wayne State University, and, in 1974, moved to Chicago. According to colleague Azra Raza, Nasim's house in the United States became a sanctuary for members of the LGBTQ community seeking asylum.
Nasim was also a well-known car salesman in Chicago, and was noted for driving around in his gold Mercedes. He also didn't shy away from fur coats, leather pants, a "pimp" hat, ostentatious jewelry, and dressing up in drag. Despite his flamboyant style, friends say Nasim was a private person, and very humble when it came to fighting for social justice.
In 1986, Nasim helped start Sangat Chicago, a South Asian LGBTQ organization named for the Sanskrit word for "togetherness." He publicly railed against war, social injustice, and homophobia in his native Pakistan and other Muslim nations. In addition, he was a contributor to a Pakistani American newspaper, and regularly hosted a weekly radio show called "Radio Sargam."
In addition to working on behalf of immigrant communities and those living with HIV/AIDS, Nasim perfected and performed his first love—poetry. He wrote in Urdu, Punjabi, and English; during his lifetime, three collections of poetry were published. "Narman" (1994), is believed to be the first open expression of homosexual themes in the Urdu language. Narman is a Persian word for "hermaphrodite," and the work was met with controversy in Pakistan, where it had to be distributed underground. "Narman" was followed by "Myrmecophile" (2000), and "Abdoz" in 2005.
In 2003, Nasim suffered a heart attack and drove himself to the hospital in his Mercedes and wearing a mink. He recalled a nurse hitting on him, to which he responded, "Not now, please."
Nasim died on July 22, 2011, after suffering a heart attack. Some sources list his date of death as July 23, but according to the Social Security Death Index, it was the previous day. He was survived by his partner of nearly 30 years.
"No one made me gay. I was born this way," Nasim once said. "The only thing is I did not lie about it. Many homosexuals hide behind the curtain of so-called marriage. We should accept the truth, no matter how bitter it is."
We remember Ifti Nasim for his contributions to poetry and for his steadfast support of our community.