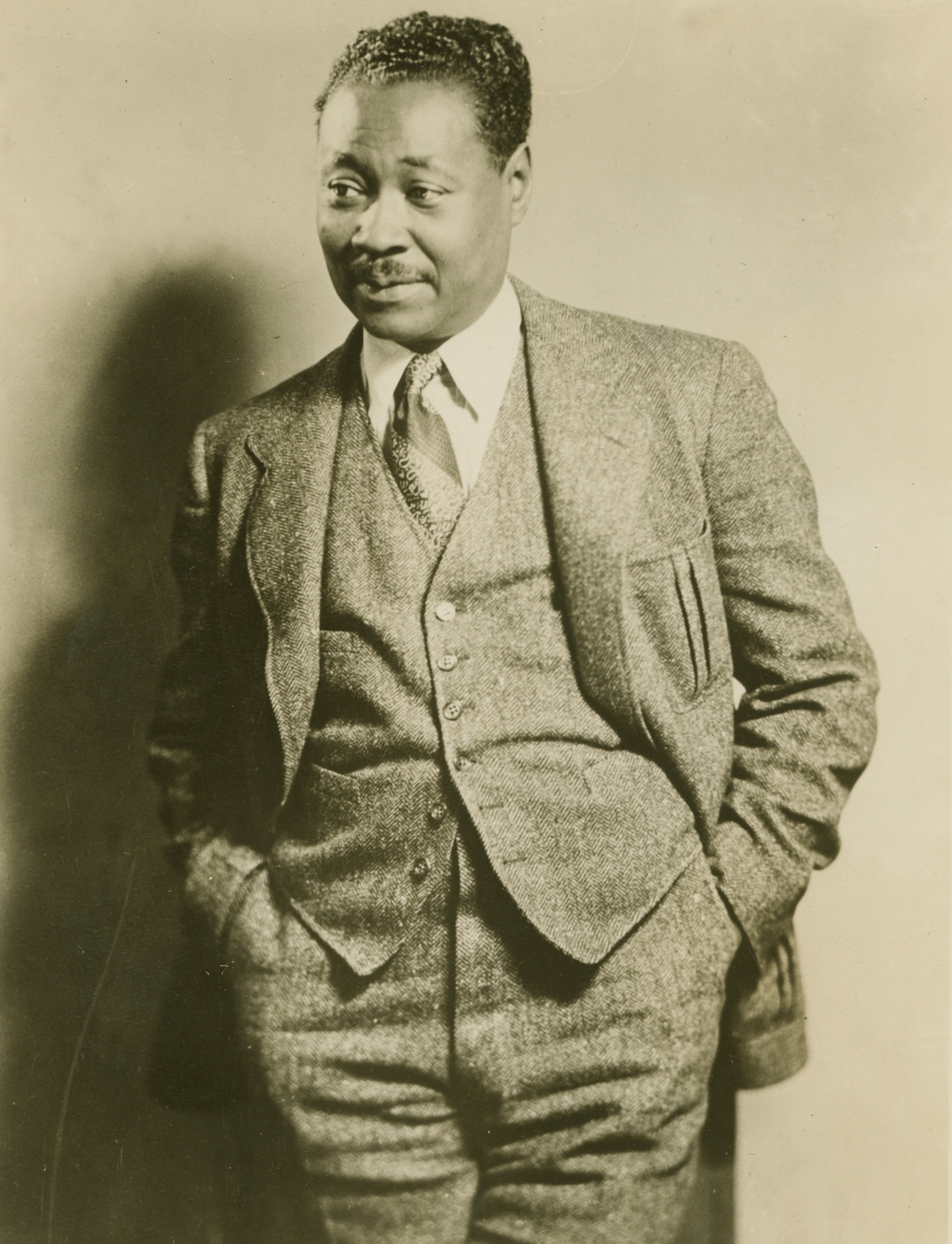 Claude McKay
Photo: James L. Allen
Claude McKay was born on September 15, 1889 (to May 22, 1948). The bisexual Jamaican-American writer and poet was a seminal figure of the Harlem Renaissance. His poetry was political and often gritty, and he was among the first Harlem Renaissance poets to openly address bisexuality.
Claude McKay was born Festus Claudius McKay in Nairne Castle, Clarendon, Jamaica (called "Sunny Ville" by McKay and the locals). Although McKay's birth certificate lists 1889 as his birth year, McKay would later state he was born in 1890. McKay was the youngest child of Thomas Francis McKay and Hannah Ann Elizabeth Edwards, well-off farmers who had enough property to qualify to vote. Claude McKay's grandfather was of Ashanti descent, and his mother was of Malagasy ancestry. Claude recounted that his grandfather often shared stories of Ashanti customs with him.
An avid reader, McKay began writing poetry at the age of 10. He published his first book of poems, "Songs of Jamaica," in 1912 at the age of 23. These were the first poems published incorporating the dialect of Jamaican Patois. McKay's next volume, "Constab Ballads," was based on his experiences of joining the constabulary for a brief period.
That same year, McKay moved to the United States to attend Booker T. Washington's Tuskegee Institute. He was appalled by the intense racism he encountered when he arrived in Charleston, South Carolina, where many public facilities were segregated. At Tuskegee, he grew tired of its "semi-military, machinelike existence," and left to study at Kansas State University. It was at Kansas State that McKay became politically active after reading W. E. B. Du Bois' "Souls of Black Folk."
In 1914, he moved to Harlem, and married his childhood sweetheart, Eulalie Lewars. The marriage did not last long, and Lewars returned to Jamaica to give birth to their daughter. McKay published two poems in 1917 in "The Seven Arts" under the pseudonym Eli Edwards, while working as a railroad waiter. In 1919, he met Crystal and Max Eastman, who produced "The Liberator." McKay would serve as co-executive editor of "The Liberator," and published one of his most famous poems, "If We Must Die."
McKay spent time in Holland and Belgium before moving to London, where he studied Marxism and became increasingly political. In 1920, he published a new collection of verse entitled "Spring in New Hampshire," which contained "Harlem Shadows," a poem about Black prostitutes. He returned to the states the next year, and used the same title of "Harlem Shadows" for a book of previous volumes and periodicals publications.
From November 1922 to June 1923, McKay visited the Soviet Union, and attended the fourth congress of the Communist International in Moscow. There, he met many leading Bolsheviks, including Leon Trotsky, Nikolai Bukharin, and Karl Radek. McKay wrote the manuscripts for a book of essays called "Negroes in America," and three stories published as "Lynching in America," both of which appeared first in Russian, and then re-translated into English.
An outspoken atheist, Claude McKay was attracted to communism in his early life, and his political and social views greatly influenced other writers and intellectuals of this era. He was an advocate for full civil liberties and racial solidarity, and his pride in his culture and racial awareness helped to stimulate that same sense of awareness and pride in other African American writers of this time. But he also sparred frequently with other writers and Black intellectuals of that era. Later in life, McKay became disillusioned with Communism.
Following his stay in the Soviet Union, McKay's travels took him to Moscow, Berlin, Paris, Toulon, Brest, Nice, Marseilles, Rabat, Barcelona, and Tangier. He returned to the United States in the mid-1930s.
McKay is believed to have written four novels: "Home to Harlem" in 1928, a bestseller which won the Harmon Gold Award for Literature; "Banjo: A Story Without a Plot" in 1929; and "Banana Bottom" in 1933—all published at the height of the Harlem Renaissance. A previously unknown manuscript of a 1941 novel, "Amiable with Big Teeth: A Novel of the Love Affair Between the Communists and the Poor Black Sheep of Harlem," was discovered in an untouched Columbia University archive, and was recently published for the first time. McKay also authored a collection of short stories, "Gingertown," in 1932, and the autobiographical books, "A Long Way from Home" in 1937, and "Harlem: Negro Metropolis" in 1940.
McKay was awarded the prestigious James Weldon Johnson Literary Guild Award in 1937, became an American citizen in 1940, and converted to Catholicism in 1944. He died in 1948 in Chicago from a heart attack at the age of 59. His book of collected poems, simply titled "Selected Poems," was published posthumously five year later.
In 1977, the government of Jamaica named Claude McKay its national poet, and posthumously awarded him the Order of Jamaica for his contributions to literature. A high school in Clarendon, Jamaica, is named in his honor. McKay's autobiography, "My Green Hills of Jamaica," was released in 1979.
We remember Claude McKay and thank him for his considerable contributions to the literary world and our community.