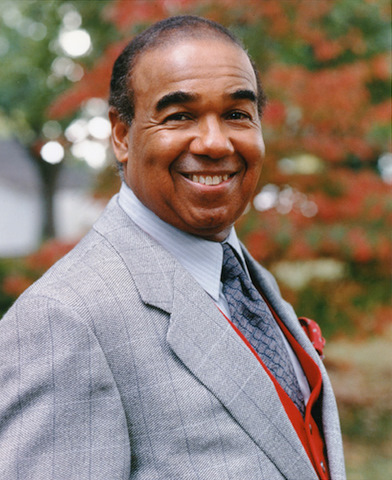 Bobby Short
Bobby Short was born on September 15, 1924 (to March 21, 2005).  He was a Grammy Award-nominated cabaret star, pianist, and scholar best known for his interpretations of songs by popular composers of the first half of the 20th century, such as Duke Ellington, Rodgers and Hart, Cole Porter, Jerome Kern, Harold Arlen, Fats Waller, Vernon Duke, Noël Coward, George and Ira Gershwin, and Billy Strayhorn.
Robert Waltrip "Bobby" Short was born in Danville, Illinois, the ninth of ten children. When he was just nine, Short lost his father, who worked in Kentucky coal mines during the Depression. In his autobiography "Black and White Baby," Short recalled living among white people "on a pleasant street, in a pleasant neighborhood where the houses had front and back yards." He wrote, "I am a negro who has never lived in the South, thank God, nor was I ever trapped in an urban ghetto."
Growing up, Short played piano, learned sight reading of music, and taught himself how to play and sing. He began performing professionally as a busker after leaving home with his mother's permission, and moving to Chicago at the age of eleven. After graduating from high school, he opened at Chicago's Capitol Lounge. A year later, he played on the same bill as Nat King Cole in Omaha, Nebraska. The two remained friends until Cole's death.
After performing in cities like Milwaukee and Los Angeles, Short hired manager Phil Moore, made a record, and played at venues in Florida and Chicago, and at the fashionable Le Caprice in New York. He also had a small part in a Cole Porter revue in Greenwich Village in 1965. It was during the 1960s that Short began taking himself more seriously. He had become acquainted with many famous musicians, among them Leonard Bernstein and Shirley Verrett. "I decided I wanted to earn their professional respect. I knew I couldn't do it without hard work," he said.
In 1968, Short was offered a two-week stint at the swanky Café Carlyle in New York City. He became an institution at the Carlyle, and remained there as a featured performer for more than 35 years. Short became the toast of New York society, but was largely unknown to the Black community for much of his life, and was often criticized for his penchant to "please and appease" wealthy white patrons. Despite this, Short dedicated himself to spreading an awareness of African American contributions to New York's musical theater, and the community's important contributions to the American songbook. Among Short's favorite songwriters was Duke Ellington, and he was instrumental in spearheading the construction of the Duke Ellington Memorial in Harlem.
In 1976, Short's national stature was solidified when he appeared in a popular commercial for Revlon's perfume, Charlie. In his career, Short made numerous film and television appearances, and his face became even more well-known after he appeared on the billboards of the Gap clothing store chain. In 1972, he performed the theme song in James Ivory's film, "Savages." Short appeared as himself in Woody Allen's "Hannah and Her Sisters," and was a frequent guest on television, including several episodes of "The Love Boat" in 1981, "In the Heat of the Night" in 1991 and 1994, and on "Frasier" in 2001.
Short was inducted as a Laureate of The Lincoln Academy of Illinois, and awarded the state's highest honor, the Order of Lincoln, by the Governor of Illinois in 1983. In 2000, the Library of Congress designated Short a Living Legend.
Short spent vacation time at a villa in the south of France, which he shared with his nephew-turned-adopted son, Ronald Bell. His villa frequently played host to James Baldwin, and Short was featured in "The Price of the Ticket," a documentary about Baldwin's life.
Although Short never publicly declared himself as gay, those close to him knew of his sexuality. When asked why he never participated in gay pride marches in the 1970s and 1980s, Short responded, "I have a living to make! I can't afford to march in the gay pride parade."
Short died of leukemia at New York Presbyterian Hospital on March 21, 2005, at the age of 80. He is buried in Atherton Cemetery in Danville, Illinois, the city of his birth.
We remember Bobby Short in appreciation for her lifelong commitment to entertainment and music, and for his many contributions to our community.